Ric Flair Discusses The Iron Claw & Classic Feud Against Kerry Von Erich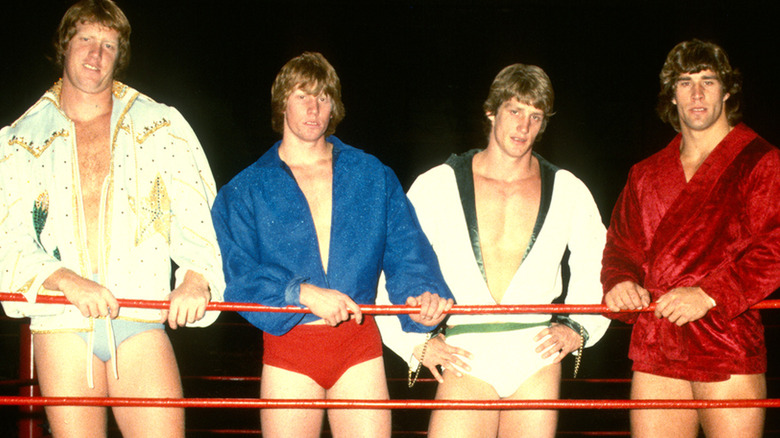 WWE.com
WWE Hall of Famer Ric Flair was a guest on "Busted Open Radio," where he spoke about seeing the trailer for the upcoming biopic about the Von Erichs — "The Iron Claw." The film stars Zac Efron as Kevin Von Erich and is directed by Sean Durkin, best known for "Martha Marcy May Marlene."
"I saw the trailer yesterday, but you really had to be there," said Flair. "It showed Michael Hayes. The Freebirds and I were right in the middle of that. The whole thing, tragic."
The Efron-led film also stars Jeremy Allen White as the late Kerry Von Erich. Flair has a history with the Von Erichs, especially Kerry. He spoke about wrestling Kerry at the Texas Stadium in 1984 when the weather was 105 degrees.
"You know what happened is nobody anticipated the heat. Instead of running it [at] 8 o'clock at night, they worried about the weather, they ran it at 1 o'clock in the afternoon and it was 105 degrees. I don't know if you remember the story. They were carrying people out on stretchers from dehydration. The mat cover was — when I got in the ring with Kerry, and we were last, the mat cover was still, you just couldn't lay on it. Does that makes sense? It was that hot. And they kept changing it. They weren't prepared."
Flair later shared his opinion about "The Iron Claw" coming out "20 years too late," because not many people remember the Von Erich family, though he also finds that what's old is now new again.
If you use quotes in this article, please credit "Busted Open Radio" and provide an h/t to Wrestling Inc. for the transcription.