Photo: WWE Unveils Giant WWE Championship In Front Of Headquarters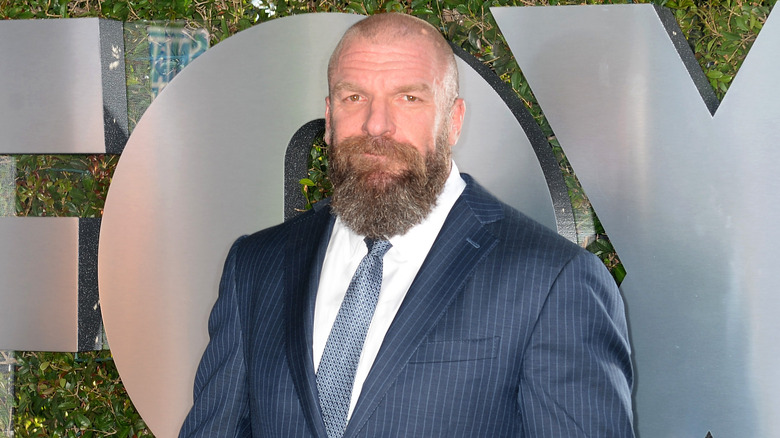 Jerod Harris/Getty Images
Big changes continue to be made following the closure of WWE's merger with UFC last month. Over the last several days, those walking outside the new WWE office in Stamford, Connecticut noticed an addition to the sidewalk outside the building — a massive WWE Championship display (via WrestleOps on X).
A giant, 7-foot tall pre-cast concrete monument resembling the real-life WWE Championship is nearing completion in-front of WWE's new headquarters on Washington Boulevard in downtown Stamford, Connecticut. pic.twitter.com/otsHiincTV

— Wrestle Ops (@WrestleOps) October 16, 2023
According to the Stamford Advocate, the sculpture is made from pre-cast concrete and reaches seven feet tall. The display has yet to be finished, with WWE still planning to add additional decoration as well as tiles on the ground around the title. Even unfinished, however, the display is still turning heads in Stamford. Numerous Connecticut residents indicated to the newspaper that they were impressed by the installation. Once completed, the statue will act as a bench in addition to an eye-catching decoration.
The company had to go through a lengthy approval process in order to construct the display, with WWE being issued a permit for the statue last November. In order for that permit to be approved, the plans had to be analyzed by multiple departments of Stamford's local government, such as the Environmental Protection Board, the city's fire marshal, and more. Once that was taken care of, WWE's new title statue was designed by a company named Craft Engineering Studio and then constructed by Concreteworks East.
WWE is in the midst of relocating its headquarters from an older building in Stamford to the new office, featuring the huge title replica. That process has been in the works for years, with many of the company's employees moving to the new HQ as of April 2023.