Backstage Details On Vince McMahon's Reported Absence From WWE Creative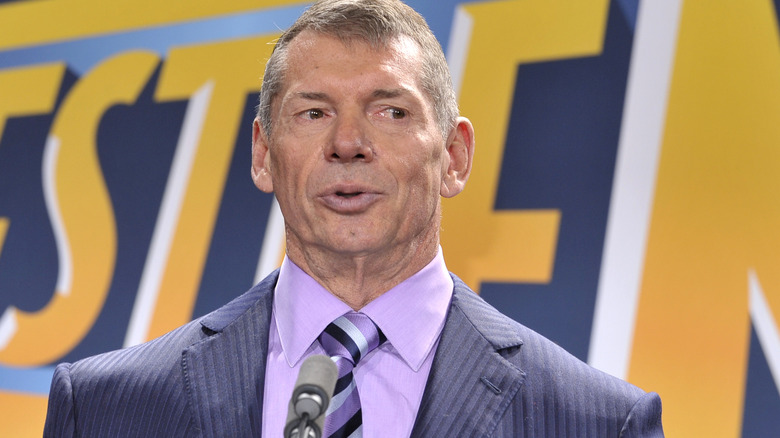 Michael N. Todaro/Getty Images
WWE's creative team is reportedly breathing a sigh of relief in the wake of Vince McMahon being removed from the WWE creative process in the wake of the merger with UFC.
A new report from Fightful Select has confirmed previous claims that Ari Emanuel has given control of WWE creative entirely over to Paul "Triple H" Levesque, as Emanuel prefers both men focus on their assigned positions in the newly-formed TKO Group Holdings. According to Fightful, McMahon hadn't been overseeing creative directly, but some felt the product was being geared for his vision and his preferences, noting that the entire process feels more relaxed without having to take McMahon's preferences into consideration — a change some see as having happened "overnight." The last 2-3 episodes of "WWE Raw," in particular, have seen several wrestlers return to TV now that creative is not afraid of any kind of backlash for booking or pushing superstars that weren't McMahon's favorites.
One source told Fightful that wrestlers have been able to focus on match quality with the recent changes, which some feel has helped "Raw" become a much better product in the ring, citing Kofi Kingston's recent match with Ivar and Monday's Intercontinental title match between GUNTHER and Bronson Reed as examples of the heightening quality of matches. It had been reported throughout the year that McMahon was changing ideas and scrapping storylines remotely, having only been physically present for the creative process at the "Raw" after WrestleMania. One storyline McMahon reportedly scrapped was a reunion of the popular tag team DIY, which has recently happened on WWE TV in McMahon's absence.
"Well, I guess he wasn't lying when he said he wasn't in the weeds," one source told Fightful, in reference to comments from McMahon earlier in the year, "but in a way, he just sprayed roundup on the weeds and checked in on them every so often."
With multiple outlets now reporting that Emanuel has removed McMahon from WWE's creative process entirely, it seems likely that the last few episodes of "Raw," at the very least, could be an indicator of what WWE's creative product looks like going forward.