Jake Roberts Reveals Link Between Vince McMahon's Mustache & The Invention Of The DDT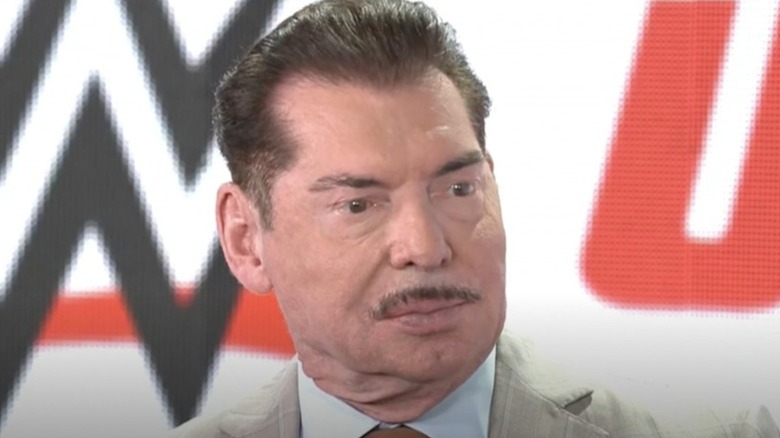 CNBC/YouTube
Vince McMahon's new mustache has produced a lot of meme material on social media, becoming the butt of jokes for the wrestling community over the past year or so. Now, WWE Hall of Famer Jake Roberts has joined in on the fun. On the latest "Snake Pit," Roberts was asked to name "the most embarrassing thing" he'd ever seen from another performer in the wrestling business.
"It's Vince's mustache," Roberts responded. "That thing is brutal. He's dyed his hair dark black, he looks like some cartoon character." Roberts proceeded to agree with his podcast co-host that McMahon — sporting his tiny mustache — resembles the frozen version of Walt Disney. In the past, others have compared McMahon's new look to that of Gomez Addams, the legendary character from "The Addams Family" franchise.  
The subject of McMahon's new look came up when Roberts was asked to share "the most embarrassing" moment of his in-ring career. Roberts recalled the moment he accidentally invented his iconic finishing move, the DDT, during a match against "The Grappler" Len Denton. 
"When The Grappler went to push me in the corner, stepped on my foot, and we invented the DDT. That was my most embarrassing moment," Roberts said. As narrated by Roberts previously, Denton and Roberts both fell backward when Roberts locked him up in a normal front facelock. Once Denton stepped on Roberts' feet, he unintentionally landed on his face, creating the DDT by accident. At that moment, a lightbulb went off in Roberts' mind and the DDT was born. While Roberts was admittedly embarrassed about the botched move, he was equally thrilled that the accident gave birth to one of the greatest finishers in wrestling history.