WWE's Bianca Belair Details How She Deals With Mental Health Struggles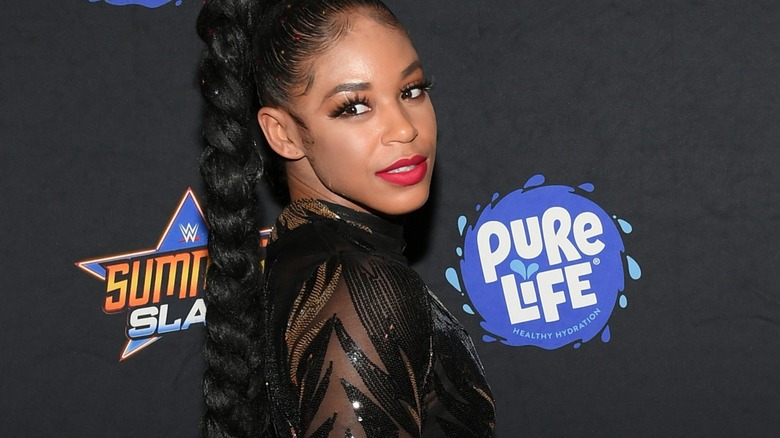 Bryan Steffy/Getty Images
Physically, there are few WWE stars stronger than Bianca Belair; mentally, however, the former WWE Women's Champion is as vulnerable as anyone. In a new interview with Keke Palmer on her podcast, Belair talked about how she manages her stress while being such a prominent member of the WWE roster,
"When I was in college, I struggled with depression. I was on medication. I was hospitalized at one point," Belair explained. "I'm not going through it right now, I've gone through it, but you still have those triggers, you still have those things that you go through." 
Belair said that she's learned how to listen to what her mind and her body are telling her, and making time to rest when necessary. Belair also credits the support of her husband, fellow WWE star Montez Ford, for not only understanding the strenuous nature of her schedule but also helping her keep perspective with his gratitude for being able to share a life and a profession with her.
"One time we planned a vacation," Belair recounted, saying that her and Ford planned to go on a vacation during 4-day break from WWE's touring schedule. "We both got home [from tour] and I was like 'I don't wanna go. I don't wanna get on a plane. I don't want to stay at the hotel,' and he was like 'Me neither, I get it.'"
Belair thinks that not only does her profession bring attention, but also her status as a role model for so many Black girls, made her worry if she's doing things "the right way," until she finally realized that there was no "right way" to do things and that she only had to do things her way. Palmer agreed with Belair, saying that neither she nor Bianca are a monolith.
"Sometimes showing up [as yourself] is simply enough," Belair said.