Video: AEW's Powerhouse Hobbs Explains His Vendetta Against Chris Jericho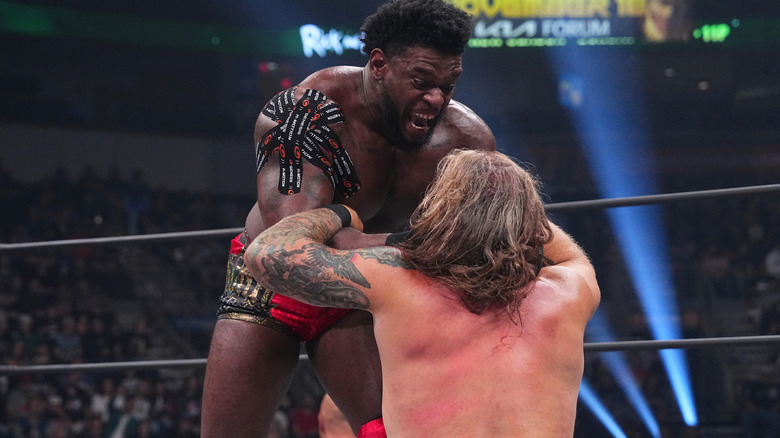 AEW
Powerhouse Hobbs' acceptance into the Don Callis Family has been nothing but problematic for Chris Jericho. Two weeks ago on "AEW Dynamite," Chris Jericho and Kenny Omega fell victim to a brutal beatdown at the hands of Hobbs and Callis' other loyal followers. Last week, Jericho stepped into the ring for a one-on-one bout with Hobbs and was absolutely decimated. But last night, Hobbs made it very clear why he is hardly done with "The Ocho."
Remembering the date so vividly — February 22, 1998 — Hobbs recalled a moment as a 7-year-old wrestling fan when he had front row tickets with his grandmother to an event. This was to be an evening where he got a chance to meet his hero, Chris Jericho. But Jericho insulted not only him but also his grandmother — and that traumatic occurrence has stayed with him all these years since. That is, until Hobbs had the opportunity to unleash his long-standing pain and frustration firsthand to Jericho in an AEW ring.
.@TrueWillieHobbs explains how one moment 25 years ago resulted in the beating he gave @IAmJericho last week on #AEWDynamite pic.twitter.com/Mwfo5ZWalo

— AEW on TV (@AEWonTV) October 19, 2023
Some might say that therapy might have been a more productive course of action for Hobbs to take to process what happened those many years ago — at least from Jericho's perspective. But it didn't, and so here we are with Jericho still squarely in Hobbs' crosshairs as he remains one of Don Callis' targets for more suffering. It is likely too late for apologizes and accountability from Jericho, so it remains to be seen how the former AEW Champion resolves this new problem when he appears so overmatched by Hobbs' power.