Rey Mysterio Provides Potential WWE Retirement Timeframe, Could Be After 50th Birthday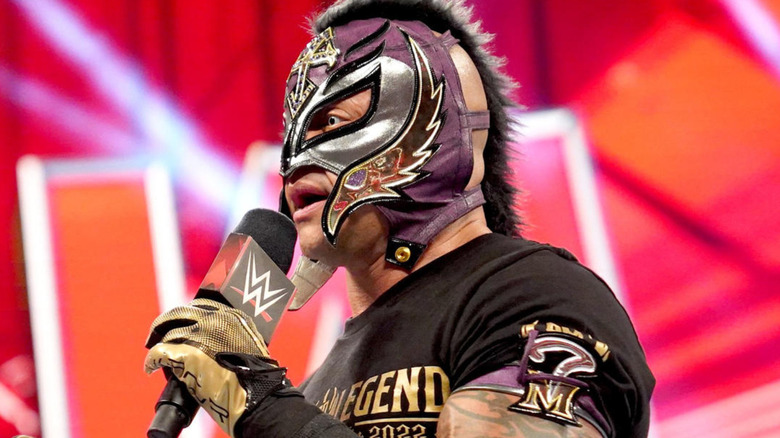 WWE
Last year, Rey Mysterio suggested that he may end his 30+ year wrestling career before he turned 50 years old, but as he now nears the age of 49, Mysterio isn't certain that's the case anymore. During a recent interview with "The MMA Hour," Mysterio provided an update on his potential timeline; should his body allow him to keep performing at the level it's currently at, Mysterio is open to pushing back his initial retirement plan.
"Obviously, the way I've been working for the past 34 years, I've modified my work a lot, for the best, but still being able to invest the audience in watching Rey Mysterio," he said. "I always like to come up, create moves that fans can say, 'Wow, he's still doing it.' That's part of my growth and has part of what's been keeping me healthy to be able to keep doing what I do. Sometimes they tell me, 'Bro, you don't have to keep doing this thing [where] you slide underneath the ropes and hit the ground.' But I love doing it, I like giving the fans always something special."
As it stands, Mysterio currently reigns as the WWE United States Champion, and looks to be entering into another feud with Logan Paul. Despite the massive age difference between them, and many of Mysterio's opponents, fellow WWE Superstar Natalya asserts that Mysterio's present work is some of the best of his career. This, in combination with Mysterio's unwavering charisma, motivates stars like Natalya to keep grinding in the ring as well.
If you use quotes in this article, please credit "The MMA Hour" and provide an h/t to Wrestling Inc. for the transcription.