Former WCW Referee Nick Patrick Addresses Chris Benoit & Eddie Guerrero Leaving For WWE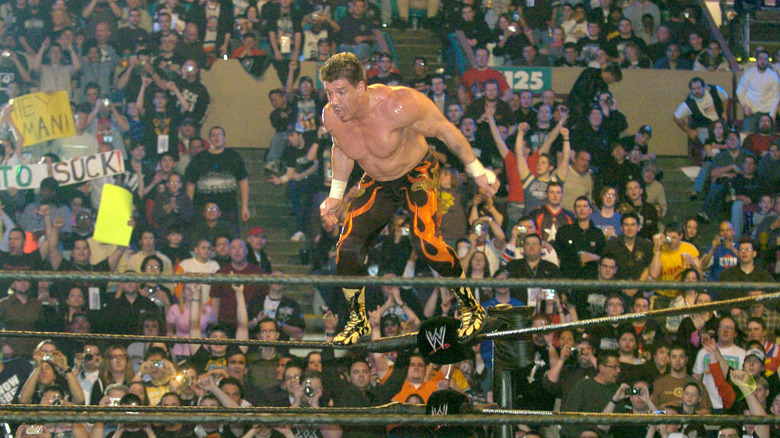 Kmazur/Getty Images
While there was plenty that contributed to the demise of WCW in 2001, a key point for many occurred a year earlier, when Chris Benoit, Eddie Guerrero, Dean Malenko, and Perry Saturn all gave notice to the promotion, then showed up in WWE weeks later as the group known as The Radicalz. Making the jump even more provocative at the time was the fact that Benoit won the WCW World Championship at WCW Souled Out, a move meant to placate him — Benoit ultimately decided to leave WCW anyway.
As one of the longest-tenured referees in WCW, Nick Patrick was on hand to witness the four men jump from WCW to WWE. And while Patrick revealed he never had any conversations with the quartet about the move during the latest episode of "Monday Mailbag," he also can't blame them for what they did.
"They made the right move," Patrick said. "They were not being pushed to the extent that they could or should've been pushed ... At that point in time, WCW seemed like they had a really hard time learning how to get new talent over. They were good at using other people that were already over somewhere else, or already had an established name from the territory days. 
"But as far as creating new people or new characters, they just hadn't figured that part out yet. And there was a ton of guys who had incredible talent that slipped right through their fingers. Or they didn't slip through their fingers, they just let them go or fired them. And they'd go to WWE ... and they'd become huge stars, because they did know how to get new people over."
If you use any of the quotes in this article, please credit "Monday Mailbag" and provide a h/t to Wrestling Inc. for the transcription