WWE's Dwayne The Rock Johnson Reacts To Controversial Wax Figure Of Himself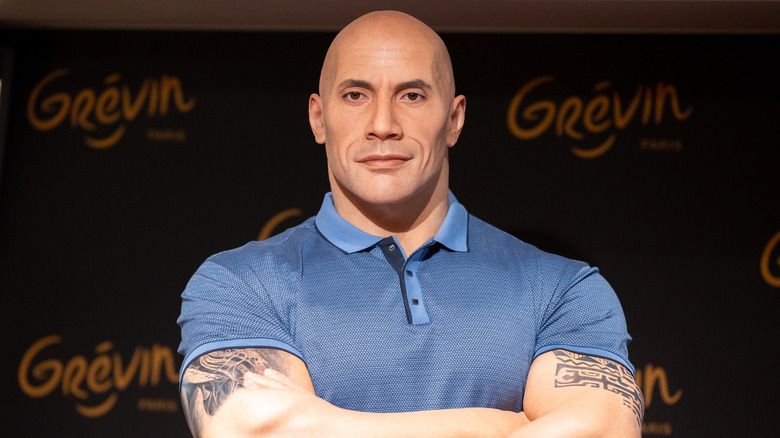 Marc Piasecki/Getty Images
As one of the most famous actors in the world, Dwayne "The Rock" Johnson is no stranger to having wax figures of himself; in fact, it was only a year ago when the London wax museum Madame Tussauds unveiled four wax statues of the former WWE Champion. What Johnson isn't used to, however, is the recent wax statue of him that was unveiled in the Grevin Museum in Paris, France, which has caused controversy, and ridicule, due to it making the Black/Samoan Johnson appear white. Not long after the figure was unveiled, and the jokes started pouring in, Johnson took to Instagram to comment on the matter. After admitting that he had a laugh about the situation, specifically a reaction to the statue from Instagram user James Andre Jefferson Jr., Johnson revealed that the Grevin Museum could expect to hear from him on the matter relatively soon.
"For the record, I'm going to have my team reach out to our friends at Grevin Museum, in Paris France so we can work at "updating" my wax figure here with some important details and improvements- starting with my skin color," Johnson said. "And next time I'm in Paris, I'll stop in and have a drink with myself."
Helping right the wrong of his new mannequin is just one of the latest projects Johnson has undertaken, as he continues to wait for the SAG-AFTRA strike to end. The "Black Adam" star is currently helping to oversee a merger between USFL and the XFL, which he runs with business partner and ex-wife, Dany Garcia, and has indicated he could return to the ring sooner than later, expressing interest in wrestling Roman Reigns at WrestleMania 40 this April.