Melina Recalls How Attending Wrestler's Court In WWE Made Her Feel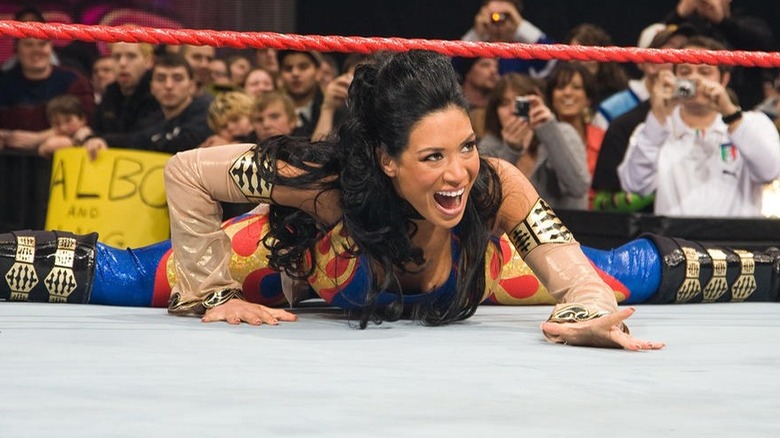 WWE
Wrestler's court has long served as the WWE locker room's way of policing their own issues behind the scenes with a fake judicial system operated by the talent. There have been more than a few wild stories as to why certain individuals have found themselves in front of it, in addition to some of the sentences handed out. While many who were involved believed it was a positive thing to keep people in check, one incident left Melina feeling bad as she watched on.
"I remember there was an overseas trip and it was like a wrestler's court type of deal and it was one of the tag teams; they were trying to get them to fight each other, so then it finally happened and then there was blood drawn," she told "Wrestling Shoot Interviews." "I was like, 'Oh my God, what the hell is going on here?'"
Melina couldn't recall which tag team it was at the center of it but did remember the doctor had to issue stitches for a resulting injury. "It was one of those things where it's like, 'Why am I witnessing people trying to make other people fight against their will and they just want to go to sleep?' It was the most insane thing," she said. "I can't do anything, I want to stop it, I want to help, but I can't."
Melina herself was taken to wrestler's court during her WWE career, and there have been some horror stories regarding the entire system — which would explain why CM Punk labeled it: "The most insecure small d*ck energy average white man embarrassment to the wrestling business sh*t of all time."
If you use any quotes from this article, please credit "Wrestling Shoot Interviews" with a H/T to Wrestling Inc. for the transcription.