AEW's Kenny Omega Talks About Ring Entrance With 'Deeper Meaning'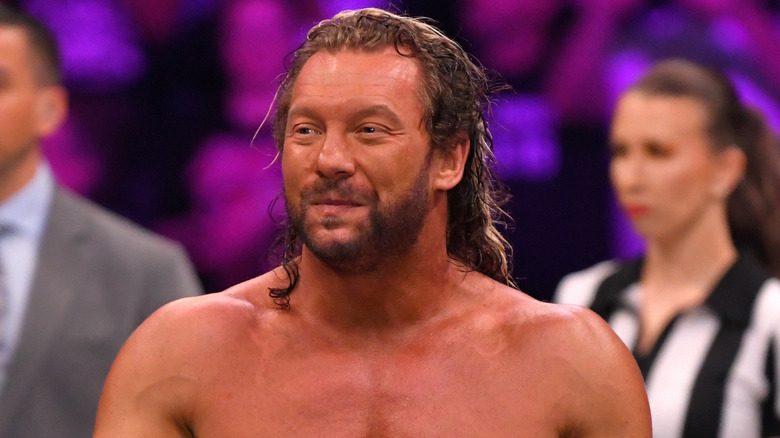 AEW
While Kenny Omega may be one of AEW's founding fathers, after Saturday night's "AEW Collision," "The Cleaner" is no longer the longest-reigning AEW World Champion in history. MJF now owns that high honor, after handing the Elite member a rare clean pinfall loss. Understandably, this left Omega not wanting to dwell on his defeat, heading to X (formerly Twitter) to look back at a happier occasion, specifically the time he made an elaborate entrance on the Halloween 2019 "AEW Dynamite" themed around the popular video game "Undertale."
Since I lost yesterday I'll talk about something 4 years ago

At face value this was a real fun collab. Much like my WK entrance against Tanahashi though, there was a lot of deeper meaning to this that I hope to one day talk about. Still a great memory, though👍 https://t.co/AJ2iRVC9cR

— Kenny Omega (@KennyOmegamanX) October 30, 2023
As alluded to in his post, this actually wasn't the first time Omega, who's always been very vocal about his love for video games, had made an entrance related to "Undertale," also doing so at NJPW Wrestle Kingdom 13 in January 2019. In that entrance, Omega cosplayed as the character Kris, while in AEW, he appeared as the character Sans. In a great touch, "Undertale" creator Toby Fox actually helped design Omega's special entrances as well.
As cool as those entrances were though, many would argue that the best mix of Omega's gaming fandom with his work in professional wrestling came early in 2023, when the "Best Bout Machine" made an even more elaborate entrance at Wrestle Kingdom 17. Omega paid tribute to the iconic RPG Final Fantasy VII, and more specifically its villain Sephiroth. That makes perfect sense, as Omega's One Winged Angel finishing move is itself a Final Fantasy VII reference.