Video: AEW's Ethan Page Works Out Dressed As Bowser From Super Mario Bros.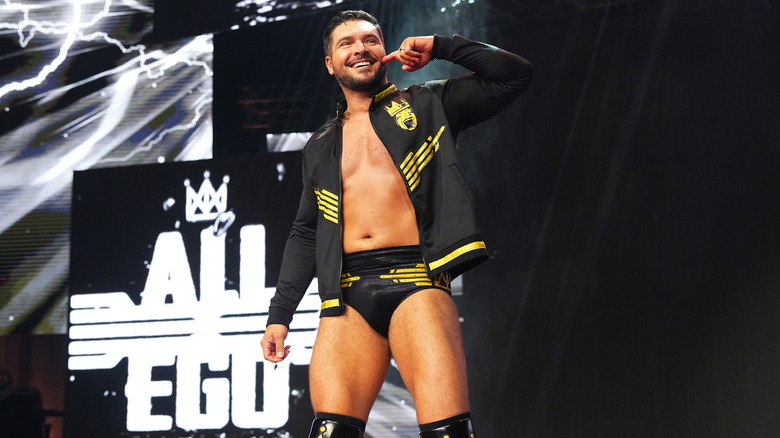 AEW
It's Halloween and that means that professional wrestlers are finding ways to show off their costumes, their physiques, or both. "All Ego" Ethan Page took to X (formerly Twitter) to post a video of himself, dressed as the Super Mario Bros. villain Bowser, working out his upper body.
"Stay safe out there & eat lots of sugar," Page wrote. "All Ego" is silent throughout the workout, until the ending when he gives a thumbs up and a weary "Happy Halloween."
Stay safe out there & eat lots of sugar 👍 pic.twitter.com/82KjoKIyP5

— "All Ego" Ethan Page (@OfficialEGO) October 31, 2023
Page isn't the only wrestler dressing up for Halloween, as The New Day recently posted a picture of themselves dressed as Judgment Day's Dominik Mysterio and Damian Priest.
"All Ego" has mainly wrestled for ROH and on "AEW Rampage" over the past few months, with his last major match being a losing challenge to AEW World Champion MJF in Page's hometown of Hamilton, Ontario, Canada. The Canadian star missed AEW All In in London, explaining that he'd recently applied for a green card, which has left him stuck in North America until the process is finalized.
Once Page's green card issues are finalized, he'll be able to resume his quest to bring back over-the-top characters to wrestling audiences worldwide. Page recently said that his affinity for '80s wrestlers like "Macho Man" Randy Savage inspired him to move away from what he feels is a business that has become too grounded, noting that the bombast of characters like Savage or Dwayne "The Rock" Johnson provide a way for wrestlers to get over that isn't just based on in-ring work.