AEW's Paul Wight, Formerly Big Show In WWE, Assesses In-Ring Future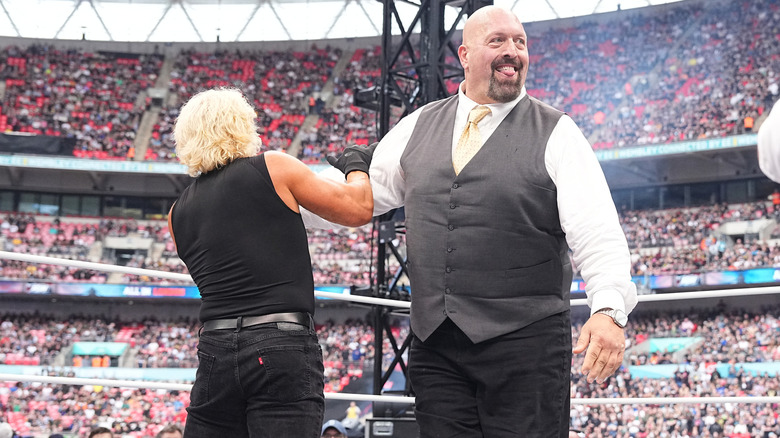 AEW
Paul Wight has discussed his in-ring future and when he will officially hang up his wrestling boots for good. 
Wight, formerly known as Big Show, was a recent guest on the "Battleground Podcast" where the hosts raised the topic of Sting's upcoming retirement and asked him about his own plans to call time on his career.
"I probably got a year-and-a-half, two years left before [I retire]," said the AEW star. "It's just really about trying to help this younger talent and then moving on to that commentary role, and then it's up to the younger talent. Right now I'm still froggy and want to have fun and play a little bit, but I've had plenty of matches, I've done plenty of tours, I've had plenty of rivalries and right now it's kind of like ... helping the product out."
Wight, since signing with AEW in February 2021, has wrestled four times in the promotion — the first against QT Marshall at All Out in 2021, followed by three matches on AEW Dark: Elevation, the promotion's now-defunct YouTube show. 
The veteran star also touched upon Sting's retirement at next year's Revolution pay-per-view, lauding the Hall of Famer's longevity as well as his positive attitude behind the scenes.
"There's a time all things come to an end, unfortunately, and even with Sting, who's had such a tremendous career and is such an incredible dude," said Wight. "Even backstage, Sting has always been a guy that's always had a good positive attitude about stuff — willing to do anything, willing to work hard to get anyone over, knows who he is as a character, knows his audience, goes out of his way every time he steps fo the ring to give the audience 100%. Nothing but respect for Sting."
Wight had to undergo knee surgery last year which forced him to use a wheelchair for weeks, but he recently revealed that he's in great shape, which opens the door for a few more matches in the future.