Triple H Invites NBA's Joel Embiid To WWE WrestleMania 2024 After DX Celebration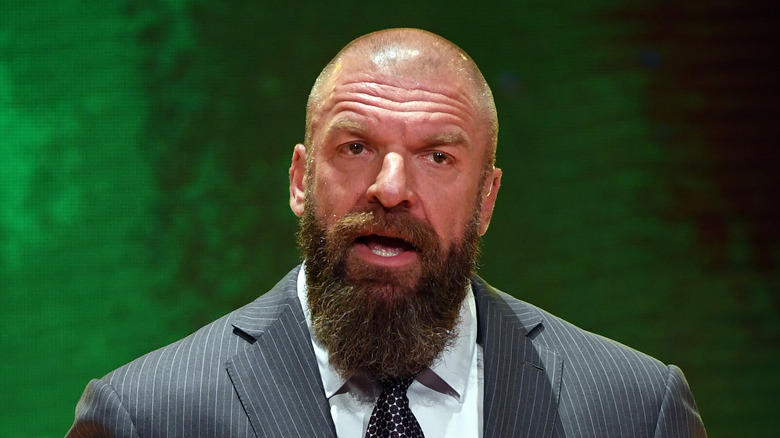 Ethan Miller/Getty Images
Ever since he unveiled his crotch chop celebration, first in 2021 and then again last season following a dunk against the Brooklyn Nets, Philadelphia 76ers star Joel Embiid has had a bit of a bromance going with another master of the crotch chop, Triple H. Embiid publicly revealed that the celebration was inspired by the WWE CCO and his former stable, D-Generation X, while Triple H would later offer to help pay the $25,000 fine Embiid received for the gesture.
Now, nearly a year later, Triple H may have an even bigger offer for Embiid than simply paying a fine. Taking to X on Halloween, a day after Embiid unleashed not one, but four crotch chops after a basket and won against the Portland Trailblazers, Triple H told Embiid he knew a place where the Sixers star could crotch chop all the time without getting fined. He then invited Embiid to appear at WrestleMania 40 next April, which just so happens to take place in Philadelphia.
Hey @JoelEmbiid – I know a place where you can do that all day, and everyone will love it. @WrestleMania 40 is right there in Philly... https://t.co/2Ab1w781qU pic.twitter.com/swVCzt5N8E

— Triple H (@TripleH) October 31, 2023
Unfortunately for Triple H, the likelihood of Embiid accepting his invitation are pretty low, thanks to the Sixers' schedule in early April. The team, which has major playoff aspirations, despite a recent trade of James Harden, will have back-to-back games on April 6 and April 7, the same nights WrestleMania will take place, against the Memphis Grizzlies and San Antonio Spurs. Both games will be part of a three-game road trip for the Sixers, making it all but impossible for Embiid to make a WrestleMania appearance.