Rob Van Dam Recalls Backstage Interaction With Ric Flair During AEW Dynamite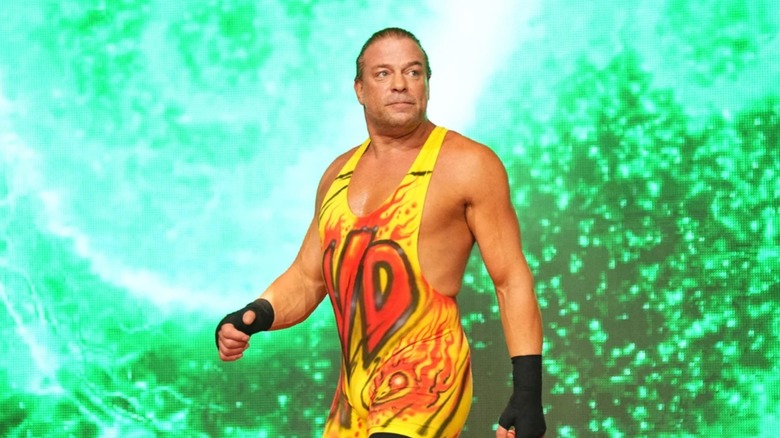 AEW
"The Nature Boy" Ric Flair showing up in AEW as a surprise gift for Sting certainly wasn't an addition many saw coming. Additionally, Rob Van Dam hanging around AEW for longer than a cameo has been a nice revelation — especially given his partnership with HOOK lends to their mutual ECW connection. 
But consider Van Dam also shocked by Flair's presence, as he has no idea "The Nature Boy" would be coming in when he did — or even at all. On the latest episode of "1 Of A Kind," RVD shared that he was surprised to see Flair backstage after he came through the curtain from his "Dynamite" match the night of Flair's debut. The two then shared a moment between themselves right before Flair hit the ring.
"I just said 'Dude, what are you doing here?'" Van Dam said. "He said 'Hey, I'm going to work, man.' We just laughed. I said 'Do they know you're here? The crowd?' He said 'No, I'm a surprise.' He was coming out in the next segment. I was like 'Awesome. That's f***ing cool.'"
"I love Philly, and that's so awesome that we're giving them such an awesome show with big things like that," Van Dam added, given a nod to the city where he cut his teeth in ECW. "I watched behind the curtain until I could see Philly's reaction to Ric Flair coming out, because I just thought that was a really cool and unexpected moment."
There will be more Flair moments in AEW to come, too. "The Nature Boy" has freshly inked a new deal with AEW for several years, in addition to his energy drink Wooooo! Energy now becoming the official energy drink of Tony Khan's promotion. 
If you use any of the quotes in this article, please credit "1 Of A Kind" and provide a h/t to Wrestling Inc. for the transcription