WWE's Seth Rollins Discusses Working On Captain America Movie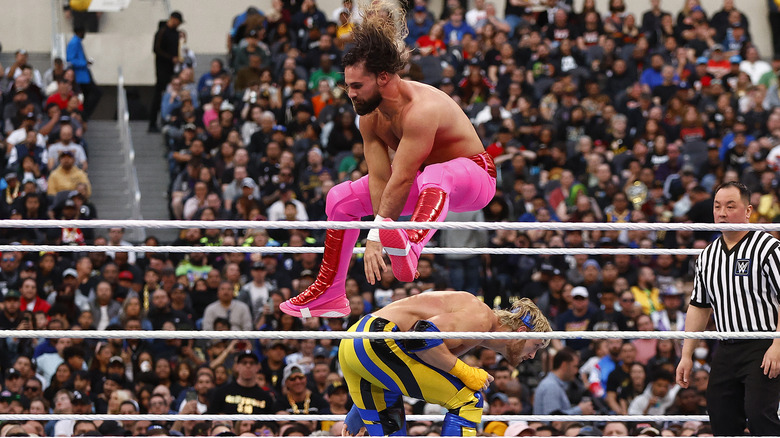 Ronald Martinez/Getty Images
Right now, Seth Rollins calls himself the WWE World Heavyweight Champion, but pretty soon he'll be able to call himself a movie star, a Marvel movie star at that. That's because Rollins is set to appear in the upcoming film "Captain America: Brave New World," formerly called "Captain America: New World Order," where he is scheduled to play an undisclosed villain.
Rollins was asked about the role during an appearance on "Mythical Kitchen," though he couldn't go too in-depth about it due to the ongoing SAG-AFTRA strike preventing actors from promoting work. He did, however, hint that he'd be playing a recognizable character, and stated that he had a great time during filming, even though he went into the film with limited experience in acting.
"I think our audience is going to love it. I think their audience is going to love it," Rollins said. "It was a cool crossover to be able to kind of jump into some totally different skin and try a new thing out for me. I'm not comfortable ... Look, I'm 38. I've only been doing wrestling for 20 years, nonstop. That's it. I worked in like crappy restaurants and a car wash when I was in my early 20s, and that's it."
"Other than that, all I've done is wrestling. So any time I get outside of my comfort zone, I'm nervous ... But I was in good hands, and it was a really fun, fun experience. And I'm excited to see how it turns out, and hopefully, everybody doesn't hate me. I don't wanna have ruined everybody's vision of this character, so I'm doing my best. I hope people enjoy it."
If you use any of the quotes in this article, please credit "Mythical Kitchen" and provide a h/t to Wrestling Inc. for the transcription.