Paul Wight Says This Current AEW Wrestler Is 'The Most Modern Day Ric Flair' He's Seen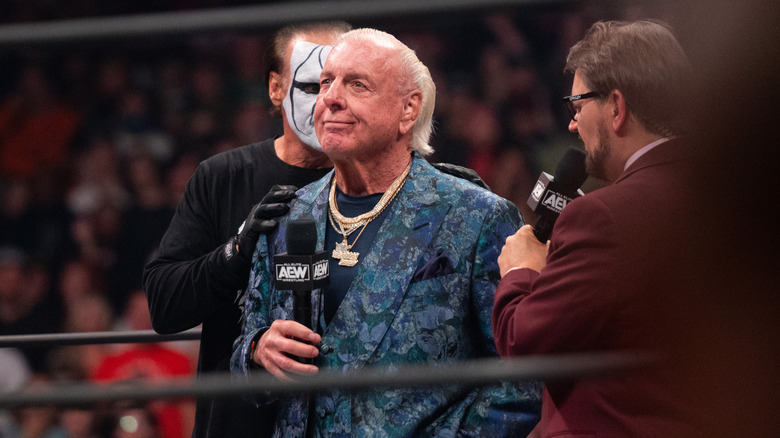 AEW
Paul Wight has compared MJF to Hall of Famer Ric Flair, calling "The Salt of The Earth" the closest thing to "The Nature Boy" in modern wrestling.
Wight made the comparison during his recent appearance on "T95 The Rock Station," stating that MJF has several qualities that make him stand out. He highlighted how MJF's ability to know what works is similar to that of Flair and another Hall of Famer, Rowdy "Roddy" Piper.
"When I look at MJF, because MJF is naturally cocky, you know he's a hard worker, he's got that swag to him, he understands performing, he was a child star on Broadway, so he's got some chops, got some talent," said Wight. "But he understands who he is, he understands what works. To me, there's only one Ric Flair, but I look at MJF, he's the most modern-day Ric Flair that I've seen. There's heels that get heat and then there are guys like Ric Flair that you hate him, but then at the same time, you can't wait to see what they say next ... like Ric Flair, Roddy Piper."
The veteran star believes MJF possesses a natural ability to draw people's interest, even if he's a bad guy. Wight is not the first person in the pro wrestling industry to draw parallels between Flair and MJF. "The Nature Boy" himself previously stated that the AEW World Champion is a lot like him in many ways.
With Flair now a part of AEW, there's a possibility that he could feature in a segment or storyline alongside MJF, and the two could maybe duel in a promo battle with each other on AEW television. The 16-time world champion will likely be involved in Sting's retirement storyline, while the AEW World Champion is currently feuding with Jay White, ahead of their match at Full Gear.