WWE's Cody Rhodes Reveals Historic Last Match He Was Offered In AEW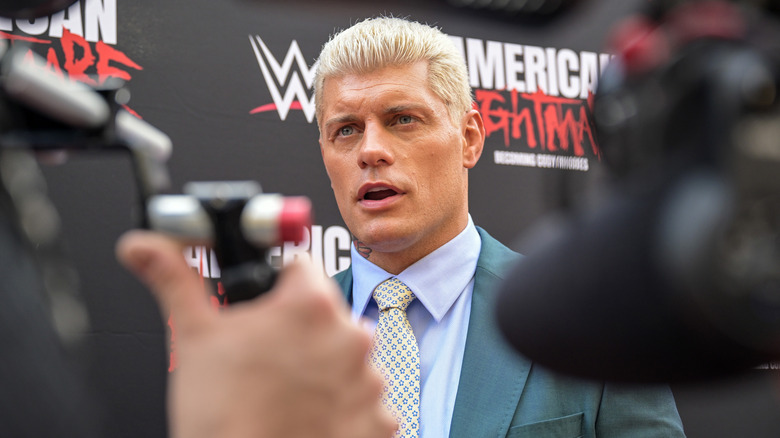 WWE/Getty Images
Back when he was in AEW, Cody Rhodes lost a match against Chris Jericho that meant Rhodes could never challenge for the company's world title again — a decision he would later express his regrets over. That doesn't mean Rhodes had nothing noteworthy to do in AEW, with his TNT Championship feuds and, as recently revealed during a conversation with Sports Illustrated, a potential match against one of his pro wrestling heroes.
"The last match I was offered in AEW was [with Sting]," Rhodes said. "It wasn't confirmed or anything like that, but just the little I had to do with his debut there is a wonderful memory. I was a little Stinger. Maybe I'll pull out a Stinger Splash in his honor. Seriously, cheers to a wonderful career."
Unfortunately, it doesn't look as though Rhodes and Sting will share the ring again. Sting recently announced his impending retirement, with the 64-year-old set to wrestle his final match at AEW Revolution early next year. Though he had several stretches away from wrestling throughout his career, Sting made his debut back in 1985, meaning some fans have been watching him perform on and off for almost 40 years. That includes Rhodes, whose father Dusty had a close relationship with Sting.
Rhodes has found a great deal of success after he departed AEW in early 2022, walking away from an EVP role at the company he helped create. Since making his return at WWE WrestleMania 38, Rhodes feuded with Seth Rollins for several months before tearing his pectoral muscle, won the WWE Royal Rumble earlier this year, and then went on to face Roman Reigns at WWE WrestleMania 39. Though he fell short, many fans are expecting a rematch this coming April in Philadelphia.