Ric Flair Compares AEW's Place In The Wrestling Industry To WWE's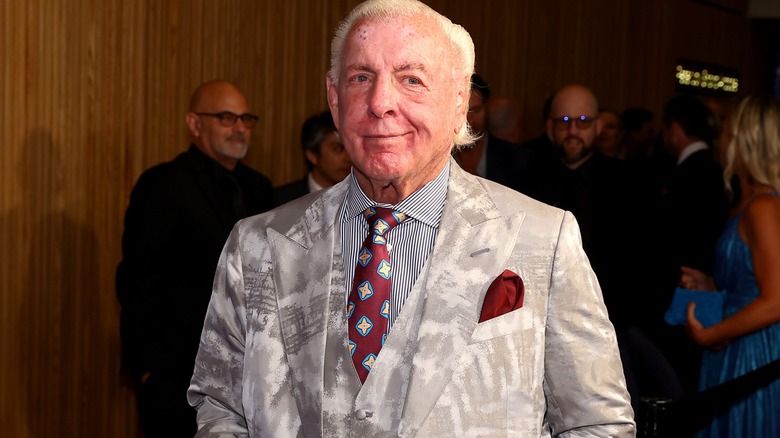 Arturo Holmes/Getty Images
Ric Flair has a new home in AEW, having agreed to a multi-year deal with the promotion last week, one that includes Flair's Wooooo Energy! becoming the official energy drink of AEW. It has also helped Flair reach a major milestone, as the "Nature Boy" has become one of the few wrestlers to have worked for every major promotion, including AEW, TNA/Impact Wrestling, New Japan Pro Wrestling, and WWE.
Flair talked about his new home during an appearance on "Gabby AF," and the "Nature Boy" appears to be quite bullish on AEW's future, and the opportunity to get to work with some of AEW's bright young stars. In fact, he believes there's really only one thing that is separating AEW from WWE at the moment, and it concerns longevity.
"The only difference between AEW right now, in my estimation, and WWE, is the fact that WWE has been there so much longer," Flair said. "I think AEW's in its fourth year now or something like that, and they're you're chasing a monster that's been around...since the late '70s and early '80s, when they started going national...across the country with network TV, and of course cable.
"And I'm sure Tony, in time, I hope I live long enough to see it catch up... But I think everybody is happy, and the wrestling people love wrestling. AEW did 81,000 people in London, and they're going back again in August. So that made a statement in and of itself, that's more people than we drew at SummerSlam when I was there in 92. I think it's a Wembley Stadium record. So they're alive. They're alive and well."
If you use any of the quotes in this article, please credit "Gabby AF" and provide a h/t to Wrestling Inc. for the transcription