WWE's Bianca Belair Reacts To Filming Reality Show With Husband Montez Ford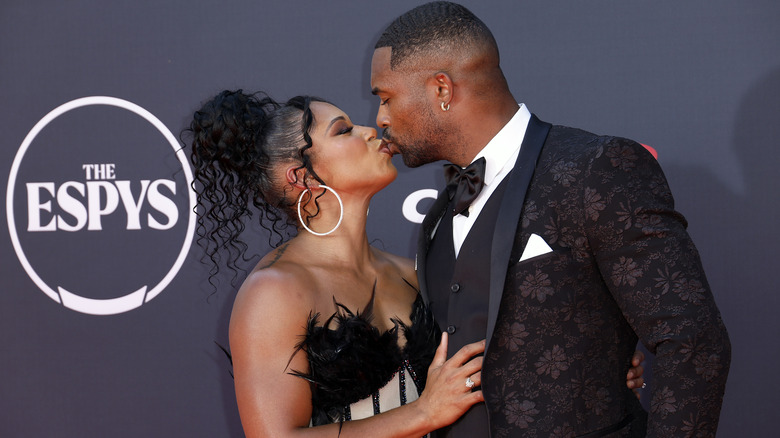 Frazer Harrison/Getty Images
Fans of Bianca Belair and Montez Ford will soon be able to see the married couple on more than just WWE programming. The launch of their upcoming reality show — "Love & WWE: Bianca & Montez" – will bring them to Hulu in February, and "The EST" couldn't be any more excited, and nervous, about it.
In an appearance on "The Wrestling Classic," Belair explained that the show would follow the pair's personal and professional lives during last year's road to WrestleMania — the most stressful time of the year to Belair as it is. Things were only worsened by cameras present constantly, which the former WWE Women's Champion confessed was a bit weird.
"It was," Belair said. "I will admit [that], and it's funny because you would think that I'm used to having cameras in my face, but that's when I'm at work. That's when I'm at 'Raw' and I'm at 'SmackDown,' and I'm Bianca Belair, and that red light comes on and I turn it on. At home," she continued, "I'm ready to turn it off. In real life, I'm actually a shy person, and I'm more laid back and more reserved. My husband ... who he is is who I get at home 24/7, wild and crazy."
"Cameras are following you around for 'SmackDown' and the live house shows on Saturday and Sunday, then 'Raw' Monday, then you come home Tuesday, Wednesday, and Thursday, and they're still following you around," Belair added. "But I just wanted to be myself at home and show who I am outside of it. So it was an adjustment, but I got to be just genuine and real. So hopefully everyone enjoys it."
If you use any of the quotes in this article, please credit "The Wrestling Classic" and provide a h/t to Wrestling Inc. for the transcription