Alexa Bliss Comments On Whether She's Had WWE Hall Of Fame Worthy Career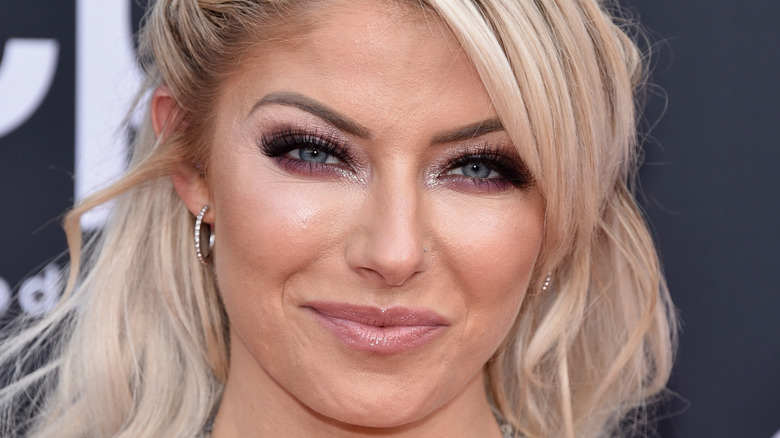 John Shearer/Getty Images
Alexa Bliss has had quite a career in WWE, winning major championships and wrestling at shows such as WrestleMania and SummerSlam. But does that make The Goddess a certified WWE Hall of Famer in her opinion?
"I think on paper, yes," former Raw Women's Champion Alexa Bliss said appearing on "MackMania." "On paper, I could be a Hall of Famer, 100%. You know, I've been very fortunate with the opportunities I've had in WWE, especially in my first couple of years on the roster ... On paper our whole women's division technically yes, could be Hall of Famers."
Bliss has been on the main roster since she was drafted to the "WWE Smackdown" brand in July 2016. Within her first year of being on the main roster, Bliss became the first woman in WWE history to win both the "Raw" and "Smackdown" Women's Championships, doing so, in fact, within 10 months of her debut. Since then, Bliss has gone on to win a total of five Women's Championships, three on "Raw" and two on "Smackdown," and the WWE Women's Tag Team Championship twice.
Prior to her main roster run, Bliss wrestled on the "NXT" brand, however, she was never the main focus of the show. More often than not she was the manager of a tag team consisting of Wesley Blake and Buddy Murphy.
Bliss has something of a new character in the works for the future.
Jon Kopaloff/Getty Images
What does Bliss believe gives her a Hall of Fame career on paper? The Five Feet of Fury has played many iterations of different characters in WWE.
"There is a version of me that I am dying to get to, it just hasn't gotten there yet," Bliss said. "Man, I've been like nine different people. If you really look at it, from start to now, nine different like, variations of how I look, how I act, how I speak, and right now it's just me ... Lexi is not for TV, I'm boring like as a person, you know? On TV right now I'm boring."
Some of the well-known gimmicks from Bliss' WWE career include The Goddess, which was her character when she first came to the WWE main roster. There was also the darker version of her when she was aligned with Brat Wyatt and following Wyatt's release, she began talking to Lilly (a doll). In "NXT," Bliss had worked under a bubbly cheerleader gimmick when she first debuted, however, in turning heel and joining Blake & Murphy, that gimmick was dissolved.
If you use any quotes from this article, please credit "MackMania" with an h/t to Wrestling INC. for the transcription.