Joe Gacy On If He Sees Himself As A WWE NXT Locker Room Leader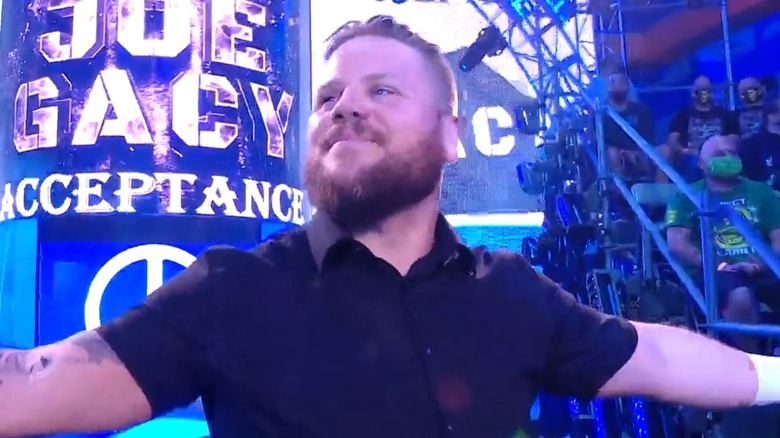 WWE
Joe Gacy may not have won the NXT Title at"In Your House" this past Saturday, but the former number one contender has aspirations for that and then some. In a new Wrestling Inc. exclusive interview with Managing Editor Nick Hausman, Gacy was asked what kind of NXT Champion he'd be behind the scenes if he were to win the belt against Bron Breakker.
"Joe Gacy would be the type of champion that would, I hope, influence the locker room and lead NXT. That is the goal," he said.
Gacy has been noted as a veteran on the independent wrestling circuits and was asked if that experience has made him a locker room leader for the new generation of NXT stars.
"So, oddly, maybe? Maybe I should be," Gacy said. "When I first got here, the locker room was very different. You had guys like Tommaso [Ciampa] here who, in my opinion, would have been the leader of NXT. Now that he's where he is, I look around at the locker and I see like, wow, there's these guys who are the faces of NXT 2.0. And I guess, in a way, we all are kind of the leaders as well as the females too. So I think it's an adjustment, but I think we're slowly, finally getting to that point where we're hitting a stride, and I think we are the faces that are being looked up to from a lot of the younger talent coming in."
Gacy and Breakker headlined In Your House, and the story of the fight had Gacy aiming to get in the head of Breakker, wanting the Champion to let his temper get the better of him. Breakker kept that temper in check, but it was Gacy who played into that perceived attitude.
There was a moment in the match where Gacy pulled an Eddie Guerrero classic by throwing a chair at Breakker and acting like he was struck by the champ. This could have gotten Breakker to lose the match and his title, but another official prevented such from happening. Breakker ended up getting the win following a spear and a gorilla press powerslam for the pinfall.