NWA EmPowerrr Results: New Women's Tag Team Champions, Kamille Vs. Leyla Hirsch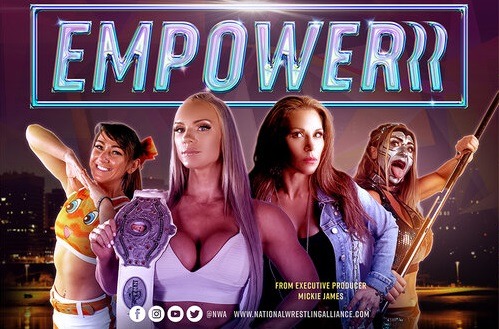 Photo Credit: NWA
Saturday night featured the NWA EmPowerrr pay-per-view.
During the event, The Hex (Allysin Kay and Marti Belle) defeated Red Velvet and KiLynn King to become the NWA Women's Tag Team Champions.
Awesome Kong made a surprise appearance to announce her retirement from pro wrestling.
Chelsea Green won the Women's Invitational Cup and will now be facing NWA Women's Champion Kamille at tomorrow's NWA 73 pay-per-view. Kamille defeated Leyla Hirsch to retain the title.
Below are the results:
Christi Jaynes defeated Skye Blue (Pre-Show Match)
Diamante (AEW) defeated Kylie Rae (NWA) & Chik Tormenta (AAA)
NWA Women's Tag Team Championship Tournament Semifinal Match
The Hex (Allysin Kay & Marti Belle) defeated Hell on Heels (Renee Michelle & Sahara 7)
NWA Women's Tag Team Championship Tournament Semifinal Match
Red Velvet & KiLynn King defeated The Freebabes (Miranda Gordy & Jazzy Yang)
Impact Knockout's Championship Match
Deonna Purrazzo (c) defeated Melina
NWA World Women's Tag Team Championship Match: 
The Hex (Allysin Kay & Marti Belle) defeated KiLynn King & Red Velvet
NWA World Women's Championship Match 
Kamille (c) defeated Leyla Hirsch
NWA Women's Invitational Cup Gauntlet Match
Chelsea Green defeated Bianca Carelli, Debbie Malenko, Lady Frost, Jamie Senegal, Jennacide, Kiera Hogan, Masha Slamovich, Thunder Kitty, & Tootie Lynn
Congratulations @MickieJames #NWAEmpowerrr pic.twitter.com/GbMzjn0yM7

— David LaGreca (@davidlagreca1) August 29, 2021
.@DiamanteLAX coming in hot! #NWAEmpowerrr pic.twitter.com/9xEA1sf2KF

— Cody Nichols (@AllEliteCody) August 29, 2021
Mission accomplished ☑️ https://t.co/T4OS0cGoil

— The 🇨🇺💎 (@DiamanteLAX) August 29, 2021
OMG! AWESOME KONG!!!! @nwa #EMPowerrr pic.twitter.com/aPuJuhlTY2

— MrAWESOME (@MrAWESOME2477) August 29, 2021
Awesome Kong announces she is done with pro wrestling and wanted to go out with Gail Kim.❤#NWAEmpowerrr | #EMPOWERRR pic.twitter.com/lKMbboQqFf

— 𝐃𝐫𝐚𝐕𝐞𝐧 (@WrestlingCovers) August 29, 2021
That was lethal! @DeonnaPurrazzo #NWAEmpowerrr | #EMPOWERRR pic.twitter.com/7dt1n7V2US

— 𝐃𝐫𝐚𝐕𝐞𝐧 (@WrestlingCovers) August 29, 2021
Long may she reign. #EMPOWERRR @DeonnaPurrazzo @nwa pic.twitter.com/vYD86Twmmi

— IMPACT (@IMPACTWRESTLING) August 29, 2021
And New @NWA Women's World Tag Team Champions for the first time since Wendi Richter and Joyce Gable in 1983 @Sienna and @MartiBelle #TheHex crowned by @Madusa_rocks #NWAEmpowerrr pic.twitter.com/RhYdF3gJA3

— R.A. Davis (@DeadAheadRA) August 29, 2021
Yoooo!!! That was incredible!!😱@LegitLeyla #NWAEmpowerrr | #EMPOWERRR pic.twitter.com/e8REwxDGE3

— 𝐃𝐫𝐚𝐕𝐞𝐧 (@WrestlingCovers) August 29, 2021
Kamille dominating.#NWAEmpowerrr | #EMPOWERRR pic.twitter.com/iZ2Ec3zGvk

— 𝐃𝐫𝐚𝐕𝐞𝐧 (@WrestlingCovers) August 29, 2021
.@LegitLeyla looking to take Kamille off her feet.#NWAEmpowerrr | #EMPOWERRR pic.twitter.com/qRPQc3gn3B

— 𝐃𝐫𝐚𝐕𝐞𝐧 (@WrestlingCovers) August 29, 2021
AMAZING!! 🤯 @RealLadyFrost #NWAEmpowerrr | #EMPOWERRR pic.twitter.com/iBzHR9Frjw

— 𝐃𝐫𝐚𝐕𝐞𝐧 (@WrestlingCovers) August 29, 2021
.@mashaslamovich counters the Unprettyher!😮#NWAEmpowerrr | #EMPOWERRR pic.twitter.com/dpvQyxgNXt

— 𝐃𝐫𝐚𝐕𝐞𝐧 (@WrestlingCovers) August 29, 2021
Congratulations @ImChelseaGreen!🏆#NWAEmpowerrr | #EMPOWERRR pic.twitter.com/qSwdOwfDnC

— 𝐃𝐫𝐚𝐕𝐞𝐧 (@WrestlingCovers) August 29, 2021
Congrats @ImChelseaGreen! #NWAEmpowerrr pic.twitter.com/WD6wbwLgYE

— Matt Cardona (@TheMattCardona) August 29, 2021
👏🏻👏🏻👏🏻👏🏻👏🏻👏🏻👏🏻👏🏻👏🏻
Thank you @MickieJames
Thank you @Phenom_Jazz
Thank you @gailkimITSME
Thank you @Madusa_rocks
Thank you @nwa #NWAEmpowerrr | #EMPOWERRR pic.twitter.com/snmBN2k82a

— 𝐃𝐫𝐚𝐕𝐞𝐧 (@WrestlingCovers) August 29, 2021