Stephen Amell On CM Punk Wrestling Again After Being At Peace For Leaving It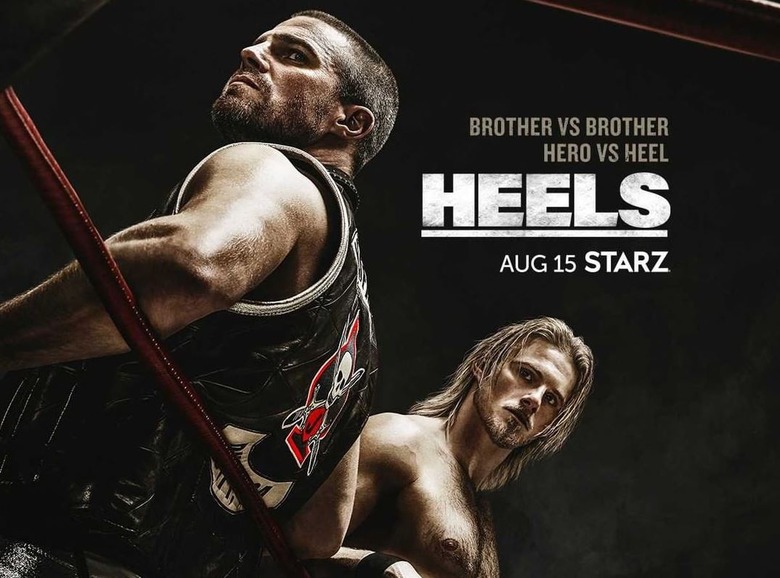 Starz
Actor and occasional wrestler Stephen Amell joined Oral Sessions with Renee Paquette to talk about his upcoming show Heels on Starz. The show, based on a wrestling territory in Georgia, will also star CM Punk, who is heavily rumored to be joining AEW in a few weeks. As he did on Busted Open Radio, Amell discussed the rumors surrounding his co-star and praised AEW for doing it's job in stirring the pot within the wrestling industry.
"I texted him," Amell said of Punk. "I said 'you coming back?' He sent me back a photo of a cat shrugging. He obviously saw the red notification and then he sends me a note two hours later going 'come on. That deserves a response. That's a good photo!' I said 'how about an answer?' He didn't say anything. So I have no idea.
"Two things. Number one, and I think this kind of goes without saying, he can still go. Phil can still go, for sure. Again, I can't speak for him, but the impression I got was he was very much at peace with not being involved with the business. But I think that being in the business, there's more to it than just 'do you want to bump? Do you want to get in the ring?'
"The landscape has changed. If you went and you asked a wrestler 'do you want to be in the business anymore?' and they're like 'no. I'm good, I've done my time.' Okay well, what if we could drop you right in the middle of the Monday Night Wars? Would you want to be in the business then? They'd be like 'yup.' I think that AEW, whether he ends up there or Bryan (Danielson) ends up there or whether they both end up in the WWE, one way or another AEW has done it's job, from my perspective. Because it stirred the pot."
Amell didn't know Punk prior to working on Heels, but had heard good things about him from his friend, AEW star Cody Rhodes. He told a story of showing the other cast members Punk's match with John Cena at Money in the Bank 2011, in order to help them grasp how big a deal it was to have Punk as part of the show.
"No I didn't," Amell said when asked if he and Punk knew each other before the show. "He was gone from the WWE when I did my stuff. For me, the barometer is always Cody. When I learned that Phil was interested, or that they were interested with him, I of course got in touch with Cody. And he's like 'couldn't be a nicer guy', and he was right. The cast was kind of getting together because we didn't have anyone else to hang out with while we were filming. And I was like 'hey guys, you've got to check this out.' And I played them his match against John Cena where it was like, if he won, he was leaving the company at midnight. He got the hometown pop, and I'm like 'you're about to watch the greatest hometown reaction that any wrestler has ever gotten ever. And this guy is going to be on our show.' And they were just mystified by the match, just enchanted."
Being on a show called Heels, Amell was naturally asked who he thinks are some of the best heels in the business, both past and present. He named a current WWE star and two WWE legends.
"Roman's pretty good right now," Amell said. "Triple H gets a lot of love for me. His heel run where he became The Game, he basically had to take the reigns for a little bit. He turned himself into a monster heel. I think maybe the greatest heel of all time is the original incarnation of Stone Cold. Because it's sort of the very definition of 'he just doesn't give a s**t.' Even Austin 3:16, I'm sure that's something that they looked at, but people forget that he's mocking Jake "The Snake" finding religion. And he calls him a piece of trash. He's like 'get that piece of trash out of here.' He was great. He's an all time heel."
If you use any of the quotes in this article, please credit Oral Sessions with Renee Paquette and provide a h/t to Wrestling Inc. for the transcription