10 Moments That Solidified Roman Reigns As A WWE Star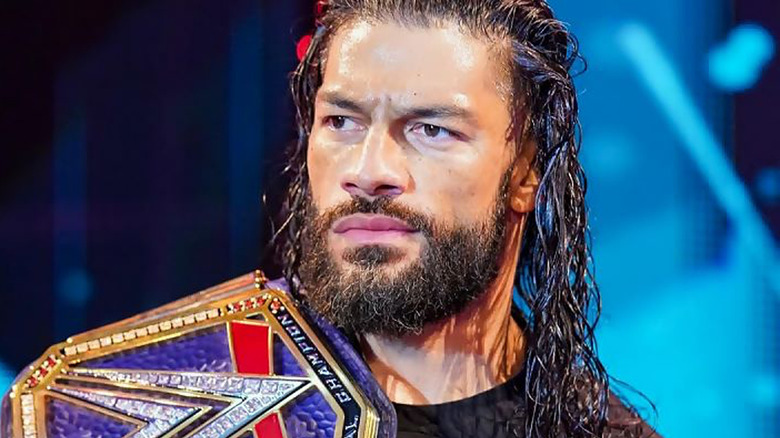 WWE
Roman Reigns – for better and for worse, it's a name that has defined WWE for the past few years. From his arrival in NXT to the rise and fall of The Shield to his eventual singles run, Roman has been one of WWE's main pet projects. There's always been a conscious effort on WWE's part to make Roman look as good as humanly possible, even when it went against logical booking. Despite some bumps in the road, Roman has come a long way since his onscreen growing pains in the 2010s.
Now Reigns is looked at as one of WWE's greatest commodities, if not the greatest, with any appearance from him seen as must see television. Through the combination of a well timed heel turn, his alliance with the Bloodline, and his improved promo skills, the man has truly achieved stardom. Here are just a few of the key events that led us here, the biggest moments that solidified Roman Reigns as a WWE star.
Being the sole survivor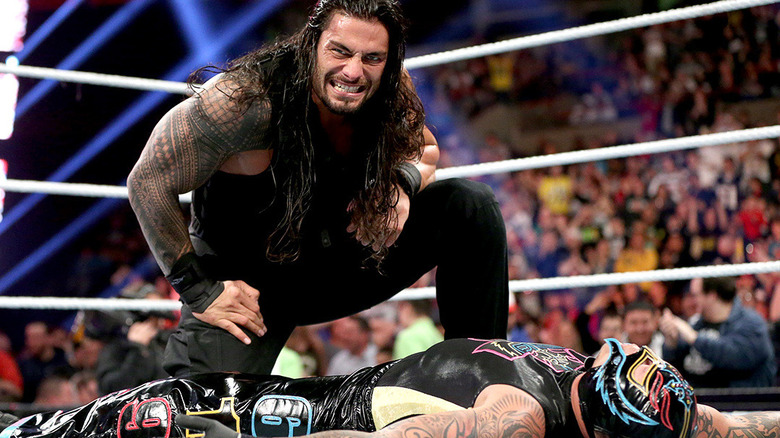 WWE
Following the debut of The Shield at Survivor Series 2012, each member of the trio received an opportunity to shine individually. All three men — Seth Rollins, Dean Ambrose (now Jon Moxley), and Roman Reigns — through singles and tag team matches, got ample time to flex their respective strengths. Whereas Rollins was the high flyer and Ambrose was the wild card, Reigns was undoubtedly the powerhouse. It wasn't uncommon for Reigns to overpower one or more competitors with ease. Through these various moments, you can spot the early seeds of his future push being planted.
The height of this formative character building reached its peak at Survivor Series 2013, one year removed from his main roster debut. The field was set, The Shield, Jack Swagger and Cesaro versus Cody Rhodes, Goldust, The Usos and Rey Mysterio. An eclectic mix to be sure, but it made for a fairly entertaining matchup and a good showcase for The Shield. However, it was Reigns who would benefit the most from the match, especially after being crowned as the sole survivor. Finishing off Rey Mysterio to get the one-two-three, Reigns was the one who was standing stall when the dust had settled — the first major step on the road to greatness.
The ending of Royal Rumble 2014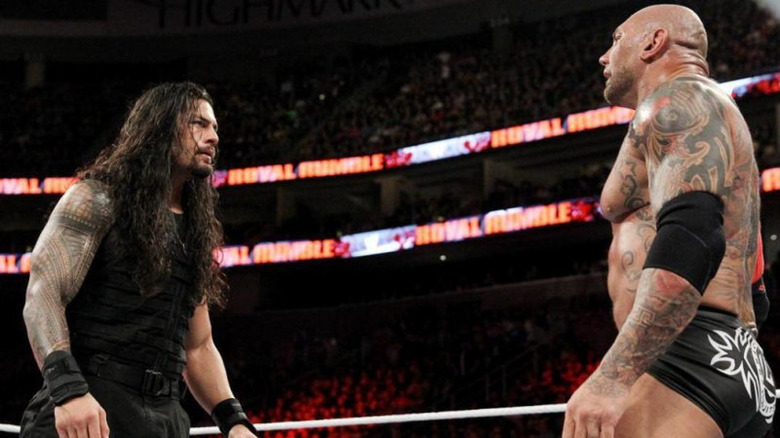 WWE
It's not hyperbole, especially nearly a decade removed, to say that the 2014 edition of the Royal Rumble was a disaster. The match came at a time when WWE fans were becoming savvier and bit harder to please with the same old things. WWE was already four years into the 2010s and still thought Ruthless Aggression era talent would move the needle. This antiquated mindset resulted in Batista, fresh off of a breakout run in Hollywood, returning to WWE for another in-ring run.
The audience were already rabidly behind Daniel Bryan, whose Yes Movement storyline was becoming the talk of the wrestling world. With that context in mind, for WWE to not take advantage of Bryan's momentum and include him in the Rumble was baffling. Even more baffling was the decision to have Batista win, teasing a far from appealing matchup between him and Randy Orton for WrestleMania 30. However, the silver lining that came from this misfire of a Rumble was the closing moments which saw Batista collide with Roman Reigns. Following a record breaking tear of eliminations, Reigns was already in the crowd's good graces and, more importantly, somebody new. This immediately made Reigns the more preferable option in the crowd's eyes, who vigorously cheered him over poor Drax the Destroyer.
Brutalizing Triple H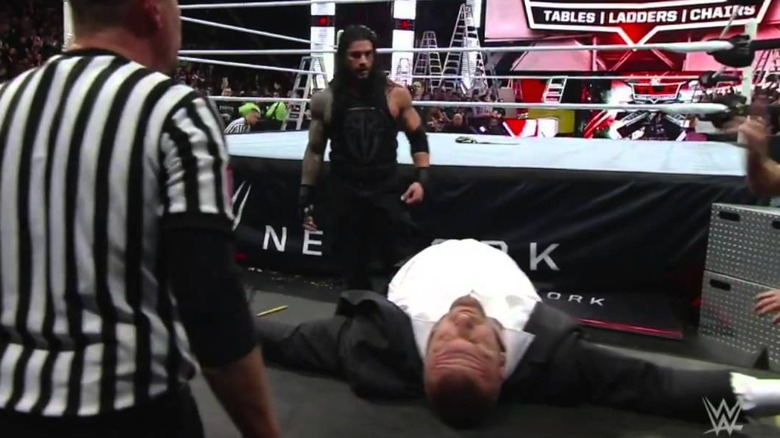 WWE
In a (not so) shocking turn of events, if you want your audience to think a wrestler is cool, you simply have them do cool things. Following a deflating Money in the Bank cash-in from Sheamus, the WWE Title picture was far from must see TV. Roman Reigns was scripted to make cringeworthy jokes about Sheamus in regards to his genitals, comparing them to tater tots. This lukewarm feud resulted in a moderately entertaining TLC match at that year's Tables, Ladders & Chairs pay-per-view, which Sheamus ended up winning. However, following a post match blowup from Reigns, things quickly went to hell, but in a good way. Not pleased with the interference of the League of Nations, Reigns snapped, brutalizing them with a steel chair. Things only intensified when Triple H and Stephanie, two other thorns in Roman's side, made their way to ringside.
Finally unable to stand it any longer, Roman's warpath of destruction continued at the expense of The Game. For what felt like a comical amount of time, Reigns battered the King of Kings with the chair before finally putting him through the announcer's desk. Overkill for sure, but definitely enough to begin swaying the audience's then-very negative opinion regarding the future Tribal Chief.
Superman Punching Vince
From eating superkicks to stunners to having Rikishi's bum smashed in his face, Vinnie Mac often went the extra mile for the WWE brand. So when the Roman Reigns experiment was experiencing some turbulence, Vince stepped in to partially right the Big Dog's ship. Following Roman's public beatdown on Triple H at TLC, he was squarely in the sinister crosshairs of Vince and Stephanie.
This resulted in Vince, stepping in during his son in law's absence, slapping various stipulations on The Big Dog. One stip said that if Roman lost his WWE Title rematch with Sheamus on "Raw," he would have to retire from the WWE. During the match itself, Vince did everything in his power to assure Roman's defeat, even distracting the referee while the League of Nations attacked.
However, in a moment of Stone Cold-style defiance, Roman opted to deck the now-former chairman with a whammy of a Superman Punch. One three count later and Roman Reigns was standing tall, holding the WWE Championship high for the first time in his career. Add the Usos coming out to celebrate and it had all the makings of a true feel good moment. Say what you will about Vince McMahon, but credit where credit is do, the man has gotten his hands dirty to get someone over.
Taking AJ Styles to the limit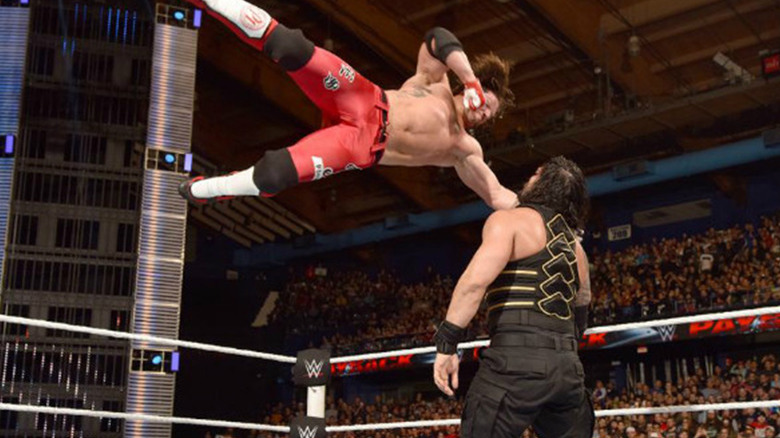 WWE
Following the lukewarm reception to WrestleMania 32 and its main event, Roman's first title run wasn't off to the best start. Fans had fully accepted that Reigns was another cynical attempt to capture the same lightning in a bottle that John Cena was. It's also worth noting that, at this time, Roman wasn't really viewed as a guy who could deliver five star matchups. So, in an attempt to inject some life back into the proceedings, the powers that be shotgunned AJ Styles into the title picture. The Phenomenal One had already been making waves since his first encounter with Reigns during his arrival at the 2016 Royal Rumble.
However, many fans wondered if Reigns, with his then-limited in-ring ability, could even keep up with Styles, a man renowned for workrate-based matchups. Any doubt was cast aside when both men locked up in the main event of Extreme Rules 2016 for the WWE Title. Reigns and Styles shared an almost impeccable in-ring chemistry, easily complimenting each other's respective strengths, resulting in some stellar exchanges. Styles was definitely the more technically proficient of the two, but Reigns still carried his end of the matchup successfully. It was an early sign of the workhorse that Reigns would become years later when he officially entered God Mode.
Announcing his illness to the world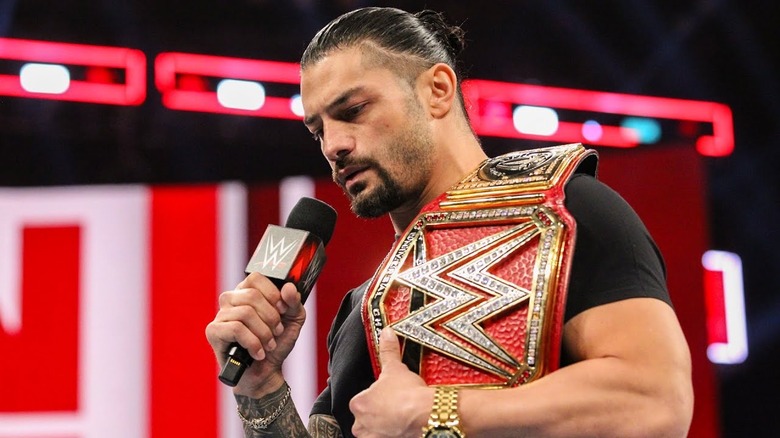 WWE
For as much as people derisively say that wrestling isn't real, the moments that resonate the most are often the ones that are unscripted. After finally toppling Brock Lesnar at SummerSlam 2018, Roman Reigns was all set for his WWE Universal Title run. Unfortunately, at just about the worst time possible, real world circumstances reared their ugly head — that being Roman's real life leukemia, a condition he'd struggled with most of his life, making an unwelcome return. However, Roman took this situation and, through sheer force of will, spun gold out of the straw he'd been dealt.
Dropping any pretense of kayfabe, Roman referred to himself as Joe, his birth name, and spoke honestly with the crowd. With a microphone in hand and visible tears in his eyes, Roman spoke candidly with the crowd and made it clear that he'd be back. The audience, who just months previously had booed him, were now cheering for him, actively pulling for his recovery. As a final cherry on the sundae, Seth and Dean then joined Roman on stage for an emotional Shield pose, a true statement regarding their genuine brotherhood. It's a rare moment of genuine humanity, something WWE often struggles with, and a major turning point for Roman Reigns.
Becoming a Paul Heyman guy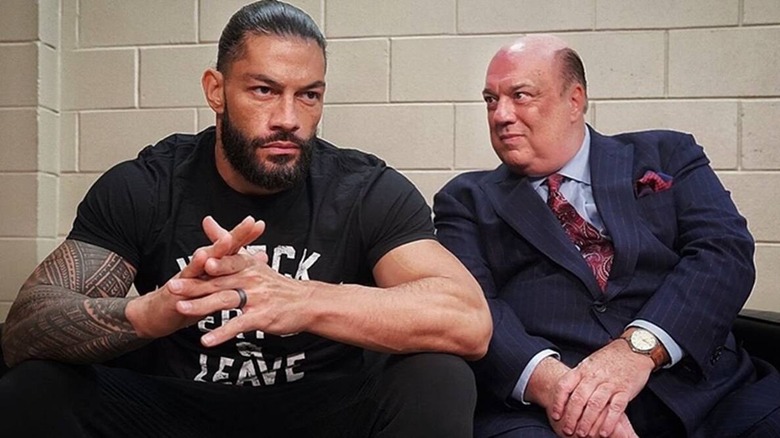 WWE
Following a lengthy sabbatical from WWE television following the rise of COVID-19, Roman Reigns exploded back into the picture at SummerSlam 2020. In rather short order, Reigns was slotted into a triple threat match with Braun Strowman and then-Universal Champion Bray Wyatt at Payback. En route to this matchup, it was still a bit unclear as to whether Reigns had truly turned heel. This ambiguity was dispelled on the August 28 edition of "SmackDown," wherein Adam Pierce was tasked with an important job. Per Vince McMahon, Pierce was to acquire the signatures of all three combatants for their impending WWE Championship matchup.
Despite some difficulties, including some Firefly Fun House shenanigans, Pierce successfully collected Strowman and Wyatt's respective signatures, leaving only Reigns. At the show's conclusion, Pierce made his way into Roman's private locker room wherein the soon-to-be Tribal Chief was waiting. Reigns then required some amendments to the contract in order to proceed, but stated if they were met he would show up at Payback. He then noted that it was a guarantee that he would win the title, noting that it wasn't a prediction ... it was a spoiler. On cue, the camera glided over to the right to reveal Heyman's new right hand man, Paul Heyman. Roman Reigns had officially aligned himself with the counsel of his former foe Brock Lesnar — he had become a Paul Heyman guy.
Mentally breaking Jey Uso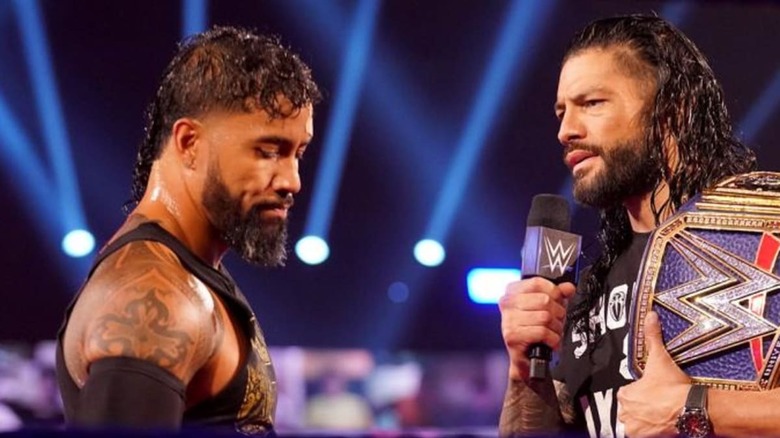 WWE
After winning the WWE Universal Championship from The Fiend, Roman Reigns quickly and brutally turned "SmackDown" into his yard. This meant sufficiently humbling anyone who would dare step to him and threaten his championship reign, even his only flesh and blood. Following an attack on Big E, Roman's cousin Jey Uso was slotted into a number one contender's fatal four way. This came as a genuine shock for fans, as Jey had largely been presented as a tag team wrestler alongside his brother Jimmy. Jey was all too thrilled to get a shot at his cousin's title, unaware that Roman had changed since he'd been away.
What resulted was an intense encounter at Clash of Champions, made all the more dramatic due to the then-lack of crowds. In a scene ripped straight out of a television drama, Roman proceeded to batter Jey until a still injured Jimmy threw in the towel. This resulted in a rematch at Hell in a Cell, where the two faced off in an I Quit match inside of the eponymous cell. The stipulation on top of this whole thing was if Jey lost, he'd relent and follow Roman's leadership without question. This time, Roman stooped even lower, opting to use an injured Jimmy to coerce Jey into saying I quit. These heavily character and story based matchups ended up serving as the early stages of what eventually became The Bloodline.
Ending Daniel Bryan's WWE career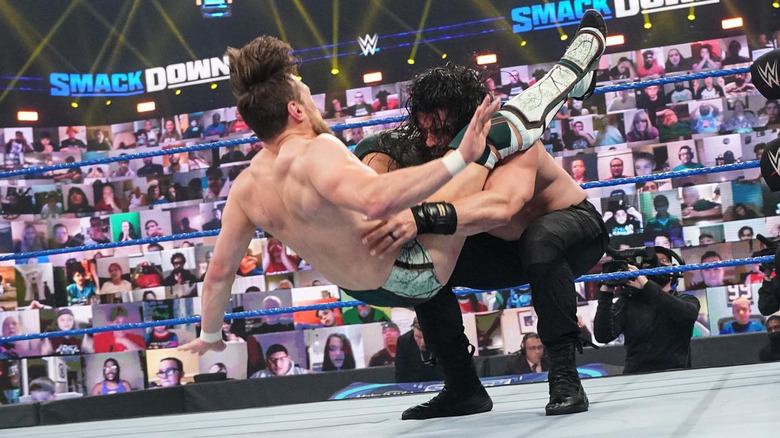 WWE
On the road to WrestleMania 37, Reigns found himself in the crosshairs of both Edge and Daniel Bryan. The feud was a heated one, which saw all three men get a chance to shine in the ring and on the mic. In a shocking turn of events, Roman defeated both men at WrestleMania 37, even pinning both men simultaneously to leave victorious. It was a true rarity to have the defending heel champion leave Mania as champion, let alone in the main event. Following this shocking conclusion, it soon became clear that the Tribal Chief and the American Dragon weren't through with each other just yet.
Only a few weeks removed from their main event encounter, both men squared off once again in the main event of "SmackDown." Needless to say, the match was a certified banger, with both men matching each other tit for tat. However, this match came with an intriguing stipulation, being that if Daniel Bryan lost, his "SmackDown" career was over. After struggling to stay alive, Bryan finally relented to Roman's guillotine choke and the referee rang the belt, ending his WWE tenure. It's fitting that this was the debut of Roman's new entrance music, as it truly felt a big change had just occurred.
Becoming Undisputed Champion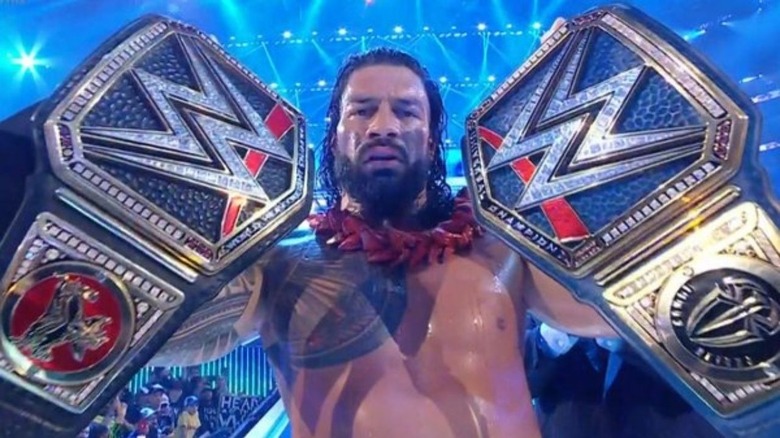 WWE
WWE has seen many rivalries that have hit the rematch button a few times too many. In recent years, WWE has been heavily invested in the back and forth feud between Roman Reigns and Brock Lesnar. From their first and mildly-disastrous encounter at WrestleMania 31 to all the subsequent follow ups, the duo have covered a lot of ground. Roman's feud with Brock is legitimately the best way to track his rising stardom and how the crowd's reactions have changed as well. En route to WrestleMania 38 in Texas, Roman's dominant reign as the Tribal Chief had garnered him an immense following.
In grand WWE fashion, they opted to make Brock and Roman's encounter even more complicated than it needed to be. Not only was Brock booked to win the men's Royal Rumble match, but he'd be given the WWE Championship as well. This turned their match into a winner-takes-all title match, which was set to close out night two of the event. The match was sadly a middling affair, not too dissimilar from their previous outings but still succeeding at achieving its goal. That goal: to crown Roman as WWE's undisputed double champion, ending Mania how he did the previous year, with his hand raised. After years of dueling crowd chants and misguided booking, Roman Reigns was finally at the top of the mountain, finally a true WWE star!