10 Massive WWE PPV Events That Were Extremely Disappointing
Well, they can't all be winners. WWE has put on hundreds of PPVs in its history and while many have been worth the money, there have definitely been more than a couple that left fans feeling robbed. There's a special sting to seeing a bad PPV as compared to a bad episode of "Raw" or "SmackDown." When you pay money to see a show, be it five bucks or 50, you expect more. You usually look forward to it more as well, counting the days for weeks in advance until the day of the show, with feuds all building to that one night.
Sometimes PPVs disappoint because they're just flat-out bad. Sometimes they disappoint because they fail to live up to all the hype and build-up. One even disappointed because what hatched out of a giant egg wasn't Ric Flair but a man in a turkey costume (Shout out to Survivor Series 1990.) We've combed through WWE's entire history to pick out the absolute worst of the worst, the shows that left fans wishing they could rewind time to get the previous few hours of their lives back. All of these shows are filled with talented wrestlers. Whether they had off nights, or the booking let them down, or the events just seemed cursed from minute one, sometimes shows just don't click. Here are the PPVs that deflated us the most.
Honorable Mentions
Maybe we should label this "Dishonorable Mentions." There are plenty of shows that we could've included, but were lucky enough to miss the mark for various reasons. We limited ourselves to just two of WWE's recent Saudi Arabia supercards but easily could've included more. We're also excluding In Your House: Beware of Dog, a PPV where only two matches aired due to a power outage. That's disappointing to be sure, but it seems kind of unfair to put it on this list, one full of shows that all worked much harder to truly earn that dubious distinction.
We've also tried to focus on shows that were disappointing for various reasons, rather than just purely bad. Sure, In Your House: Great White North, "deserves" to be on this list from a quality standpoint, but how many people remember that show, let alone were disappointed by it? We would like to give a special shoutout to WWE's Battleground PPVs, the 2013 and 2014 editions both narrowly missing the cut, despite being real slogs to watch. If you're desperately trying to rack your brain right now to remember what even took place on those shows, trust us, don't. It's better that way. Instead, join us as we get to the ten PPVs that were actually too disappointing to forget.
WrestleMania IV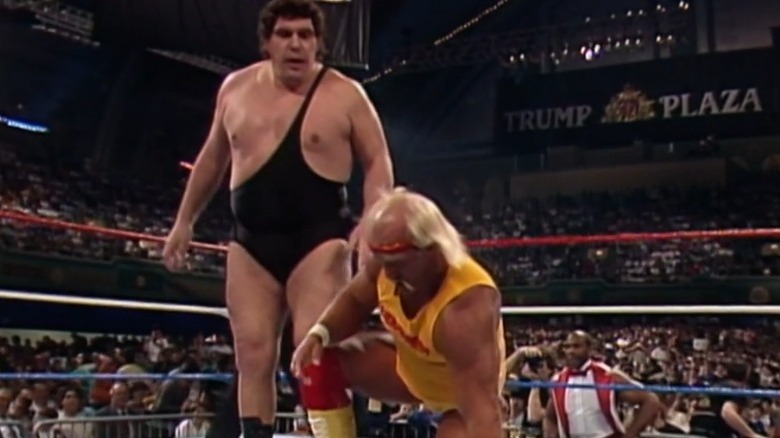 WWE
The first of three WrestleManias on our list, WWE's biggest annual event has the highest mountain to climb in terms of expectations. The first WrestleMania changed the game. The second, while not a particularly good show, threw a ton of celebrities and ideas at the wall, taking place from three different cities. The third is to this day one of the biggest shows in WWE history, with a gigantic crowd there to see the titanic Hulk Hogan/Andre the Giant main event. Built around a tournament to crown a new World Champion, the fourth WrestleMania was the first pure dud in the show's history. Not only did it fail to offer many of the delights of the three that preceded it, but to this day it still remains one of the worst Manias of all time.
What went wrong? To start, the show's biggest match, the Hogan vs. Andre rematch, ended in a six-minute double-DQ, eliminating both men from the tournament in their first match. Fans were also hoping for a rematch of Mania III's epic Randy Savage/Ricky Steamboat match, but a Greg Valentine win over "The Dragon" crushed those dreams as well. The biggest problem, though, is this show is long and full of matches that just, quite frankly, aren't any good. Yes, Randy Savage winning the title at the end of the night was a great moment and would start a huge build to Mania V, but the sheer amount of tedium you had to slog through to get there was not worth the trip.
WrestleMania IX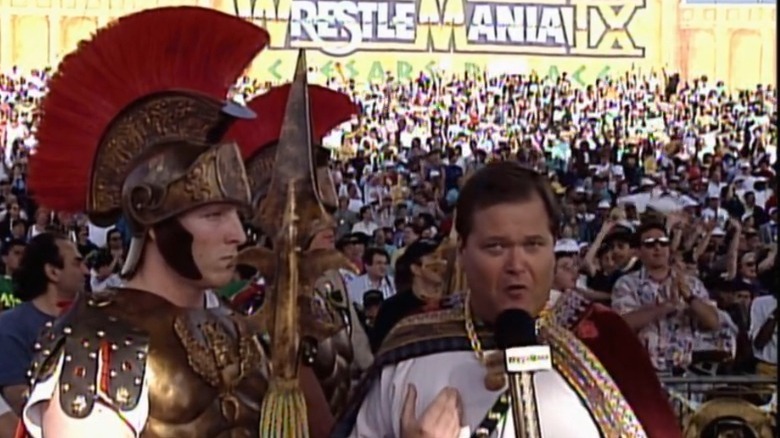 WWE
It took five years for WWE to churn out another contender for the worst WrestleMania in history. In terms of wow factor, this Mania might have the worst card in history. The two biggest draws? Yokozuna challenging Bret Hart for his WWF Championship and Hulk Hogan uniting with Brutus Beefcake as The Mega-Maniacs to take on Money Inc. It was a weird time for the promotion, with Hulkamania having peaked but the company still hesitant to fully commit to a new era. That was made very clear at the end of the night, when in an unannounced match, Hogan dethroned new champion Yokozuna just minutes after he had won the title. Rather than a triumphant comeback, it felt like a desperation move.
All of that could've been forgiven if a few of the matches had overperformed in the ring, but pretty much none of them did. The best match on the card is the opener between Tatanka and Shawn Michaels, which ranks as decent. Apart from that, the pickings are slim, with everything else being average at best. Perhaps most tellingly, one of the most memorable parts of this show is the setting. An open-air show happening at Caesars Palace, the event had an ancient Roman theme and gave us an opportunity to see Jim Ross in a toga. It's a memory that will live on far longer than many of the matches he commentated on this night.
King of the Ring 1995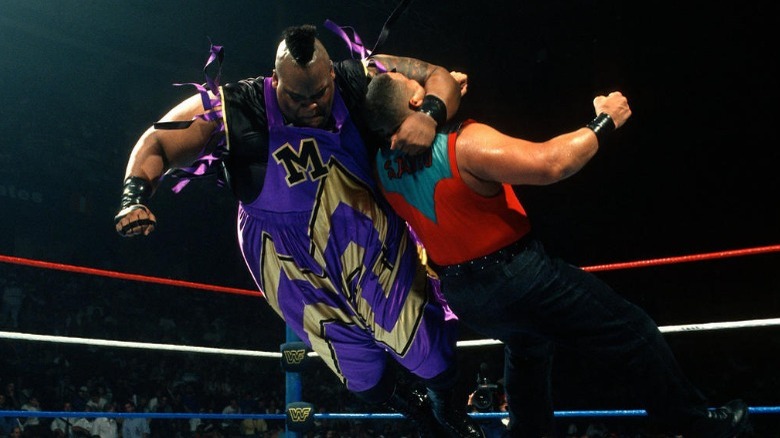 WWE
The 1995 King of the Ring was just the third ever King of the Ring PPV, but to this day it remains the worst one WWE ever produced, as well as maybe being the worst PPV the company put on in all of the '90s. The first two editions of the PPV crowned Bret and Owen Hart kings, but in 1995 the tournament was built around an ill-fated attempt to turn Mabel into a main event star. The result? A couple of truly awful matches from the big man on the way to his coronation, with Undertaker and Savio Vega taking losses. Unfortunately, while they were the lowlights of the night, this is a show with no highlights.
Apart from the terrible tournament, we were also given what felt like the millionth chapter in the feud between Bret Hart and Jerry Lawler, as they wrestled in a "Kiss My Foot" match. It was barely above average. It also was probably the best part of the entire PPV. In the main event, we got a meaningless tag where Diesel and Bam Bam Bigelow teamed up to wrestle Tatanka and Sid, a match that ended with the faces winning after Sid walked out on his partner. Airing from Philadelphia, King of the Ring 1995 was so poorly received that the live fans began chanting for their local fave ECW multiple times during the show rather than anything they were actually seeing.
The Great American Bash 2004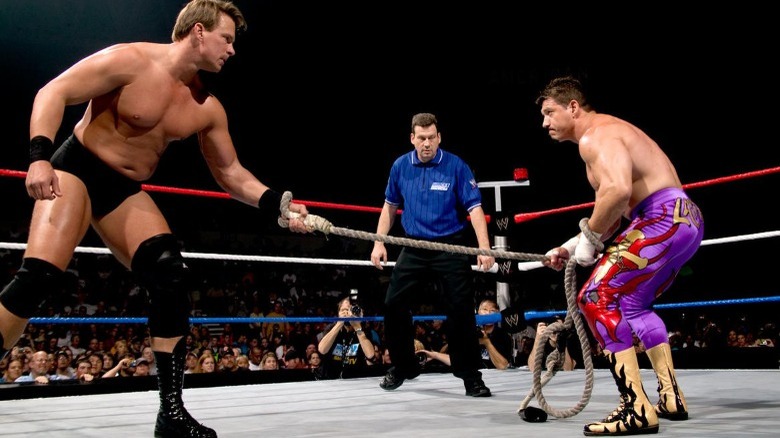 WWE
This event may not be as big as most of the others on this list, but The Great American Bash was one of WCW's longest-running annual events and seeing WWE relaunch that brand with one of the dirt worst PPVs in company history let us down quite a bit. Now, add in that this was the place where Eddie Guerrero's feel-good WWE Title run ended at the hands of JBL of all people. Throw in an absolutely dreadful undercard, filled with many random matches that were actively terrible — Kenzo Suzuki vs. Billy Gunn into Sable vs. Torrie Wilson into Mordecai vs. Bob Holly stands as quite possibly the worst three-match stretch in WWE PPV history.
But wait, it gets worse. Watch the main event. The Undertaker took on the Dudley Boys in a handicap bout billed as a "Concrete Crypt" match. The stipulation said that if Undertaker lost, his manager Paul Bearer would be suffocated to death in a glass crypt by quick-drying cement. After a poor match, 'Taker stood victorious but Paul Heyman tried to throw the switch that would seal Bearer's fate anyway, only to be prevented by a bolt of lightning. Undertaker, having saved his mentor then ... threw the switch himself, "killing" Bearer with the cement. It was corny, it didn't make sense, it was the cherry on top of a terrible sundae. From disappointing booking to terrible matches to whatever that cement thing was, Bash 2004 covered all the bases of bad.
December to Dismember 2006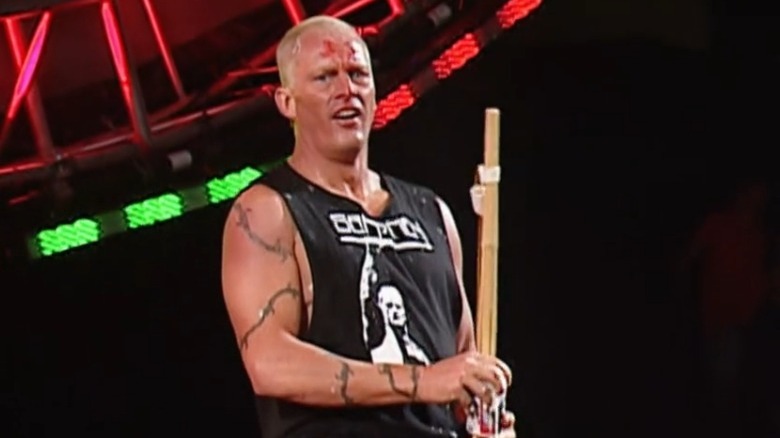 WWE
With their first two One Night Stand PPVs, WWE had proved they could put on an excellent ECW PPV. When they relaunched ECW as a full-fledged third brand, results were far more mixed, but heading into 2006's December to Dismember, fans still hoped that PPV magic would reappear. Only two matches were announced for the show ahead of time, leaving people's imaginations to run wild. Whatever dreams fans had for the night ended as nightmares, because "December" ended as one of the worst PPVs in ECW or WWE history. The opener between the Hardys and MNM was a decent start, and it was all downhill from there, a parade of bad and bleh then ended half an hour early.
A series of short, unappealing matches built to the main event, one of the most underwhelming Elimination Chambers ever, a match fan favorite Sabu was written out of on the PPV itself. This was a show so disappointing that according to the Wrestling Observer, Direct TV received numerous complaints and requests for refunds following it. Paul Heyman, who had been in a tumultuous partnership with Vince McMahon trying to run ECW creative, was relieved of his duties soon after. ECW would struggle along for some time after this, but WWE would never again run another ECW-exclusive PPV after December to Dismember, making it in many ways the beginning of the end for a once-beloved wrestling franchise.
Survivor Series 2008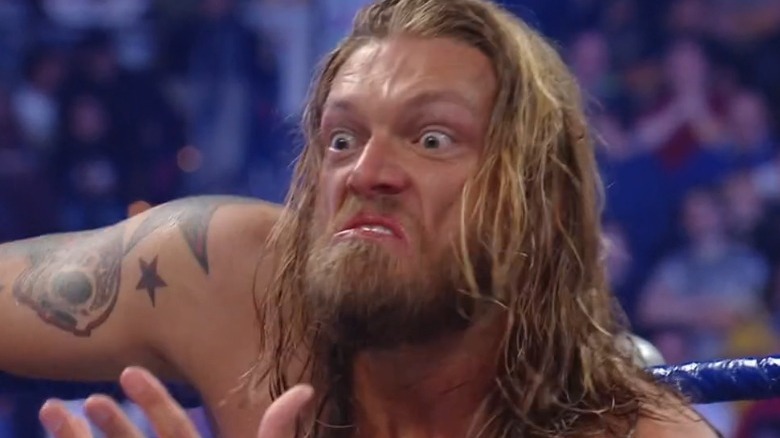 WWE
Long seen as one of the big four tentpole PPVs on the WWE calendar, Survivor Series has seen some highs and lows in its long history, but none may have left as bad a taste in people's mouths as 2008's. The show was main evented by John Cena returning from neck surgery to defeat Chris Jericho for the World Heavyweight Championship. The match was good but not great, perhaps hampered by Cena rushing his recovery. Everything else on the show fell below even that middling bar, in particular a casket match between Undertaker and Big Show where the Dead Man seemed to be grappling with physical issues of his own.
The main reason this PPV makes the list is just one match. The WWE Title Match had been scheduled as HHH defending against Vladimir Kozlov and Jeff Hardy, but the morning of the show, WWE's website reported that Hardy had been found unconscious in his hotel and was rushed to a hospital. The deliberately vague announcement played into Hardy's well-known history of substance abuse and had fans fearing the worst, in addition to fooling a few news outlets into thinking it was legitimate. Instead it was all a cheap angle, with Hardy making a run-in at the end of a terrible match that started as a Kozlov/HHH singles match and ended with Edge victorious when it was turned into a three-way on the fly. Tasteless and misleading, it was WWE at its worst.
Royal Rumble 2014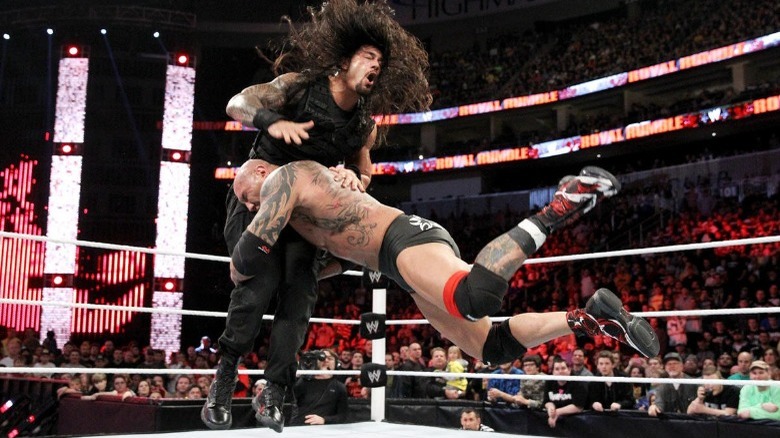 WWE
As a show, this might not be as bad as many of the others on this list, but for pure disappointment, it ranks right near the top for one reason: Daniel Bryan. In early 2014, Bryan was red hot on the back of the Yes Movement and fans were hoping he was earmarked for the main event of WrestleMania. Then, he lost the opening match of the Royal Rumble to Bray Wyatt. What followed on and off for the rest of the night was an act of fan rebellion rarely seen in WWE. In particular, the Randy Orton vs. John Cena match was completely derailed by the audience, who chanted, among other things, "This is awful," "We want refunds," and of course, "Daniel Bryan."
Yet in the main event, the Rumble match itself, there was still hope. Bryan had not been announced for the match, but surely he'd be an entrant and win it, punching his ticket to WrestleMania, right? Fans waited as wrestler after wrestler entered, but no Bryan. Well, they must be saving him for 30, for the drama, right? 30 came and it was Rey Mysterio, who was mercilessly booed for the crime of not being Daniel Bryan. When Batista won the match, a triumphant return for him to the WWE had become anything but. In the weeks that followed, WWE would correct course and change the booking of Mania to give the fans what they wanted, but on this night, all we got was a massive misread of their desires.
WrestleMania 32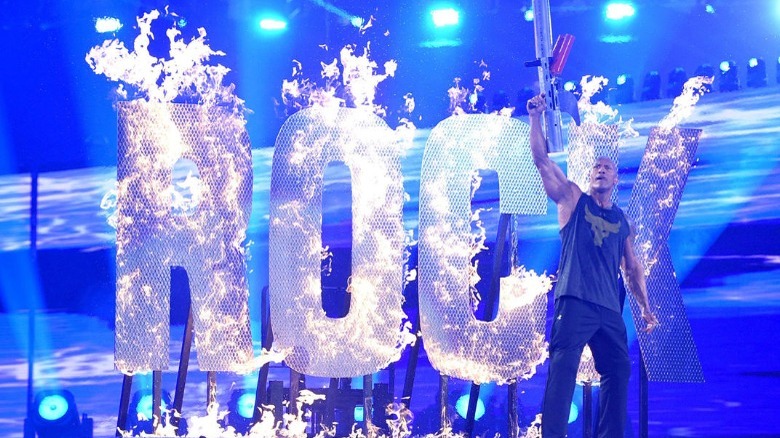 WWE
On a night where fans expect the absolute best, the 32nd WrestleMania was full of matches that underdelivered to different degrees. Some were only minor disappointments. For example, the Becky Lynch/Charlotte/Sasha Banks three-way was pretty darn good, but it also left you thinking that a singles match between any combination of the three would've been even better. AJ Styles had a match against Chris Jericho that was also enjoyable, but not near the level of matches Styles was having during that multi-year hot streak of work. The Intercontinental Title ladder match finally gave Zack Ryder a big victory ... until he lost the title the next day.
Elsewhere on the card, the disappointments were more than minor. Dean Ambrose vs.  Brock Lesnar was not terrible, but it was clear the two just didn't click. Undertaker and Shane McMahon wrestled for half an hour in a match that wasn't that good at all and will be mainly remembered for one of Shane's trademark stunt bumps. The Rock made a rare appearance to ... shoot a flamethrower and beat Erick Rowan in six seconds. It was all capped off by Roman Reigns defeating HHH for the World Heavyweight Championship in a bloated epic that ended with a result many live fans didn't want to see. This WrestleMania was not a terrible wrestling show but it seemed capable of so much more on paper.
Crown Jewel 2018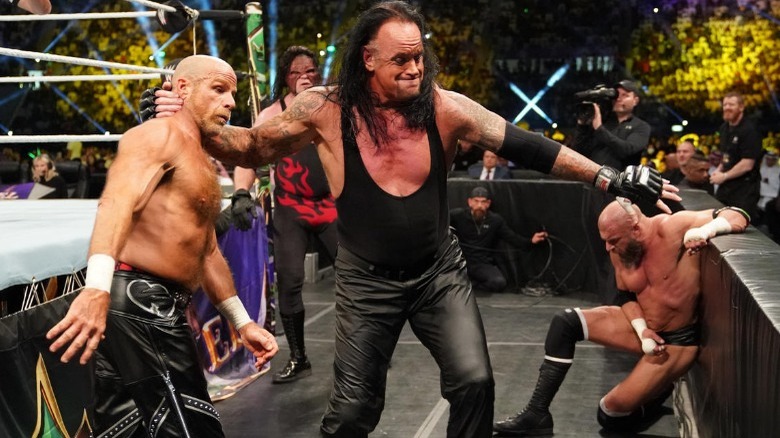 WWE
Taking place in Saudi Arabia just weeks after the murder of journalist Jamal Khashoggi, one could argue that just the fact that Crown Jewel 2018 happened is disappointing. Despite the decision drawing negative mainstream media attention, WWE carried on its extremely lucrative 10-year deal with Saudi Arabia too rich to break. To add insult to injury, WWE chose this show to bring Hulk Hogan back into the fold, with Crown Jewel becoming the first WWE event Hogan had worked in years after his own scandals. Amidst all the controversy, John Cena and Daniel Bryan were both noticeable in their absences from this show, as well as future Saudi events.
The actual wrestling event didn't do much to redeem the PPV, if such a thing even would've been possible. Much of the show was given over to a bland one-night, meaningless World Cup tournament, won by Shane McMahon of all people. Brock Lesnar squashed Braun Strowman for the Universal Championship. The real draw was the return of Shawn Michaels to the ring, teaming with HHH to take on Kane and The Undertaker. Michaels gave an honest effort in the ring, but the match itself was bad, as all four men showed their age and HHH tore his pec during the proceedings. In the end, the match summed up the whole show: A sad cash grab that got a lot of attention and entertained very few.
Super ShowDown 2020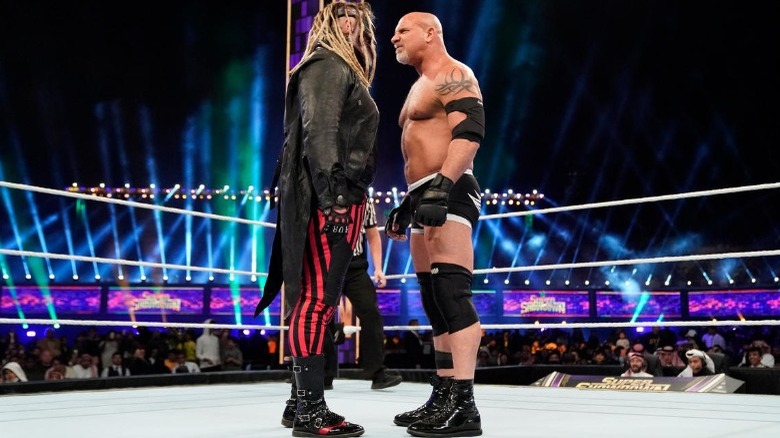 WWE
Even by the low standards of WWE's Saudi mega-events, Super ShowDown 2020 was a disappointment. The opener, a gauntlet match for the Tuwaiq Mountain Trophy, was won by The Undertaker in an unannounced appearance. Pinning AJ Styles in just 20 seconds after hitting one move, a chokeslam, this would serve as Taker's final in-ring match before his farewell at WrestleMania's cinematic Boneyard match. Unfortunately, it would not be the last time on this show that a major star showed up to do almost nothing. Brock Lesnar retained the WWE Title in a 90-second squash over Ricochet where the challenger got not a moment of offense. In the main event, Bill Goldberg won the Universal Title from The Fiend in a three-minute affair that left Bray fans shocked and angry.
The matches that went longer did little to make up for those big letdowns. Roman Reigns had a subpar cage match with Baron Corbin. Bayley took on Naomi in a mediocre outing where both women had to be covered head to toe to conform to Saudi Arabia's modesty laws, a measure of progress from earlier events where women were kept off the card entirely. If nothing else, the massive budgets afforded to the Saudi shows usually made for some crazy spectacles, but at Super ShowDown 2020, WWE committed an even greater sin than being bad in a fascinating way — they put on a show that was just flat-out boring.