Arn Anderson Explains What He Wants For His Son Brock In Wrestling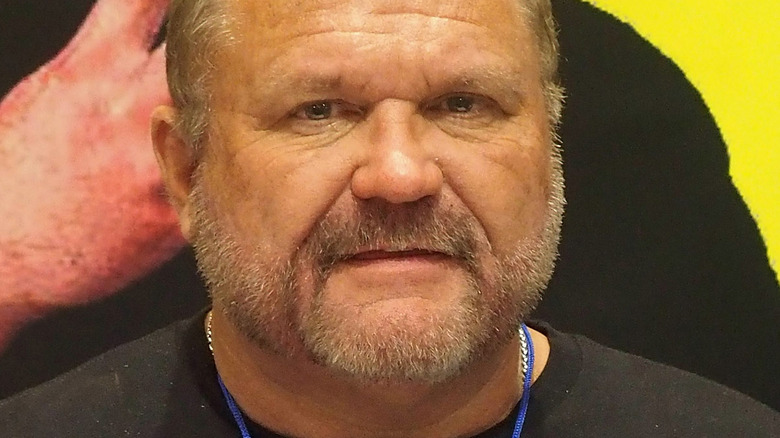 Bobby Bank/Getty Images
Few people understand the highs and lows of professional wrestling more than Arn Anderson, but that didn't stop his son Brock from getting into the business himself. Even though he revealed on his "ARN" podcast that "it's been his choice" if he became a wrestler, there is no doubt Brock has a good learning tool. But, that doesn't mean Arn is pushing things, and Brock's favorite match isn't even one of his, instead, it's The Undertaker vs. Shawn Michaels from WrestleMania 25.
"I have never said, 'Sit down on the couch I want you to watch this match.' Now, he has watched a ton on his own in the privacy of his room," Anderson said.
Brock has been developing steadily as part of the AEW roster in recent years, and even though he has a huge legacy due to his family name, Arn said, "I don't think he feels any pressure" when it comes to living up to the career he had. For the Four Horsemen member, it is more important to him what type of person his son becomes, rather than what he goes on to achieve inside the ring, as the respect factor is crucial.
"I think he pretty much knows and has grown up around the respect I have for this business and everyone that has come before us," he said. "If you have been in the wrestling industry, in a supportive role, in a star role, in a running the camera role, a referee role, a commentator role, if you were in the business before myself, I look at you being responsible partially for me being able to live my dream."
Belief In His Son
Brock Anderson has yet to receive a major focused push in terms of a storyline for AEW, but his in-ring work has shown potential, and he has been given big opportunities outside of the company as well. Most recently he was part of Ricky Steamboat's return match as he teamed up with Jay Lethal and Nick Aldis to face the Hall Of Famer and FTR. That goes along with what his father wants from him, which is to be someone about whom people say, "I'd want him on my crew."
"I just want Brock to be a good employee, be a good partner, be a good opponent, be a good person, be a good guy in the locker room, be a good spokesman for the business," Anderson said. "Do all the things where he's a part of the crew that is liked, respected because he shows respect."
Of course, inside the ring he still thinks his son has "a ton to offer," and it's clear that he is bursting with pride about what the upcoming star could achieve.
"He speaks well, his talents in the ring, every time he gets a rep he gets a little bit better and he understands and appreciates the critiques that he gets," he said. "All the things that just go into being a part of the crew that everybody I guess wants to work with."
If you use any quotes from this article, please credit "ARN" with a H/T to Wrestling Inc. for the transcription.