Alicia Atout On The MLW Insider, Learning From Cody Rhodes, What She'd Ask Vince McMahon, And More - Exclusive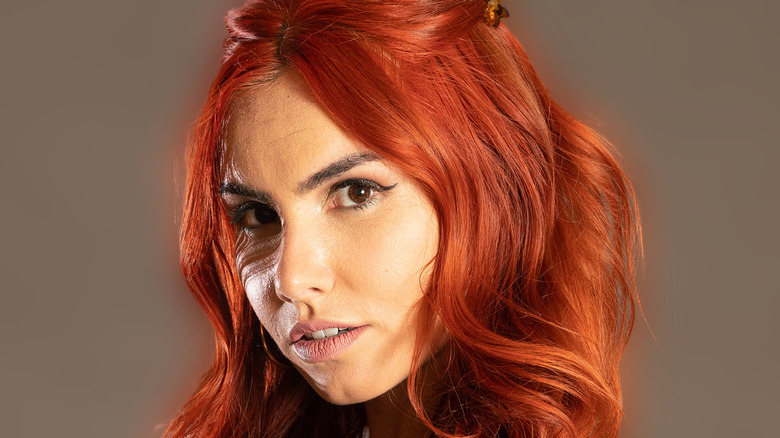 Major League Wrestling
Any aspiring wrestling talent, in or out of the ring, could learn from the entrepreneurship of Alicia Atout. "The Interview Queen" bet on herself after matters cooled professionally with the upstart AEW promotion, and she ended up signing with Major League Wrestling back in 2019. After three years, Atout has established a steady female presence on-air, both as an interviewer and now, recently, as one of the top heels in the company. She is as evil as her boyfriend, Richard Holliday, and "The Clout Couple" has continued to stake their claim as the true power couple in pro wrestling. Meanwhile, "MLW Fusion" just returned to the airwaves with a new season on Pro Wrestling TV, and Atout is flexing her microphone skills with a new series on the streaming service, "MLW Insider."
In a new interview with Dominic DeAngelo of Wrestling Inc., Atout opens up about how she feels today about her decision to leave AEW, whether she still keeps in contact with Cody Rhodes — who, alongside The Young Bucks, played a major role in her career — how Renee Paquette impacts the current AEW product, and more!
The Development Of Major League Wrestling
D'Angelo: What would you assess as the biggest growth to occur for MLW since you've joined them?
Atout: I mean, for me, I think it's kind of having the steadiness for my role change in terms of the interviews, because for that first year, I was the go-to on every single interview piece. I was tracking down the stories. And I think having that element where it's a consistent basis of having this influx of news coming in from the same person really does help in terms of keeping continuity with your storylines, but also giving a face to the brand. So I think for me, that was kind of the biggest thing I started to notice.
And then in terms of overall with the company, just seeing the talent that they're bringing in over time. It's really cool going from the OGs to having everyone coming in from different brands. Even, of course, forbidden door, always open. So we have a bunch of awesome people coming through. So I think that's kind of been one of the biggest changes. New cities, I know were in the works, so there's been a lot. And then for me personally, biggest change is just the 180 in terms of my role there. I went from backstage to in-ring quite often. So for me that was a wild spin.
What have you learned about yourself over this experience?
I think one of the biggest things is, I should just trust my instincts. I feel a lot of people have these ambitions of doing certain things, or have certain goals, or being in the spotlight, but they don't follow through on them due to confidence. And even if my confidence is at a zero that day, I kind of have had this bucket mentality of, let's just rock and roll and go out there anyways. So having that new role and being this confident woman who I've always had, but have never really shown everyone, cranked to 11 in that sort of way. But it's really different for me. So I think that's kind of been the biggest change in terms of that, is just seeing the growth there and how now I can just walk through a curtain and do my thing and you don't get those crazy jitters like you're about to pee. You just get the excitement jitters, which are perfect.
Yeah, that's the one when you hit the sweet spot.
Yeah. So I think that's been the biggest growth for me. And then the hair.
Betting On Herself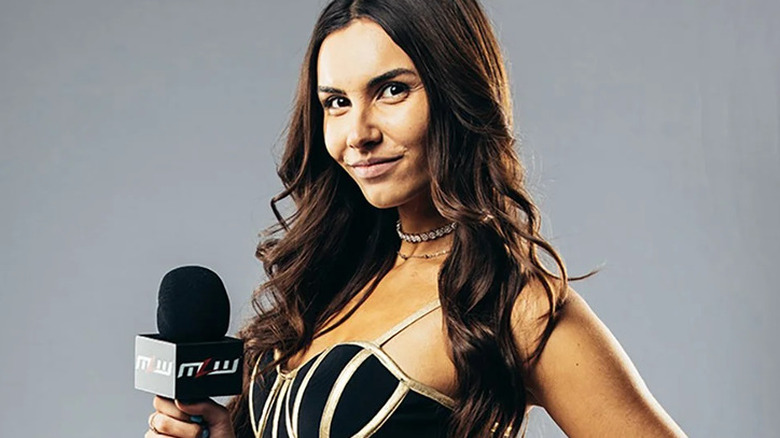 Major League Wrestling
You had a little short stint with AEW, but then you made the decision to just make the move. Overall, how have you felt about making that decision and just going forward, because I mean, AEW's a big opportunity, but you said it kind of ran cold a little bit ... How do you feel overall after making that big move?
At this point, I feel really good about it, because I know with other companies a lot of stuff can be thrown their way, especially when it comes to talent, and then it's easier for them to just get rid of talent. I was in a very interesting position where we were trying to figure out new roles and new ways to approach things and angles. And rather than MLW just saying, "Ah, this doesn't work, let's just toss it," they were willing to listen and brainstorm and really go behind the scenes with me so we could find somewhere that made sense and something that made sense, and I appreciate that so much. So now we have "MLW Insider," which has just been so much fun for me to host. Every single week I get to deliver all of the news, exclusives, and announcements for show talent before anyone else even knows.
I get these scripts from Court [Bauer] and I look, I'm like, "Oh hell yeah. 'So-and-so' is coming? That's awesome." I mean, nobody even knows. I mean, that's really fun. But yeah, just the way that they've handled things in that sense. And then even from earlier on in my career there, the first year of working, being able to do promos and say whatever the hell I wanted. I love that, because even though I have worked in other spots, a lot of it's so much more scripted than that. So here it's like, "Alright, this is your objective, get this across, but say what you like." And I love that. I don't just want to be a mouthpiece, I want to also be a personality and they allow me to do both. So that's definitely been awesome.
You were just the professional "Interview Queen," all legit and everything like that, then all of a sudden you're aligning with Richard Holliday and the huge heel turn happens. How did that feel?
I felt badass. I always felt, deep down, you see everyone in that ring owning their star power and that quality. And I never felt like I fully got to show it, because every time you're holding a microphone, it is always kind of — even if you could be the biggest personality ever, it's always being shown on the other person in a sense, because you're asking them the questions, therefore focus has shifted. But then when we changed things up, then my babe and I got to go out there. That was amazing, because it got to the point where I was like, "Okay, screw everything else, I'm just going to go for it and be crazy." And that was a blast. So it kind of goes back to before, being able to channel everything I wanted to but wasn't given that platform to. And now I'm doing a mix of everything. Some days I'm feeling nice, some days I'm not. And that's kind of a nice little thing I've been able to garner out of this.
The Young Bucks, Cody Rhodes, and Origins Of The Clout Couple
The Clout Couple got over real quick.
Yes, we did.
How much was it a collaborative effort between you, Rich and Court?
I think the biggest thing was, "Hey, you two have this, are you okay with putting a spotlight on it?" And for second we had to be like, "S***, are we?"
"How do we feel about this?"
And then you amped to 11, you go out there, and we had a good time. So I feel like it was definitely amongst everybody. The idea was more so Court saying, "Hey, this would be really cool if you're okay with it." And then once they gave that green light there was no stopping us at that point.
So you took a bet on yourself, and you moved on from AEW after the short stint. Somebody that really did that too, that you were thankful for, was Cody, and the Young Bucks.
Absolutely.
Do you still keep in contact with either of those guys or anything like that?
It's actually pretty funny. I don't talk to the Bucks as frequently. I haven't spoken them in a hot minute, but not for any reason. I just haven't seen them at any shows.
Sure.
But about maybe three or four weeks ago, I was speaking with Cody, and he was sending me photos of his adorable daughter.
Oh, Liberty.
Yeah, a really quick catch-up. So he's just always been in my corner, and I'm so grateful for that, because if it weren't for him and me doing those early Ring of Honor interviews with him and the Bucks and Kenny [Omega],, I don't know if I ever would've gotten that. I probably wouldn't have gotten that position if we didn't connect. So I'm so grateful for them. And I say this over and over like a broken record, but I always will b,e because I feel like I owe a big part of my career and just confidence to him, because I remember thinking when I pitched originally on... So for the first event, All In, it was kind of like, "Hey, yeah, we'd love to have you." I was like, "No way. Get out."
Double or Nothing I pitched myself, and he was like, "Yes, of course you will have you." And that's where my confidence changed from some days doubting myself thinking, "Why do these people even want to hire me," to thinking,"Ooh my gosh, Cody Rhodes wants me to host a show. This is insane." I had the biggest promo of the night with Kenny. It was a lot, in a good way. And due to that, my name got out there more and my confidence levels went higher, and I was able to strengthen bonds with people like him. So I will never, ever downplay the effect that he's had.
What Modern Talent Can Learn From Cody Rhodes
What do you think a lot of modern wrestlers today could learn from him?
He's straight up. He really has never turned me off in any sense. I meet so many people in this industry and immediately I'm just like, "I don't like him." But he's always been very genuine, and honest, and open, and I just like people like that. So I think a lot of people in wrestling, whether workers, interviewers, whoever it may be, just don't be phony, because he never has been [anything but honest] with me ...
Well, it's cool having people that are genuine and straightforward. It is refreshing and it kind of grounds you again because you get so wrapped up in whatever world you're in, and it's just like, "Geez, I need a breather. And they give you that breather."
For sure, because a lot of people will approach you and they're like, "So great to see you. Love your work." And then you know that they were talking s*** two weeks earlier. I know this isn't true. So when you're stand up and professional, that's where I think I can connect with people the most because I like to approach things that way. Not everybody does.
Are you more oriented with the interview aspect of the wrestling jo,b or would you be more open to being a long-term manager, kind of like you are for Richard?
I personally feel like I love being in front of the camera and more of a, "Hey, look at me, I'm a little crazy" aspect.
Right? It's pretty fun.
It's so much more fun. And then I get to showcase more of what I can bring to the table, because yes, sometimes it's a little more scripted or you just have one thing to put across, but when you're in the ring you can just go off, and you can go off on the fans, and your partner, and it's great. I've even cussed up the boss a couple times. It's fun. Much love for it. So it's such a good time. So I think personally, I would love to continue going that route. And even just hosting shows, opening shows, manager, that stuff to me is where I just feel so energized. And just seeing that curve of when I first started to where I am now. And I haven't even been back in the ring since "Fusion" has restarted now and is back. It's been a hot minute. So I can't wait until next time where I go in and they're like, 'Whoa, this is a new Alicia.'
The Evolution Of Richard Holliday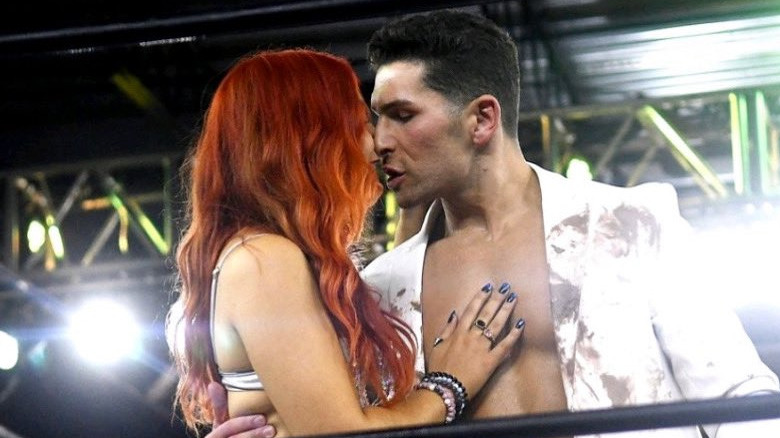 Major League Wrestling
Richard Holliday and [Alex] Hammerstone have really defined themselves in MLW.
Had to bring up Hammerstone, huh?
I did have to bring up Hammerstone. I mean, he is the MLW world champ, how can I not? But how would you — as far as Holliday's perspective, I think he's really reinvented himself since he started there too, but he's also kept that kind of dynamic of who he is. If you were to describe what really stands out about him, like a new fan coming into MLW, how would you describe Richard Holliday?
Oh man. Charming, attractive. No, there's something about him that I've always found very charismatic. And one of the things that bothered me most was when The Dynasty were a threesome, and a lot of people were always putting more focus on the other two. Meanwhile, he always had so much to say, and now he has the platform to say it, main eventing. It's been incredible watching him up there ... there's just charisma with him. Technically, he's such a sound wrestler. I always get it really happy whenever I get to watch him do his thing.
And then I see the confidence level. I feel like that's the biggest thing both of us have learned from one another and then coming up in this together, in terms of the last six, eight months in MLW together. The confidence level on him has just skyrocketed. You can just tell the way he walks in now, when he hears the music, he just completely is like, "Alright, it's my time. Let's show them what I'm about." And I love seeing that for him. So I feel like those are the main things. Just the progression of his mic skills. The wrestling's always been there, and now showing, "Hey, I don't need anyone else beside me. I am a star."
And he's such a well-rounded talent, too ... he shows the aggressive side, he does it in the ring, and then on top of that, if there are moments for a little bit of comedy or anything like that, he's able to do that too and still be a serious ass-kicker in a lot of ways. I think you see that more and more going on. If you're looking for a top star in a wrestling company, that's what you want out of somebody.
Right. And that's awesome that it's also being viewed that way by others, because for me, seeing it not just from the sidelines or backstage, literally ringside, it's been such a great progression.
Renee Paquette and Vince McMahon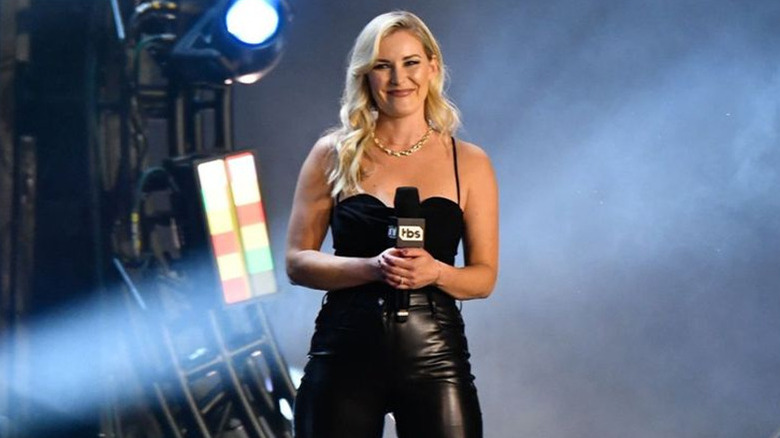 All Elite Wrestling
So you're one of the top interviewers in the business. Another top interviewer in the business is Renee Paquette.
Yes.
How do you feel she's impacted AEW so far?
Oh, she's fantastic. It's one of those things where I've said for forever, not just because I'm an interviewer, I was never like "Oh, they need someone! Give me the role." It was never like that. But I've always said for the last little while, they need a permanent fixture in that position as their backstage interviewer, because yes, they have other people doing it, but they're also doing 10 other things and it just doesn't make sense. And the conviction isn't there. But this is something she's known for, whether it being backstage at WWE or sitting on a couch with her talk show, she is known for it. And the way that it's so conversational and easy, put her into anything, she's going to knock it out. She has rapport with everyone in that locker room, and if they don't, they respect her, so who cares? So I think it was a really great choice. And her hubby's there, so it only makes sense.
What would you say has been the biggest story in 2022?
I have to say MLW-wise, it was definitely Clout Couple and Hammer, that just made waves and they've never had ratings like that in terms of response, viewership, interaction on social blew our minds.
It was honestly one of the top heel turns of the year, I think.
Thank you. 
Like holy smokes. My jaw dropped when it happened, and that's no joke, too.
Oh, I had so much fun with it, I swear. And I'm not just trying to blow smoke. I really have been looking at the numbers, and I'm a very analytical person. And just seeing the response to that blew my mind. So for me, I'm just going to, I am going to blow smoke in spirit.
Now from an industry persepctive, a lot of people would say Vince McMahon leaving WWE. If you had an opportunity to interview Vince, what would be the first question you'd ask him?
I could go super political with this, or I could just ask him something super stupid.
One way or the other.
I really don't know. I feel like you know how much work goes into questions.
I do, yeah.
I'll just be like, "Vince, why?"
Yeah, I think that's a perfect one.
Maybe we'll stick with that. There we go.
Will Salina De La Renta Return?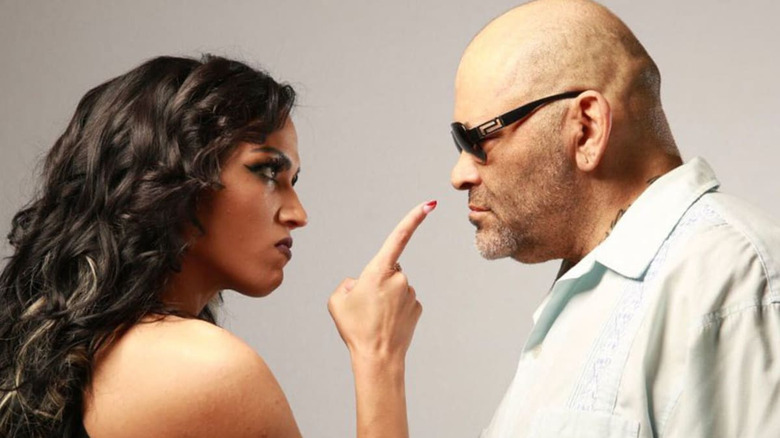 Major League Wrestling
You and Salina de la Renta have had quite a relationship.
Sure.
The Worsties, all that stuff. And she was such an impactful character too, on the air and behind the scenes in MLW. Do you think we'll see her back in wrestling at all?
I think so. She was doing stuff with another company that ran out of Texas for a while in terms of being a VP there. And I know that it's one of those things where you just have to find the right home. It's very hard in wrestling because sometimes locker rooms suck.  Sometimes agents aren't fun to work with, and you just say, is this worth my sanity? Hell no.
No.
I think in terms of both of us, and MLW, which has been incredible, but a lot of places are like, "Oh, we'd love to have The Worsties." And we're like, "We just need the right spot." So I think, especially for her, she's in that mindset where it just has to make sense that she has to be happy there. But in terms of a return to pro wrestling, I'd love to see that for her. She's never left though. She hasn't left.
She's great. Just another presence on there that she can capture the whole crowd.
I have learned so much from her, because you know me, you've known me for a hot minute.
Yeah.
I was like the angel in people's eyes, even though that's not necessarily me, but that's how I was portrayed. And then when I was put up beside her, when we started the frenemies thing, or now The Worsties, I was like the angel and she was the devil. And now it's such a yin yang between us, and that's why it works now, what we've blossomed into. But I definitely, definitely learned a lot from her.
What Cesar Duran Brings To MLW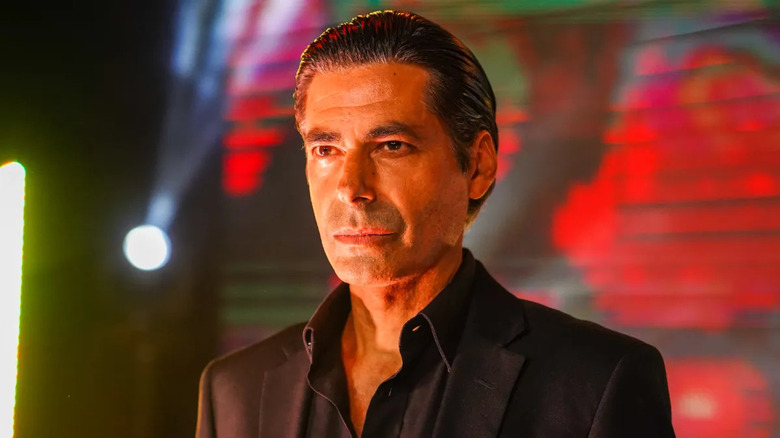 Major League Wrestling
Somebody else that's awesome and adds a whole new layer to MLW and the style of it is the matchmaker, Cesar Duran. What do you think about how he's kind of incorporated himself and kind of that "Lucha Underground" vibe too?
I have such a love-hate relationship with Cesar Duran, because one day he scares the s*** out of me, and then the next day I'm on a rooftop singing "New York" with him.
Right.
I do feel like he has really been mixing things up. He's bringing in international talent, which, we have certain people we have never had within the brand before because of him. We are having clashes because of him. But I think seeing now that when you look at MLW, it is an overall melting pot of styles, of nationality, just of everything. It's a really awesome thing to see him be a part of. And a big part of that is because of our matchmaker — and I hate saying this, but maybe he'll give me some brownie points with him — is due to Cesar Duran. So he's helped me out once in a while. He's also screwed me over a couple times. But if you get him on the right day, love me some Cesar Duran.
He loves his violence, I tell you that much.
Oh, violence. "I love my violence." The amount of times he said that to me, it's just, it's overwhelming.
Alicia, anything else that you want to plug before we go?
Mainly just make sure you check out "MLW Insider" on Pro Wrestling TV. The app, everything is on there. You can watch it for free every single Tuesday. That there'll be a "Fusion" on Pro Wrestling TV every Thursday. And if you want to follow my other projects, The Worsties, it's @worstiesforever on all social media. I also host for Knotfest. @KNOTFEST, you could follow all my projects there. And then otherwise, my personal stuff's just AliciaAtout.com for interviews, exclusives, my modeling stuff, and everything in between.