Top WWE Star Says Company 'In Flux' Following Vince McMahon's Return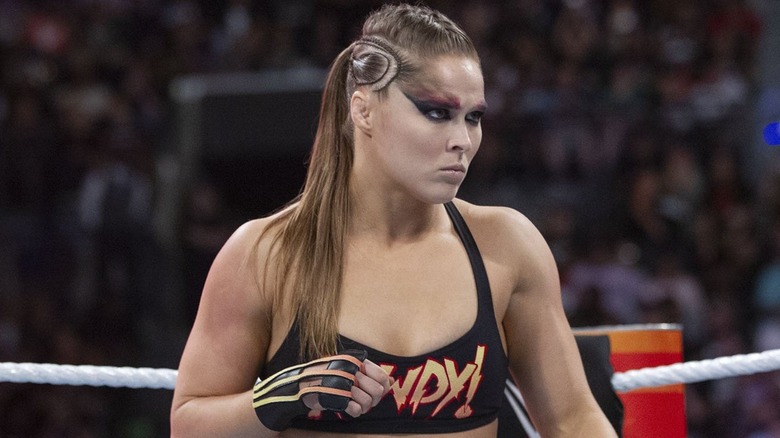 WWE
As much as those steering the ship in WWE right now are trying to put on the face of calm, the return of Vince McMahon to the company — having re-installed himself back onto the WWE Board of Directors — has thrown a lot of things into disarray. In announcing his return, McMahon stated his intent to help potentially facilitate a sale of the company, leading to all sorts of speculation about WWE's future.
If you ask former "SmackDown" Women's Champion Ronda Rousey, that uncertainly appears to be spreading to the backstage area. When asked during a recent YouTube livestream whether she'd be at "WWE SmackDown" on February 3, she could neither confirm nor deny her presence — and instead offered up her feelings on the current state of things. "If you haven't noticed, everything's a little bit in flux with the WWE right now," Rousey admitted. "I don't think anybody knows what's going on with anybody this week, let alone weeks from now."
Before the new year, the "Baddest Woman on the Planet" had notched another successful title defense, this time against Raquel Rodriguez on the December 30 episode of "SmackDown." However, her celebration was short-lived as it was interrupted by the surprise return of Charlotte Flair, who proceeded to challenge for the title on the spot and then went on to defeat Rousey to become a seven-time "SmackDown" Women's Champion. 
In spite of the championship loss, Rousey was still thrilled with her involvement that evening and couldn't help but gush when a fan mentioned how much they enjoyed the show in Tampa. "I'm glad you had a good time in Tampa! That was a fun show," Rousey replied. "That was the first time I got to do three segments."