RVD Addresses WWE Royal Rumble Speculation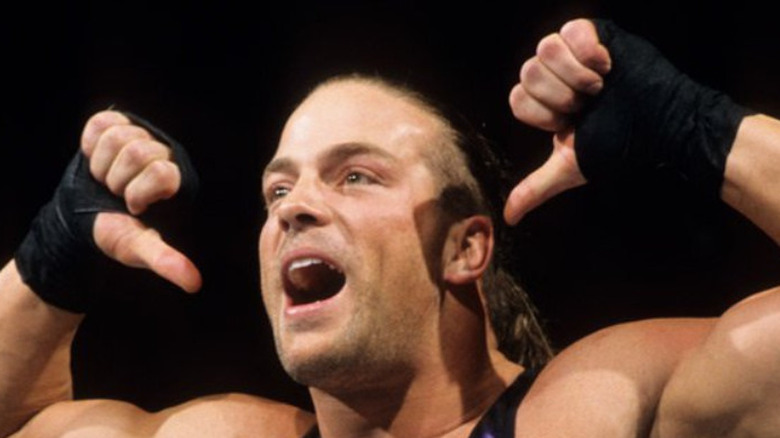 WWE
It's a tradition unlike any other; fans speculating on who will be a surprise entrant in the annual Royal Rumble matches. That speculation is ramping up now, what with the event just over a week away, and one name that's come up is Rob Van Dam. And why wouldn't he; RVD is a former WWE Champion, he's made a surprise return in the Rumble before, and he's a WWE Hall of Famer who still semi-regularly competes in the ring. So will RVD be at the Rumble? In an interview with "The Ten Count," Van Dam played it coy on whether fans should expect him there, but nevertheless expressed an openness to being one of the Rumble's 30 participants.
"That would be cool," Van Dam said. "I've got no plans to share with you. All I can say is I'm feeling awesome." Unfortunately for RVD and his longtime fans, the odds don't appear to be heavily in his favor. In the recent odds for Royal Rumble winners posted on BetOnline, Van Dam wasn't just a massive underdog, he wasn't even listed amongst the choices, which featured well over 30 wrestlers both in and out of WWE. This at least suggests Van Dam is a long shot to be in the match.
If Van Dam does appear, it would be his first appearance in a Royal Rumble match since 2009, when he was brought in as a one night surprise. Though RVD would return to WWE in the summer of 2013 and work with the promotion for the next year, he was off TV at the time of the 2014 Royal Rumble, and thus didn't participate in the match.
If you use quotes in this article, please credit "The Ten Count" and provide an h/t to Wrestling Inc. for the transcription