Kofi Kingston Addresses The New Day's Hiatus From Podcasting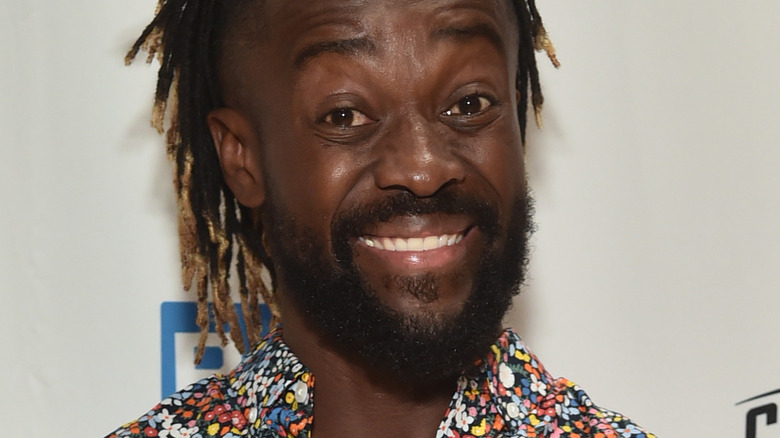 Alberto E. Rodriguez/Getty Images
The New Day has been virtually inseparable since its official formation in 2014, but certain circumstances have recently kept the members apart. `
The trio of Kofi Kingston, Xavier Woods, and Big E have shared many memories throughout their near-decade run, both in the ring and beyond. Besides racking up multiple WWE Tag Team Championship reigns, The New Day frequently appears together on Woods' popular YouTube channel, Up Up Down Down, battling each other in various video game universes.
In late 2019, the group began a new venture in podcasting, hosting a WWE-affiliated show "The New Day: Feel The Power," as they often recorded while on the road at arenas and their hotels. Since September 2021, however, the podcast has exclusively replayed previous episodes — labeling them as "Best Of" — with no new episodes recorded or aired since. Kingston recently confirmed to Fightful, that the trio has been "trying to figure out how they can get it going again" one day at a time.
Big E has remained off the road recovering from a serious neck injury for nearly a year now, which has been a "big hurdle" for them. Prior to his injury in March 2022, though, Big E transferred brands, as he cashed in his Money in the Bank contract to win the WWE Championship in September 2021, and found himself a new home on "WWE Raw." Meanwhile, Kingston and Woods stayed put on "WWE SmackDown."
Kingston added that while recording via Zoom was fun, there's "more magic" when the three are actually together, but as of now, the podcast hiatus appears to extend even further as Big E gears up for his next neck scan in March.