Mercedes Mone Should Have Gone Back To WWE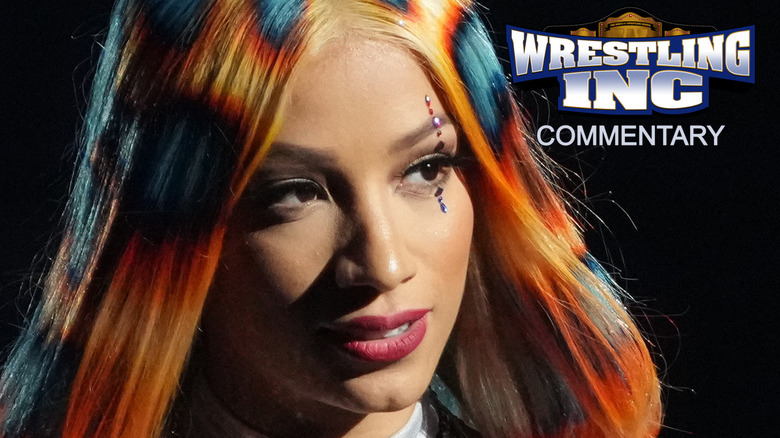 Etsuo Hara/Getty Images
The status of Mercedes Mone was the talk of the wrestling world for much of 2022. Along with Naomi, the superstar formerly known as Sasha Banks walked out of an episode of "WWE Raw" after a reported difference in opinion with management. In January of this year, "The CEO" made her first post-WWE wrestling appearance at NJPW Wrestle Kingdom 17, showing up to confront KAIRI and set up an IWGP Women's Championship match at NJPW Battle in the Valley. That said, did she make the right decision?
Mone has always been open about her desire to wrestle in Japan. Before she joined WWE, competing in the Land of the Rising Sun was her number one goal, and Manami Toyota, Aja Kong, and Meiko Satomura were some of her dream opponents. Unfortunately, Toyota is currently retired from in-ring competition, so that potential match might never amount to anything more than a dream. 
Wrestling in companies like NJPW and STARDOM will allow Mone to live her dream of competing in Japan, and that's commendable. At the same time, it's a huge step down for a star of her magnitude.
Mercedes Mone is too big for NJPW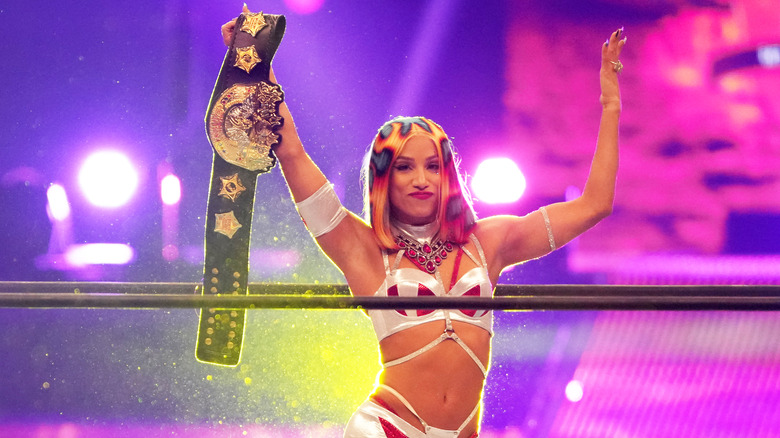 Etsuo Hara/Getty Images
Mercedes Mone's NJPW debut felt like a big deal heading into Wrestle Kingdom 17. NJPW World reportedly gained 25,000 more subscribers and Battle in the Valley sold out after her match with KAIRI was confirmed. She's undoubtedly attracted more interest to NJPW's product and justified her new surname, but she'll never be the star of NJPW as long as it's a boy's club.
While NJPW is getting better at integrating more women's wrestling into the product, it remains to be seen if female competitors will ever be given top billing at major shows. Mone has already proven that she's capable of drawing big numbers for the company, yet Kazuchika Okada vs. Hiroshi Tanahashi will reportedly headline Battle in the Valley. Granted, they're bigger stars in Japan, but Mone has a global fan base and major crossover potential, as evidenced by her role on "The Mandalorian."
While there's a strong case to be made that Mone was underutilized in WWE, she still main evented WrestleMania 37 and was a big star. She'll probably be a top name in STARDOM, which has a partnership with NJPW and is also owned by Bushiroad, but she deserves to showcase her talent on a grander stage.
WWE is different under Triple H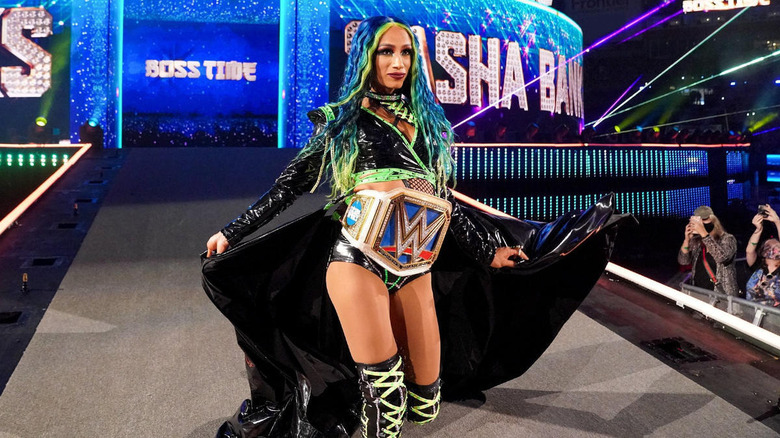 WWE
Eric Bischoff famously said that "controversy creates cash," and he's right. Throughout the years, WWE has abided by this notion more than any other wrestling company on the planet. Mercedes Mone left WWE following an alleged bust-up with management, but a comeback would be huge and could result in some compelling blurred lines storytelling. Instead, she joined NJPW, botched her finisher during her debut, and her place in the broader wrestling conversation just hasn't been the same since.
With Triple H helming WWE's creative direction these days, Mone would be in a better position than ever before to triumph. She was a lynchpin of Trips' women's revolution in "NXT" and he's evidently a fan of her work. Last year, he even told Ariel Helwani that he hopes to see Sasha Banks back in WWE one day: "She is, I think as you've seen over the course of her career ... just an unbelievable performer that I believe in with everything that I have." If anyone is going to treat her well in WWE, it's "The Game."
Mone's early NJPW promos have indicated that she's a sports entertainer in a strong style world. That will make her stand out from some of her peers, but she's tailor-made for WWE's style and talented enough to elevate the product. Furthermore, being in WWE gives Mone a bigger platform to attract more offers from Hollywood, and acting is one of her biggest goals at the moment.