The Undertaker Opens Up About Infamous Confrontation With Brock Lesnar At Past UFC PPV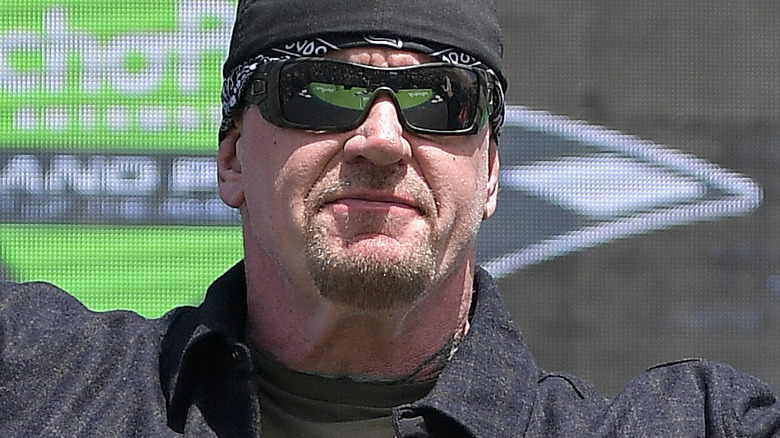 Logan Riely/Getty Images
UFC 121 in 2010 proved to be a shocking event for both mixed martial arts and pro wrestling fans, but not because of what happened in the octagon. The Undertaker was in attendance, but he wasn't there to just be a fan. As he revealed on "Hawk vs. Wolf," Undertaker was "strictly there to pick a fight" with Brock Lesnar in a rare out-of-character moment for him. However, while the "Deadman," WWE Chairman Vince McMahon, and Lesnar knew the confrontation that night was going to happen, the same cannot be said for UFC President Dana White. 
The planned incident occurred when Undertaker was being interviewed by Ariel Helwani in the crowd. When Lesnar walked past them after his fight, he and Undertaker briefly glared at one another, with Undertaker saying, "You wanna do it?" The situation confused fans, who speculated as to whether the confrontation was spontaneous or planned. White also was confused, as he hadn't been clued in. 
"Unbeknownst to Vince or myself, Dana had no clue what was going on," Undertaker said. "We weren't aware of the fact that Dana did not know that I was going to do that. He was not happy. Some guy from the WWE is challenging his biggest draw, but we thought he was on board with it." 
Undertaker said he was there to get a fight to happen in WWE and it "probably could have been" a win-win situation for everyone involved. However, Lesnar didn't return to WWE for another two years, and even then it would take another two years for Lesnar and Undertaker to reignite their rivalry at WrestleMania 30. Undertaker admitted that "we jumped the gun a little bit on the timing," with the details clearly not being worked out on what remains one of the strangest PR attempts in WWE history.
If you use any quotes from this article, please credit "Hawk vs Wolf" with a H/T to Wrestling Inc. for the transcription.