WWE Needs To Pull The Trigger On The Bray Wyatt Storyline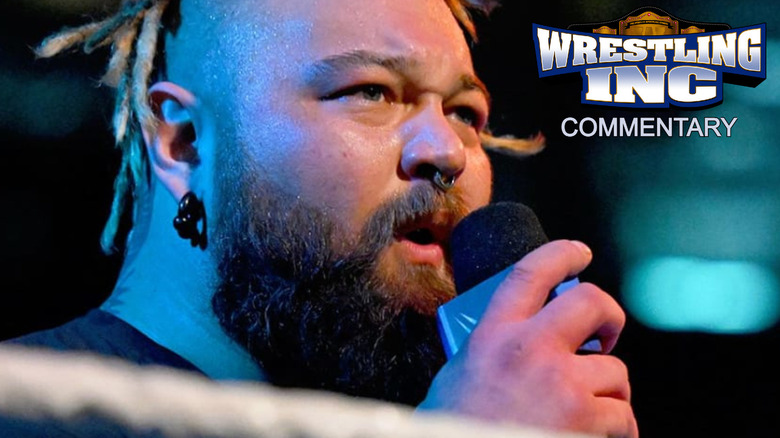 WWE
A former WWE Champion. A third-generation talent. A merchandising powerhouse. Bray Wyatt only needs to exist for WWE to make money, and it seems that is all WWE plans on doing: letting him exist.
Wyatt returned to the company with gusto, appearing at the end of WWE Extreme Rules in October and overshadowing the main event between Seth Rollins and Riddle. What followed has been a bewilderingly slow journey that has led to very little for the former WWE Universal Champion.
Wyatt has spent much of his time since his return talking a lot and saying nothing. Most of his television time has been spent talking about his world, his headspace, his Uncle Howdy, but none of it has led to much in-ring action. Wyatt has wrestled on television once, and as visually appealing as the match may have been, it was still a glorified commercial for soda. For someone that seems to move so much merchandise and create so much discourse, there's a stagnancy to Bray Wyatt.
Unless his purpose is to sell Mountain Dew, WWE simply must do something — anything — with Bray Wyatt, lest his heralded return becomes the same dull whimper with which his last tenure in WWE ended.
Too Weird To Live, Too Profitable To Die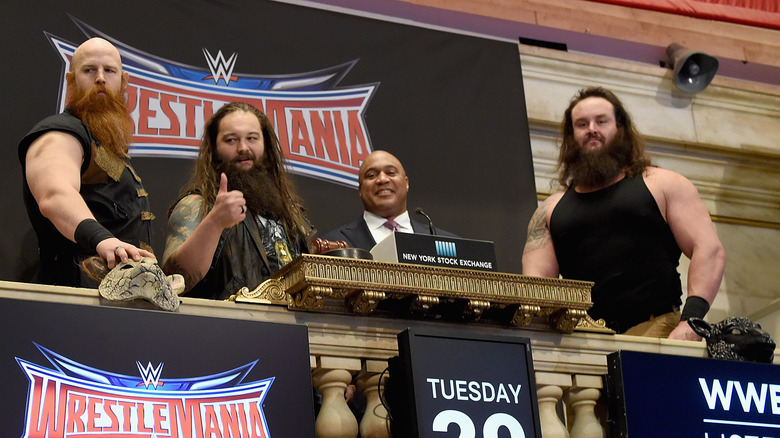 Jamie Mccarthy/Getty Images
Since his 2014 debut, Bray Wyatt has been a divisive on screen presence. His quasi-spiritual ramblings and measured pacing stood in stark contrast to much of WWE's product. Flanked by Wyatt Family, walking to the ring to an unrivaled swamp rock anthem, Wyatt's popularity reached a fever pitch, leading to a WWE Championship victory in the Elimination Chamber.
Just weeks after the victory, Wyatt lost his title to Randy Orton in a match that was built around Orton burning down Wyatt's compound, and featured projections of bugs on the canvas. The short reign and goofy match created the first real crack in Wyatt's armor, his cartoon darkness no longer feeling as "cool" as it once did. His split from the WWE Universe continued, essentially creating The Firefly Funhouse.
With the Firefly Funhouse came The Fiend, an alter ego that saw him don a mask and carnival tights. He wrestled bathed in red light and was seemingly immortal. The Fiend had a stumble with a painfully goofy Hell In A Cell match against Seth Rollins.
Wyatt won the Universal Championship, but another underwhelming reign followed and Wyatt found himself run over by Goldberg. Wyatt rebounded with a truly harebrained-yet-fascinating cinematic match known as a "Firefly Funhouse Match," where he seemingly banished long-time rival John Cena into some kind of netherworld. 
Wyatt maintained a stranglehold on WWE merchandise sales, but he never held the world title again. The Fiend became one of Bray's true prototypes, too weird to live, too profitable to die, and a confusing storyline with Orton and Alexa Bliss ended before it could be paid-off after Wyatt was released in July 2021. 
It seemed that WWE had squandered the enigmatic star.
Dark As A Dungeon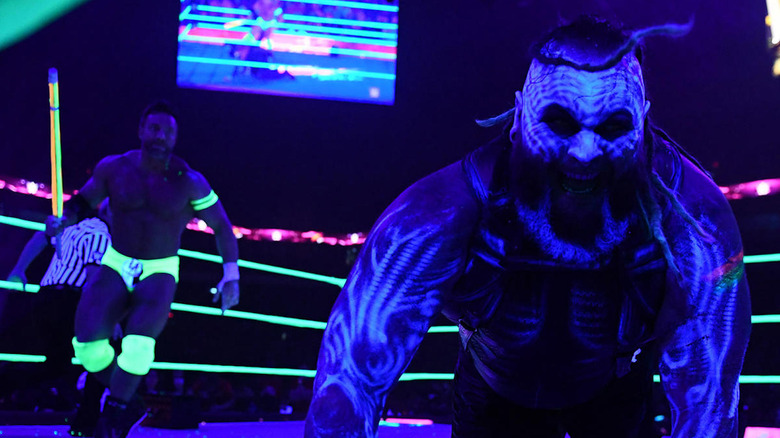 WWE
Just over a year after he left WWE, Wyatt returned at WWE Extreme Rules. Many aimless soliloquies about Uncle Howdy later, and Wyatt has wrestled a single match on television plus a handful of live event matches.
WWE has spent the past four months building up lore about Uncle Howdy and teasing a reunion with Alexa Bliss, all in the name of a glorified commercial for Mountain Dew Pitch Black. As much of a visual feast as the match was, its ending — which saw Uncle Howdy take a dive onto LA Knight — left many scratching their heads. To make matter worse, Royal Rumble winner Cody Rhodes upstaged their commercial, making a big show of enjoying the soda in a more natural endorsement than the glow-in-the-dark shenanigans.
Since the match, Wyatt has been besting LA Knight entirely at live events and in dark matches. Bliss, once teased as being possessed by the spirit of Sister Abigail, hasn't wrestled since the Royal Rumble.
Viewers remain in the same place with Wyatt that they were in October. Who is Uncle Howdy? Is Bliss still spooky? What's the deal with the puppets? None of these questions need to be answered but that still doesn't excuse the lack of momentum that any of them have brought to the story, whatever that story may be.
There is no magic fantasy booking that can fix this, as any booking — good or bad — could fix this. This is not a question of "What could WWE do with Bray Wyatt?" or "What should WWE do with Bray Wyatt?" as much as it is a frustrated shriek into the void that they should be doing something — anything — and instead are doing nothing with Bray Wyatt.