Action Andretti Explains Why He Stopped Wearing Eyepatch After Chris Jericho Feud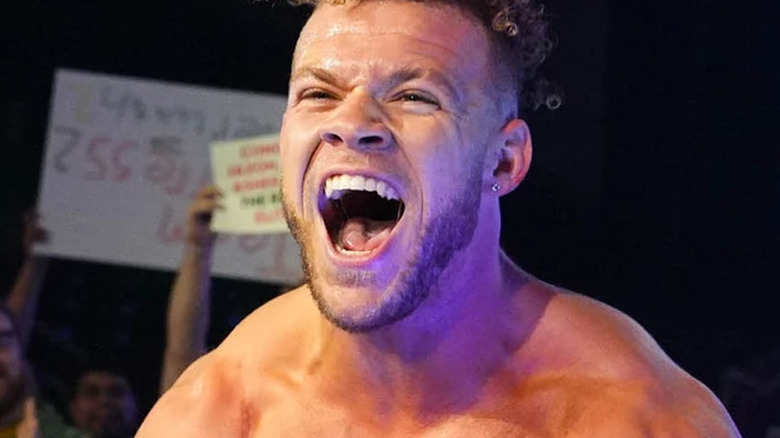 AEW
Since defeating Chris Jericho in his television debut at "AEW Dynamite: Winter Is Coming" on December 14, Action Andretti has been embroiled in a feud alongside Ricky Starks against "The Ocho" and his Jericho Appreciation Society stablemates. This feud has included Jericho hitting Andretti with his signature fireball, a move that led to Andretti briefly wearing an eyepatch on AEW television. The 26-year-old star has since disposed of the eyepatch, something he talked about on a recent episode of "Hey! (EW)" with RJ City.
When asked by RJ why he didn't keep wearing the eyepatch for aesthetic purposes, Andretti was blunt about his dislike for the eyewear. "I know I looked good in the eyepatch, but it's hard to see out of that thing," Andretti explained. Though City suggested that Andretti could build a character out of wearing an eyepatch, the young AEW star held firm in his stance, saying, "I think I'd rather just have my normal, two-eyed vision and not wear the eyepatch."
Surprisingly enough, this is not the first time a wrestler at odds with Chris Jericho has been forced to wear an eyepatch in AEW. Ahead of their championship match at AEW Revolution 2020, Jon Moxley famously wore an eyepatch in many of his matches due to an injury sustained against Jericho and the Inner Circle.
As for Andretti, he won't wear an eyepatch when he takes part in the upcoming Face of the Revolution Ladder Match on the March 1 episode of "AEW Dynamite" emanating from San Francisco, California.