Omos Is The Best Opponent For Brock Lesnar At WWE WrestleMania (And He Should Win)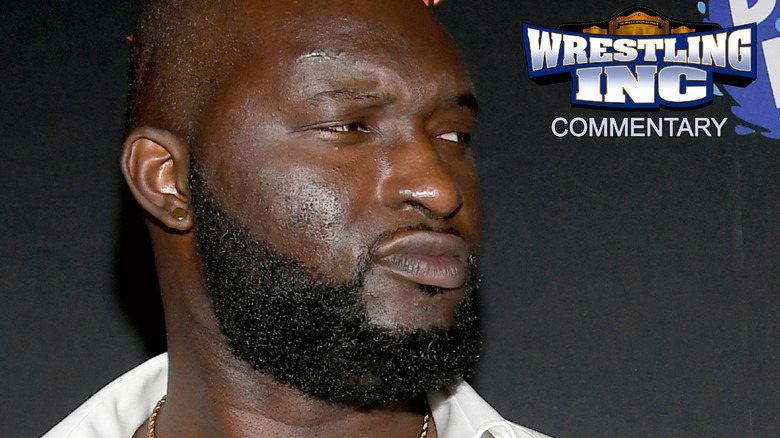 Bryan Steffy/Getty Images
Brock Lesnar is decked out in a white sport coat and a pink carnation, all dressed up for the dance, and yet one of WrestleMania's marquee stars currently appears to be all gussied up with no place to go. Lesnar walked into the main event of WrestleMania 38 as a champion, and one year later he finds himself a third-wheel to a feud between Bobby Lashley and Bray Wyatt ... unless he accepts the challenge of former "WWE Raw" Tag Team Champion Omos.
The massive superstar challenged Lesnar to a WrestleMania match on the February 20 episode of "Raw." Lesnar has yet to accept the challenge, but it's the right direction for the 45-year old former WWE Champion. In fact, not only should Lesnar accept the challenge, but with more good years behind him rather than in front of him, Lesnar needs to lose to the budding giant and cement Omos's status as a legitimate threat for more than just the obvious physical reasons.
With a main event scene that's crowded with Sami Zayn, Roman Reigns, Cody Rhodes, and the entire Bloodline, there's no room for Lesnar in the Undisputed WWE Universal Championship conversation. A dream match with someone like GUNTHER would require Lesnar to challenge for the Intercontinental Championship, which seems beneath "The Beast Incarnate."
With all worthy titles and competitors spoken for, the best option for Brock Lesnar is to play his part in making the next generation of larger than life WWE stars.
Consider This: Omos Is Very Tall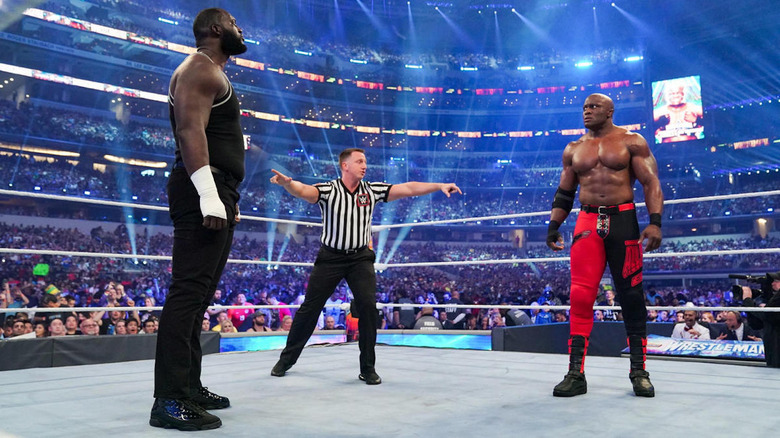 WWE
Wrestling is a carnival, and a carnival needs an attraction — something people can't see anywhere else that completely defies their idea of what is possible within the laws of nature. WWE is currently full to the brim with acrobats and contortionists and tattooed men, but what was once hailed as the "Land of the Giants" is now lacking in massive special attractions. Omos has the size to carry the torch of WWE's past big men, but his stop-start momentum and woefully short list of accomplishments is holding him back from being the main event threat that a 7-foot, 400-plus pound giant should be. A win against Lesnar could easily change that conversation.
Last year, Omos was handed his first singles loss by Bobby Lashley on Night 2 of WrestleMania 38. While Omos managed a victory at WrestleMania Backlash, he has mainly spent his time crushing local talent on television and beating up enhancement talent on the live event circuit. Outside of a "Raw" Tag Team Championship reign during the early part of his main roster tenure, Omos simply hasn't broken into main event status the way that the Braun Strowmans or Big Shows of the world have, and quite simply he needs to.
Whoever wins the Undisputed Universal Title at WrestleMania 39, the champion will need challengers. In an ideal world, there would always be a hard working, storyline-ready contender waiting in the wings, but this is not an ideal world. It is a world of credit scores and big, tall guys like Omos menacing the champion while the next Sami Zayn or Daniel Bryan or whoever has time to build the proper momentum. 
It is simply not possible to make stars without giant obstacles like Omos.
The Aging Beast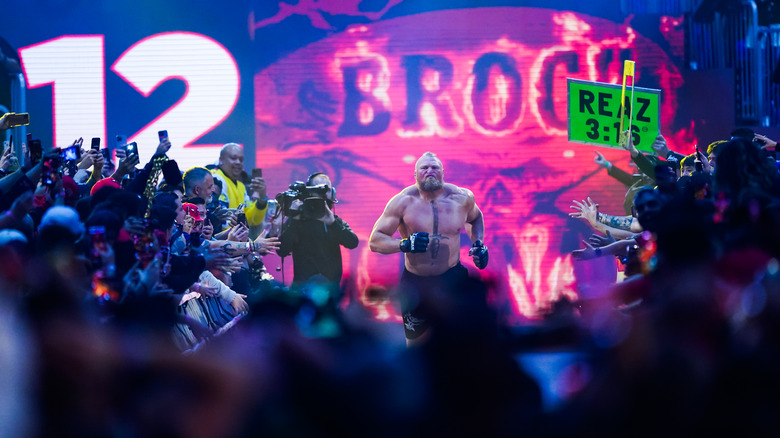 Alex Bierens De Haan/Getty Images
While still a physical specimen and an unmatched performer, Lesnar is staring down the back half of his 40s, and despite his physical condition, his ubiquitous presence in the main event scene has begun to lose its luster, too many matches against Roman Reigns have taken their toll on him. It is time for the once-dominant star to start making the beasts of today into the full-fledged monsters of the future, and that is going to require a self-awareness of which Lesnar seems capable.
Lesnar is not bulletproof anymore. Coming off losing the Royal Rumble, as well as the loss to Bobby Lashley at Elimination Chamber, a loss to Omos would put Lesnar in a uniquely vulnerable position, likely refreshing his stale presence as a part-time threat.
Like The Undertaker or Goldberg before him, Lesnar runs the risk of damaging his legacy if he stays too dominant for too long. There will always be big money Saudi Arabia shows for Brock but — to put it bluntly — WWE needs new stars, and the only way to make new stars is for them to beat the old stars, which is why Brock Lesnar must accept Omos's challenge, and lose.