Bobby Fish Says Undisputed Era Worked In WWE NXT Because All Four Were Best Friends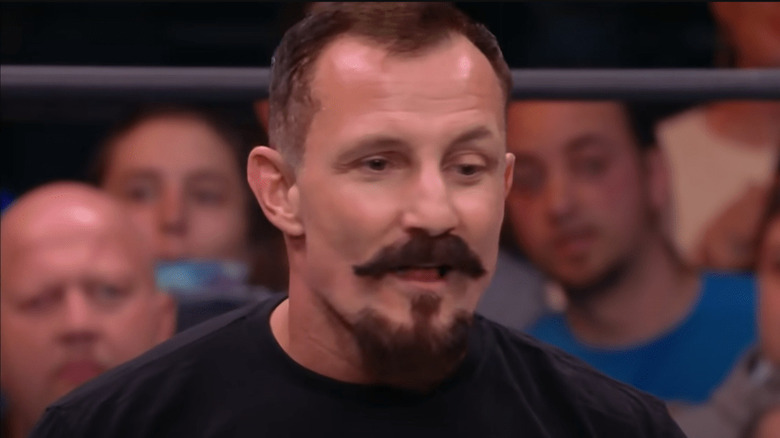 AEW/YouTube
The rise of "WWE NXT's" Black and Gold era coincided with the rise of another — The Undisputed Era. Adam Cole, Kyle O'Reilly, Roderick Strong, and Bobby Fish dominated the brand for four years and Fish spoke about the group on the "Going Broadway Podcast," explaining why he thought the faction worked. 
"Those are my three best friends in this industry," Fish stated. "To become this four-person group with three of my best friends, we're all similar in the way that we approach pro wrestling. Like, I think people would look at it and say, 'Yeah, all four of them are technically sound. All four of them, first and foremost, can go in the ring.'"
Fish also mentioned the addition of Roderick Strong to the group, given that the original iteration was just a three-man faction. He explained that he tore his ACL, and Triple H and Shawn Michaels decided to make the addition.
"I think we were rolling into WrestleMania season, so the idea was to add Roddy so that they could still tag, and then it could still be a group. And pretty much pull me out, put Roddy in, keep me visible so that I don't just disappear, and then work it out with the four of us once I'm healthy."
Fish, Kyle O'Reilly, and Adam Cole re-formed their partnership in AEW where they were known as Undisputed Elite. Cole and O'Reilly are still contracted to the company with Cole recently returning from an injury, but O'Reilly is still out due to one. Strong is still signed with NXT, while Fish has most recently wrestled in Impact Wrestling and has begun a boxing career.