Corey Graves Defends Decision To Book Brock Lesnar Vs. Omos For WWE WrestleMania 39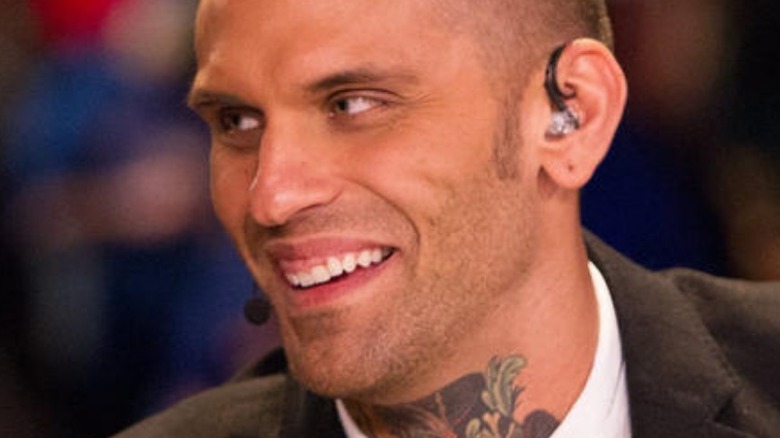 WWE
Brock Lesnar officially accepted MVP and Omos' challenge to face off for the first time ever at WrestleMania 39. Many have shared their thoughts on the match, with some believing WWE should have went a different direction with Lesnar due to his Elimination Chamber match against Bobby Lashley ending inconclusively. While many remain pessimistic about Lesnar versus Omos, "WWE Raw" commentator Corey Graves defended the upcoming match.
"A win over Brock Lesnar would make Omos," Graves said while on "WWE After The Bell." "People are going to fascinated by seeing two larger than life human beings collide in SoFi stadium. It is a spectacle. I don't expect it to be long, I don't expect it to be particularly, what's the word I'm looking for, technically proficient ... If Brock Lesnar manages to hoist Omos up and deliver an F5 ... there will not be a single ass in a single seat in all of SoFi stadium or maybe around the world."
With WWE's decision to book Omos versus Lesnar proving to be controversial, Sami Zayn versus Johnny Knoxville from WrestleMania 38 was brought up. With Knxoville not being a pro wrestler, some expected the match to be bad — however, it received extensive praise following its conclusion. Graves cited how people felt going into that match as a comparison to what Lesnar versus Omos could do at WrestleMania 39. "I don't think anyone was excited about Sami Zayn versus Johnny Knoxville," Graves said. "People came away talking about how it stole the weekend."
If you use any quotes from this article, please credit "WWE After The Bell" with an H/T to Wrestling Inc. for the transcription.