Yuji Nagata Calls AJPW 'A Storm In A Teacup' Ahead Of Title Defense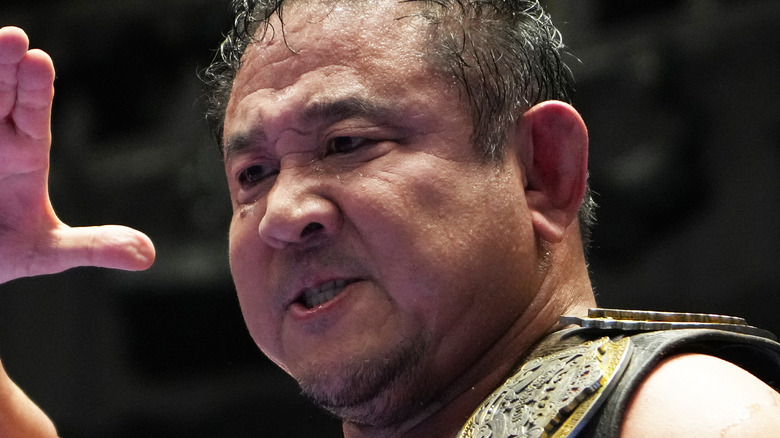 Etsuo Hara/Getty Images
For the last 23 years, All Japan Pro Wrestling has struggled to get back to its glory days of the '80s and '90s. And while the promotion still trails New Japan Pro-Wrestling, Pro Wrestling NOAH, World Wonder Ring Stardom and others in its native country, AJPW received a shot in the arm recently, when NJPWs Yuji Nagata defeated long time AJPW ace Kento Miyahara to win the legendary Triple Crown Championship. The win made Nagata the first to win all three major Japanese titles, all three major tag team titles, and all three major Japanese tournaments. Now, with an title defense against Shuji Ishikawa coming up on March 21 in Ota, Nagata is ready to do his part to help AJPW grow, as he revealed in an interview with NJPW's website.
"I think that All Japan has kept to All Japan," Nagata said. "With COVID having been a big part of it, the issue I think they have is that, however hard they might be going, it's all a storm in a teacup, right? So for me, a Yuji Nagata who has won all these titles in different places, has won these singles leagues, to come in and affect that cup, what happens, how big can this thing get? That's what's exciting, I think."
"If you only watch NJPW wrestlers, then I think you'd still understand," Nagata continued, "when our guys are wrestling our guys, the matches are great, but when wrestlers come in from overseas, that's really exciting too, right? Or when Kazuchika Okada wrestled Kaito Kiyomiya recently, that got a lot of attention. All Japan has been missing something like that, and I want to bring a little bit of that and create more of this storm in a teacup."