Backstage Clues Pointing To Vince McMahon's Growing Creative Influence Over WWE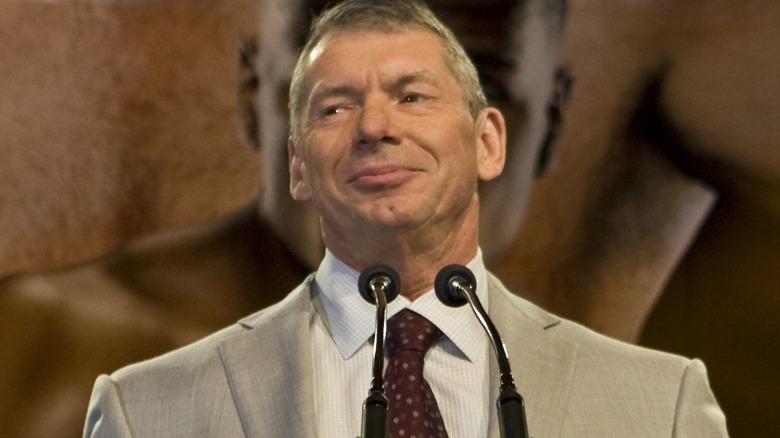 George Koroneos/Shutterstock
Vince McMahon's shadow has loomed over WWE for the majority of 2023. Since his return to the company's board of directors and the subsequent announcement of WWE exploring a possible sale, there have been concerns that McMahon would push his way back into control of WWE's creative direction. A new report from Fightful Select highlighted the concerns among talent about McMahon's influence. It notes that McMahon has claimed to be interested in selling to someone that wouldn't put him in charge of the company creatively, and that's in addition to the potential negative impacts McMahon being in charge would have on a possible sale. In spite of this, talents have apparently seen the writing on the wall for McMahon being involved behind the scenes. Between last-minute, day-of changes to plans for "Raw" or "SmackDown," and gimmicks adjusting to McMahon's preference, his apparent creative fingerprints are being noticed. 
The man himself was backstage for the March 6 episode of "Raw." While it was originally reported that McMahon was only there to visit John Cena, it was later reported that the mustachioed McMahon was in the Gorilla position throughout the evening. It was noted that there is an understanding of how McMahon's public return to creative would affect the morale of talent backstage. That would be in addition to the immense negative effects his return would have on the company's selling price.
In the end, Paul "Triple H" Levesque has held strong that he has the "final say" on all things creative. But with McMahon's brief "retirement" following reported allegations of payoffs to cover up sexual misconduct, and subsequent return less than a year later, stranger things have certainly happened.