WWE Reportedly Utilizing Latino World Order Shirts For A Segment To Be Filmed Tonight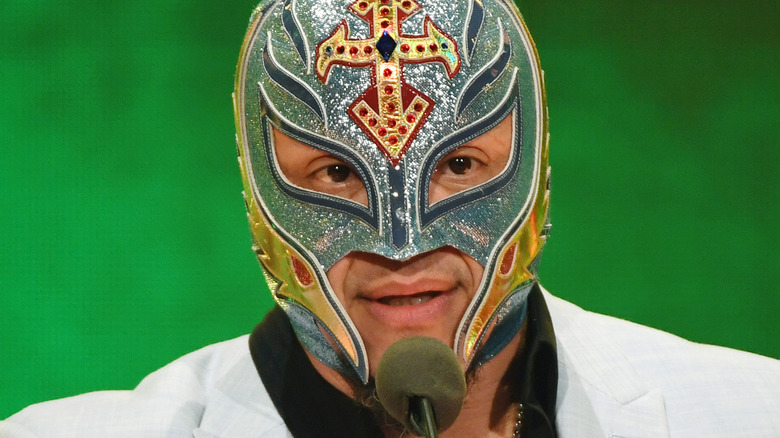 Ethan Miller/Getty Images
Friday night has arrived, which means we're just one "WWE SmackDown" away from not only WrestleMania 39 but the 2023 WWE Hall of Fame ceremony as well. Speaking of, Rey Mysterio is headlining this year's class, and that's just the beginning of his weekend as he'll be taking on his son Dominik Mysterio Saturday night at SoFi Stadium. But before we get to all that, Fightful Select is reporting that WWE has brought in a handful of Latino World Order t-shirts that will be filmed for a segment this evening. The LWO was a short-lived WCW faction founded by Eddie Guerrero.
Between "SmackDown" and the Hall of Fame ceremony that is immediately set to follow the show tonight, not to mention the possibility of future use, Fightful was unable to confirm the exact segment the shirts were being requested for. Two details confirmed in the report are that the shirts were requested for an on-site segment and that a source indicated they will be positioned in Mysterio's locker room for a "presentation-style situation."
For months, the soon-to-be Hall of Famer has resisted the urge to retaliate against his son Dominik, who has been calling him a "deadbeat" at every turn while making things physical consistently. At times, Dominik has also referenced "Latino Heat" Eddie Guerrero, even going so far as to wish that the late Hall of Famer was his father instead. It was only when Dom berated his mother on the March 24 episode of "SmackDown" that Rey had seen (and heard) enough. Additionally, Rey Mysterio has found support in the form of Legado Del Fantasma in recent weeks, primarily Santos Escobar, and it's worth noting that the LDF logo strongly resembles that of the LWO, which mimicked the New World Order.