Mark Briscoe Congratulates Sami Zayn And Kevin Owens After WWE WrestleMania 39 Main Event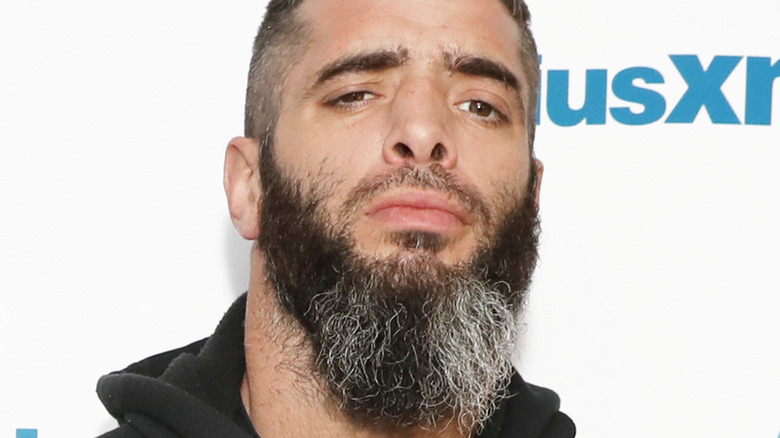 Cindy Ord/Getty Images
If there was a theme to this year's WrestleMania weekend — across every promotion — it was most likely the pain of losing. That's because many fan favorites fell short in their expected moment of glory, including Eddie Kingston and Mark Briscoe at Supercard of Honor, and most notably Cody Rhodes, who fell to Roman Reigns in the main event of Night Two of WrestleMania 39, in a finish that stunned even more so than Briscoe's loss to Samoa Joe days before.
But even if he didn't capture the Ring of Honor TV Title, Briscoe has remained upbeat and positive, especially regarding the happiest ending of WrestleMania weekend, which happened to involve old friends. And on Sunday evening, Briscoe took to Twitter go congratulate those friends, WWE stars Sami Zayn and Kevin Owens, who defeated The Usos to win the Undisputed WWE Tag Team Champions in the main event of Night One of WrestleMania 39.
"Was on the red eye last night..Sami Zayn, Kevn Owens, just watched the match..tag team action at its finest!!" Briscoe tweeted. "Congrats my brothers LOVE YALL...The Usos, can't wait to do it on the other side!"
Zayn and Owens go a long way back with Briscoe and his brother, the late Jay Briscoe, to their days in Ring of Honor back in the mid 2000s. The teams collided several times during that era, often with the ROH World Tag Team Championships on the line, in some of ROH's most acclaimed tag team matches ever. Arguably the most famous match between the Briscoes and Owens/Zayn, then wrestling as El Generico, occurred in November 2007, when the Briscoes emerged victorious in a Ladder War match.