George Kittle Says WWE WrestleMania Appearance Made Him Almost As Anxious As Singing With Kelly Clarkson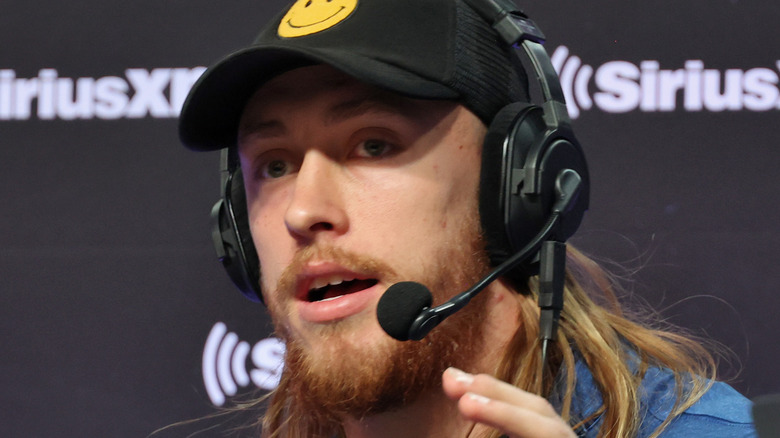 Cindy Ord/Getty Images
This year's WWE WrestleMania was filled with memorable star-studded appearances and cameos, from host Snoop Dogg wrestling an impromptu match to "Heels" and "Arrow" actor Stephen Amell being spotted in the crowd cheering on his friend Cody Rhodes. During Pat McAfee's last-minute match against The Miz, another celebrity made a notable appearance — San Francisco 49ers tight end George Kittle. Kittle, a notorious wrestling fan, called in to "The Rich Eisen Show" on Monday and detailed what it was like to get involved in a WrestleMania match.
"Pat McAfee called me earlier in the week," Kittle said. "I'd been pestering him a little bit since last year. I was like, 'Hey, man. If you ever need anyone to help you in the ring, I'm available. [I] don't care when.'" Kittle revealed that McAfee brought him backstage, where he spoke to Paul "Triple H" Levesque about what he, McAfee, and The Miz do once they got out there.
"I think it was the second most anxiety I've had in my life behind singing with Kelly Clarkson," Kittle continued. The tight end stated that he watches wrestling Mondays, Wednesdays, and Fridays every week, so he's fully immersed in that world, but singing in public is very far out of his wheelhouse. 
Kittle made his appearance during McAfee's surprise match against The Miz on night one of WrestleMania. The NFL star helped McAfee pick up the win and, if it's up to Kittle, it may not be the last time he appears in WWE. Appearing on Sunday's WrestleMania 39 pre-show, Kittle revealed that he's open to any future opportunities with WWE.