Tag Team Title Match As WrestleMania 39 Main Event Was Bad Call, According To Ric Flair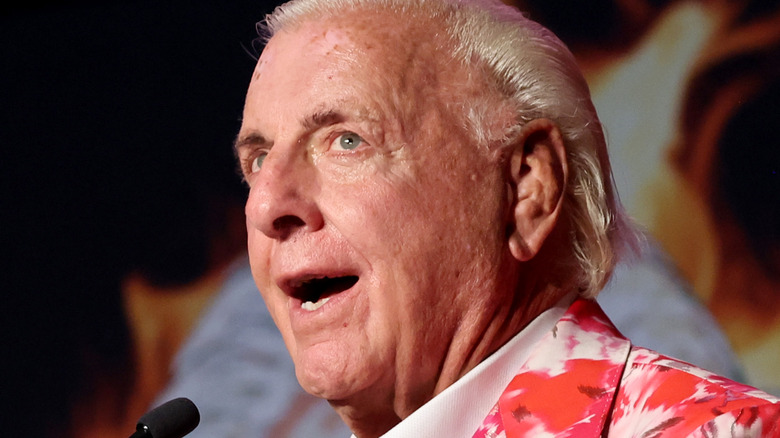 Jason Kempin/Getty Images
WWE WrestleMania 39 took place last weekend, with Sami Zayn and Kevin Owens vs. the Usos as the main event on night one, and Cody Rhodes taking on Roman Reigns as the final match of night two. On the most recent episode of his podcast, "To Be The Man," 16-time world champion Ric Flair shared some criticism over the fact that the tag team match was higher on the card than the "WWE SmackDown" Women's Championship match featuring his daughter, Charlotte Flair, defending against Rhea Ripley.
"There's no way that Sami and KO and the Usos [should] go on after [Charlotte] and Rhea," Flair said with clear frustration. "Only in the WWE." The WWE Hall of Famer made sure to preface his comments by saying that he respects every single performer who steps into the ring, and his opinion is by no means a reflection on them as a person, but is instead centered around the promotion's booking.
Both the "SmackDown" Women's Championship match and the WWE Undisputed Tag Team Championship bout were highly acclaimed by fans, and Flair's co-host Conrad Thompson pointed out that the Zayn, Owens, and Usos match had a great deal of storyline build-up in the months preceding WrestleMania. Still, Flair was not dissuaded from his position, stating that the Royal Rumble winner getting the main event slot is a tradition, and there was no reason to break from that tradition this year.
Charlotte lost the "SmackDown" Women's Championship to Ripley on Saturday, and is reportedly taking a hiatus from WWE to travel with her husband. It's currently unknown how long Flair will be gone from television, but it marks the second absence in a year for the WWE star after spending more than half of the year away from the ring in 2022.