Santos Escobar Relates Mysterios Feud To His Own Complicated Relationship With Father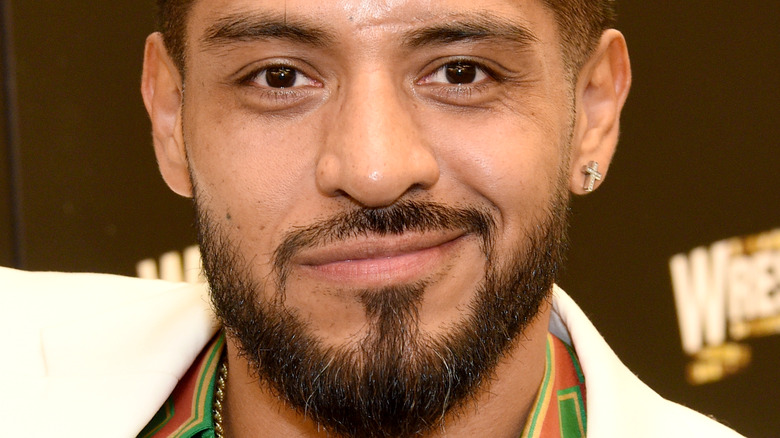 Gregg Deguire/Getty Images
Santos Escobar is very glad that his childhood hero, Rey Mysterio, had "a chance to correct his son" Dominik Mysterio at WrestleMania 39, but now that Rey has done the needful, Escobar himself has set his sights on "teaching a lesson" to the brash Judgment Day member. 
During his recent appearance on "WWE's The Bump," Escobar vowed to "never, ever forgive Dominik" for disrespecting his family's lineage on the March 3 episode of "WWE SmackDown" where Dominik defeated the leader of Legado Del Fantasma and proceeded to tear the mask that Mysterio gave Escobar as a token of respect. Since that incident, Escobar and the rest of Legado have had Mysterio's back at every juncture, to the point where they recently re-formed the LWO stable. 
While Escobar remains utterly disappointed with Dominik's actions, he can relate to what Rey's son is going through, especially when he recounts his feelings towards his father during his years as a teenager.
"A lot of the things that Dom is feeling and going through, I went through myself more than two decades ago," the 38-year-old Escobar revealed. "You know how the mask and name are inherited from father to son? Well, around 24 years ago, my dad decided to inherit his name [El Fantasma] to someone else instead of me. That almost destroyed me, but I had to fight for it. A few years later, I finally got what I wanted, which was to inherit his name and tradition.
"So, I understand where Dom is coming from, but to turn your back on the tradition and history of Lucha Libre and your fellow Luchadores is something I cannot understand."
'There Is No Honor In That'
Escobar reiterated that he "tried to make Dominik understand" the importance of earning the respect of his peers, his dad, the WWE Universe and his fellow Luchadores. However, Escobar believes Dominik "took the easy way out" by "finding a few friends" in the form of Judgment Day and "standing for a false flag" of disrespect for everything and everyone.
"There is no honor in that," Escobar stressed.
While Escobar didn't get his own moment in the spotlight at WrestleMania 39, he, Ledago and Bad Bunny did help Rey defeat Dominik at the Grandest Stage of Them All. Looking back on his WrestleMania debut, Escobar described the moment as "electric" and "surreal" especially since he got to bask in Rey's post-match celebration. 
"Growing up in the business, looking up to these people, and now being there with Rey...it's amazing. I'm living a dream and I don't want to wake up," an emotional Escobar added.
Besides his cameo at WrestleMania 39, Escobar was also part of Rey's Hall of Fame induction ceremony, which was attended by his father, El Fantasma. Escobar still can't fathom that he actually shared the stage with his father and Rey. 
"My dad and I have a very deep relationship," Escobar said. "He educated me to be a superstar — the languages, the academy, the school, and the training were all meant to get me to where I am today. He did a lot of beautiful things in this industry, but he was never where I am now. So, to have him by my side, at the Hall of Fame ceremony where Rey was being inducted, and Konnan, another very important person in my life, was there, too. To me, that was one of my WrestleMania weekend moments, and it felt magical between me and my dad because I don't know if he will ever be inducted into the Hall of Fame." 
"Every time I got out there, I respect him," Escobar continued. "It's his teachings that I project to the WWE Universe. When you see me, you see him. But to actually have him there with me just fills me with love and happiness."