Matt Hardy Says Triple H's Involvement In The Curtain Call Shaped Who He Became In WWE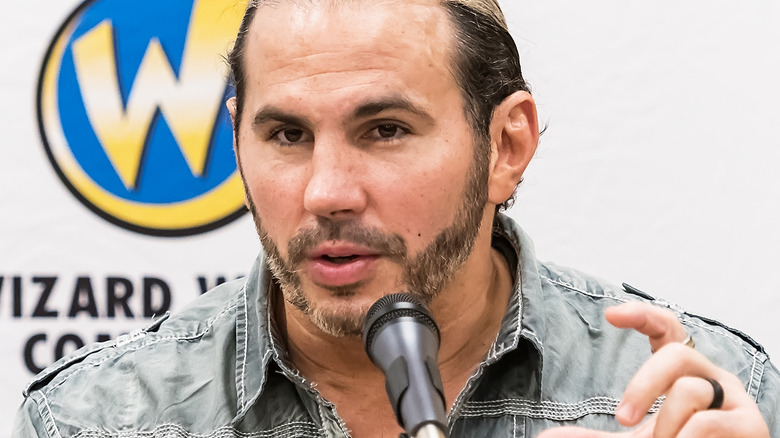 Gilbert Carrasquillo/Getty Images
Triple H's long and storied career went through plenty of ups and downs on the way to becoming the Chief Content Officer of WWE last year. One of the biggest struggles of his career was undoubtedly the fallout from the Curtin Call in 1996, when he, Shawn Micheals, Kevin Nash, and Scott Hall broke kayfabe at a WWF house show ahead of the departure of the latter two from the company.
Due to Hall and Nash leaving the company and Michaels being the company's top star, the consequences fell primarily onto Triple H's shoulders. In Matt Hardy's opinion, it changed the way Triple H dealt with the rest of his career in WWE. On a recent episode of The Extreme Life of Matt Hardy, the AEW star described how much the debacle in 1996 affected Triple H's career. "It was gutsy for Trips to be involved in the Curtain Call... He ends up taking all the heat for it, and he was in the doghouse for so long," Hardy recalled, "That's almost like a defining point for Triple H... I know he held that deep."
Triple H went on to have numerous runs as World Champion and was known for being very protective of his booking once he got to that point. Hardy believes this was primarily due to experiencing the fallout of the Curtain Call. "That's probably why he was such a driven political figure [backstage] once he gained that power," Hardy theorized, "He was like, 'No, I've been f***ed over, I will not get f***ed over again.'"
Hardy further speculated how much the Curtain Call and its fallout changed the WWE star's career trajectory, concluding, "That's probably a big motivating factor behind why he became who he became."