Kurt Angle Believes We'll See UFC Fighters In WWE, But Only After They Retire From The Cage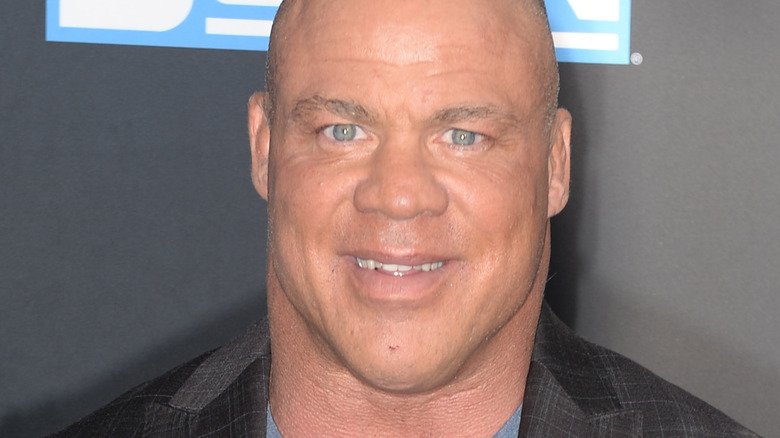 Jerod Harris/Getty Images
WWE and UFC will soon be under the same corporate umbrella, and speculation is already swirling around the possibility of the companies' stars working together. Conor McGregor going back and forth on the microphone with a top WWE star is something that could draw a lot of eyeballs, and on "The Kurt Angle Show" the former Olympic gold medalist made it clear he thinks there will be some crossover.
"I know Dana White is very hellbent on not allowing his fighters to go into pro wrestling, so I think that's going to be one obstacle they're going to have to overcome," Angle said. "But I do believe that the fighters who are going to retire are going to [move] over to pro wrestling [in] WWE."
With Endeavor poised to own both WWE and UFC, it makes business sense for them to promote each other in terms of their upcoming events, and that is something that Angle is expecting to see.
"But I don't see fighters crossing over to wrestling while they're in their prime," he said. "I do believe when they're done fighting I do believe they're going to go to pro wrestling just like Ronda Rousey did, just like Brock Lesnar did."
As soon as the merger was announced McGregor and Paul Heyman got involved in an exchange that got both the wrestling and MMA communities talking. WWE has tapped into the MMA world before with Daniel Cormier working as the special guest referee at Extreme Rules last year for the Fight Pit match between Matt Riddle and Seth Rollins. But whether or not active UFC stars will soon be appearing in WWE remains to be seen.
If you use any quotes from this article, please credit "The Kurt Angle Show" with a H/T to Wrestling Inc. for the transcription.