Tommy Dreamer Says WWE Is 'Castrating' Cody Rhodes If He Wins World Heavyweight Title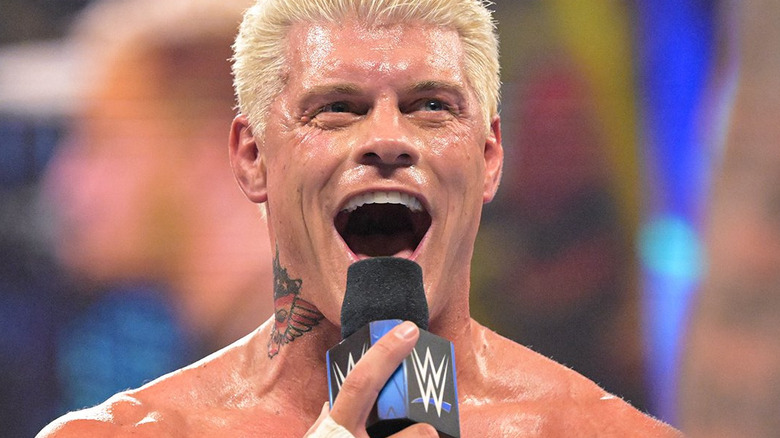 WWE
There's a new WWE World Championship on the scene after the promotion re-introduced the WWE World Heavyweight Championship last Monday on "WWE Raw." And since then there's been a lot of talk about the title, with a lot centering around Cody Rhodes, and whether he is or isn't the right first champion, as well as whether the title's return is a good idea at all. On the latest "Busted Open Radio," Tommy Dreamer and Bully Ray tackled that subject, and Dreamer, while a fan of the design, isn't in love with the idea of a new world title, mainly because of what it represents.
"The belt I like," Dreamer said. "I thought it looked cool. [I] hate, hate, hate the reason why. I felt it 'Hey, no one else could beat him [Roman Reigns], so we're going like this ... Let's just castrate our entire roster.'" As much as Dreamer doesn't like the idea of the resurrected title, there's something he dislikes even more; the idea of Rhodes being the first champion. Oddly, Dreamer once again evoked castration regarding his frustration on the matter.
"I pray to god it's not Cody," Dreamer said. "You're literally castrating Cody as ever being this credible person." For Ray's part, he believes that everyone will know very soon just where the World Heavyweight Championship stands in the WWE hierarchy. "There's one way, and it's going to be coming up in the near future, to find out which championship means more in the WWE's eyes," Ray said. "Whichever belt the WWE gives the NBA Championship team, that's the one that means most to them. Cause they're always presenting the belts, right? Now, there are two distinct, different belts. So we'll find out."
If you use any of the quotes in this article, please credit "Busted Open Radio" and provide a h/t to Wrestling Inc. for the transcription