Dax Harwood Laments Vince McMahon Refusing To Prioritize Tag Team Wrestling In WWE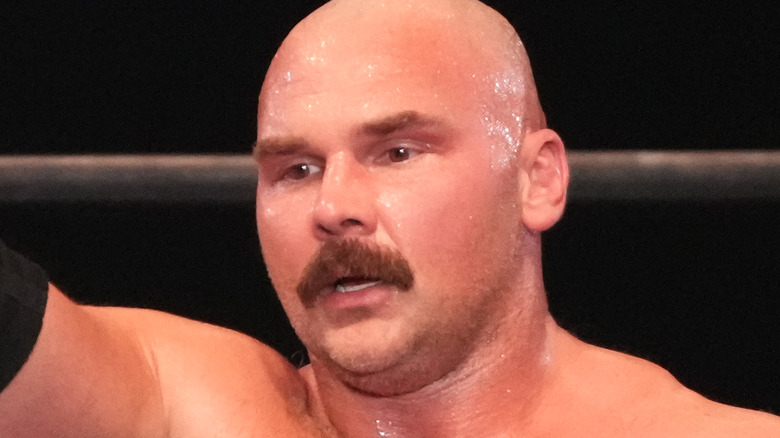 Etsuo Hara/Getty Images
It's no secret that AEW star and FTR member Dax Harwood is a very opinionated man, whether it's regarding matters in his own company, outside of AEW, or about tag team wrestling. And while he and partner Cash Wheeler currently have a good thing going in AEW, holding the AEW World Tag Team Titles in their second reign, Harwood seems more concerned about WWE's tag team division, especially under the stewardship of WWE Chairman Vince McMahon.
Speaking with WhatCultureWrestling, Harwood discussed how, in his view, tag team in wrestling in WWE had long been secondary to McMahon, as he prioritized singles wrestling, and stars instead. And until McMahon's viewpoint changes, Harwood believes this problem will persist in the company he worked for from 2012 to 2020.
"If you look back at wrestling, tag team wrestling in particular, anywhere between after the Hardys, Dudleys, and Edge and Christian, until just recently, there were no real tag teams because all he did was prioritize singles wrestling," Harwood said. "So the two wrestlers, the tag teams, would only do their stuff. They would tag in, one guy would do all his stuff, tag in, he'd do his stuff.
"So there was no tag team psychology. And then, two 5'10" Southerners came along in 2015, and we said 'We would have no selfish ambition. Let's work together, let's make the heat spots, the hope spots mean something, instead of it being a chin lock, three elbows, big huge, pretty move from a heel.' It all depends, in that company, on one man. And if he does prioritize tag team wrestling, it will allow that whole genre to shoot up."
If you use any of the quotes in this article, please credit WhatCultureWrestling and provide a h/t to Wrestling Inc. for the transcription