Britt Baker Defends Her AEW Black Eye Shirt, Dismisses Domestic Violence Connection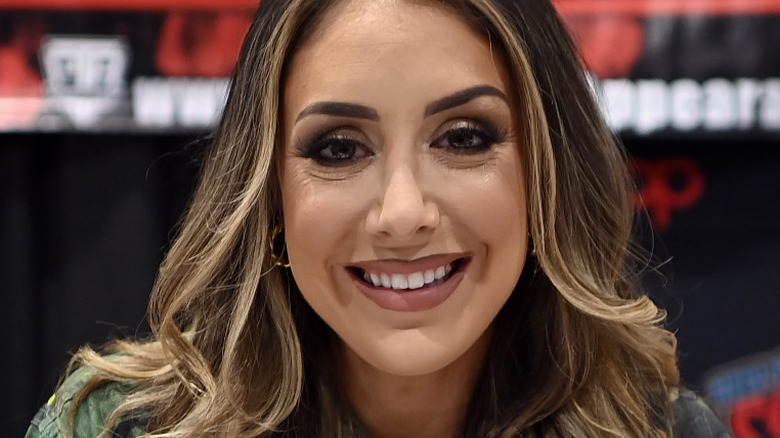 Roy Rochlin/Getty Images
It's been nearly two weeks since Britt Baker was brutally attacked on "AEW Dynamite," by The Outcasts, with Saraya pelting Baker repeatedly with a kendo stick, while a helpless Adam Cole watched on, handcuffed to the ropes. And of all the things many expected to come out of the angle, which saw Baker receive a black eye, connections to domestic violence would've seemed to be at the bottom of the list.
And yet, that's what happened after a new t-shirt of Baker's dropped last week showing Baker sporting said black eye, with some fans suggesting the shirt was proof that AEW condoned domestic violence. Baker, shockingly, doesn't agree with the idea and took to Twitter on Saturday to express that view in response to a fan, posting photos of past AEW shirts of hers, and MJF's, to prove a point.
"Supports domestic violence how?" Baker tweeted. "I got a black eye in a RING? My enemies put a pic on a shirt to troll me and I outsmarted them. Does that mean all the (top-selling) bloody T-shirts are supporting murder? If a male wrestler had a shirt with a black eye would you be this pissed?"
One thing almost everyone can agree on is that the attack by The Outcasts against Baker added a new, violent layer to a rivalry between The Outcasts and homegrown AEW talents like Baker and AEW Women's World Champion Jamie Hayter. The next chapter of the feud looks like it will be written this week on "Dynamite," when Saraya takes on Willow Nightingale in one-on-one action. With Baker and Hayter vowing revenge last week, one can assume the duo won't be far when the match goes down Wednesday night.